Every week on Criminal Minds, there's an unsub out there who needs to be brought to justice. This week had a different kind of justice: justice for someone already in jail for murder. One of the members of the BAU finds his career on the line after his recommendation to the parole board that an inmate be set free has immediate and deadly results.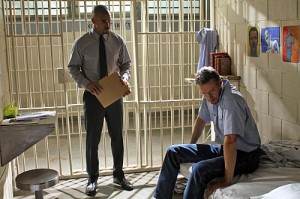 SSA Morgan visits Don Sanderson – convicted of murdering his wife and daughter – in prison to analyze just how far he's come. All reports say that he's been a model citizen while behind bars; he's even helped dozens of other inmates get their GEDs. A short 51 hours after his release, it appears he's committed another murder. He claims this act was in self-defense and that the man he killed was the only one who could lead him to the three people who actually murdered his wife and daughter. Morgan's career – and the credibility of the BAU – are both at stake, and in order to exonerate Sanderson and save their good name they need to find those three people.
Their search leads them to the house of Mary Rutka, where they find her dying on the floor, a man running out the fire escape, and a VHS tape of the Sanderson family murder. Soon enough, they find that James Stanworth fits their profile and is likely to be the man on the tape. The big problem with that is that he's running for Congress, so he's not someone they can easily go after. (I thought it was flimsy that because his slogan was "let's do this" and it was also heard on the tape helped lead them to believe it was him. It seems like a common phrase that could be uttered before doing just about anything.) Morgan confronts Stanworth at a party at his house in front of all of his guests, and Stanworth is arrested, which means that Sanderson is cleared of the charges he served 25 years for and is able to reunite with his son. Justice had been served. Great work from Shemar Moore throughout the episode, but especially in this scene, which wrapped up one of the better episode of the season.
Note: Criminal Minds will be taking a winter break, but it will return to CBS January 12, 2011 with the episode "Corazon."