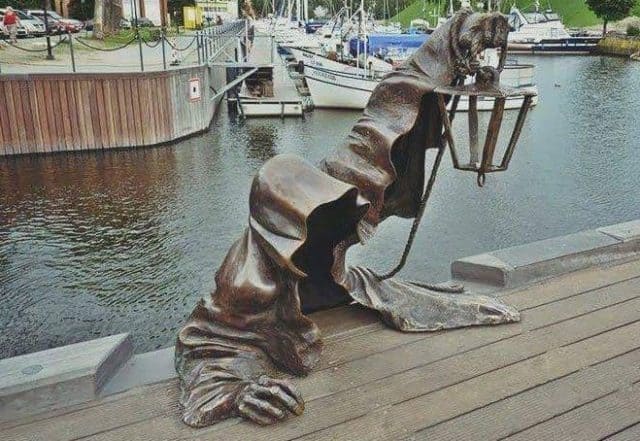 To those that don't know (including me) this is the sculpture "Juodasis Vaiduoklis" ("The Black Ghost") that is located in Lithuania. Turns out there's a story behind this piece. Near a castle remains, just past the swing bridge, a bronze sculpture of a ghostly silhouette that looks like it is just stepping out of the water via the shore line. 2.4 metres in height, the sculpture holds its own secret – everyone who comes near the frightful sculpture will be greeted by it.
According to one legend, in 1595, one of KlaipÄ—da Castle guards, Hans von Heidi, saw a ghost. The mystical visitor warned the guard that the city's supplies of grain and timber may be running out, and with that, it vanished just as it had appeared.
P.S. don't you think there's a movie in here? I mean granted this anecdote is a little short but something tells me a screenwriter could come up with a pretty awesome screenplay based on this. Anyway, this sculpture rules. I don't know why but this passage also came across my head while looking at this:
Those who used the Nine Rings became mighty in their day, kings, sorcerers, and warriors of old. They obtained glory and great wealth, yet it turned to their undoing. They had, as it seemed, unending life, yet life became unendurable to them. They could walk, if they would, unseen by all eyes in this world beneath the sun, and they could see things in worlds invisible to mortal men; but too often they beheld only the phantoms and delusions of Sauron. And one by one, sooner or later, according to their native strength and to the good or evil of their wills in the beginning, they fell under the thraldom of the ring that they bore and of the domination of the One which was Sauron's. And they became forever invisible save to him that wore the Ruling Ring, and they entered into the realm of shadows. The Nazgûl were they, the Ringwraiths, the Úlairi, the Enemy's most terrible servants; darkness went with them, and they cried with the voices of death.
JRR Tolkein, The Silmarillion