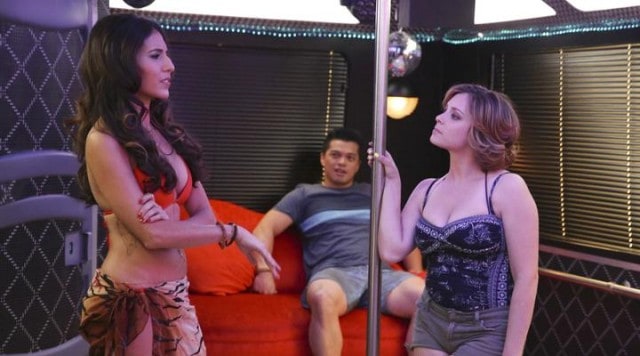 Since its pilot, Crazy Ex-Girlfriend has proudly operated against expectations – even before its pilot aired on The CW, in fact, considering its first failed launch over at Showtime. From the word go, Crazy has sidestepped convention at every turn, both in how its constructed its core cast of characters, to how it goes about filling in the world around its catchy, completely off putting title and premise; after eight successful episodes and an unprecedented Golden Globes win (congrats, Rachel Bloom!), Crazy Ex-Girlfriend entered 2016 on a much-deserved hype train – which naturally made me hesitant it wasn't going to deliver the goods with "I'm Going to the Beach with Josh and His Friends!", it's first post-awards installment.
I couldn't have been more wrong; staying true to its nature of sidestepping expectations, "I'm Going to the Beach" is a powerful, surprisingly dark hour of Crazy Ex-Girlfriend, an hour spent exploring the emotions and relationships of its main characters in the show's equivalent of a bottle episode. Initially, it appears the hour is just going to be about Valencia and Rebecca's beef over Josh; and even though it is, "I'm Going to the Beach" constantly throws new wrinkles and ideas in the mix, slowly spreading its story from Valencia and Rebecca, to the other people sharing a party bus with them, and observing how their relationships are affected by Rebecca's presence – most of it, as expected, isn't very pretty. Paula tells her off, Valencia takes multiple pot shots at her, and Greg is indifferent about the whole Rebecca experience; as "I'm Going to the Beach" slowly reveals to Rebecca that she doesn't have as many friends as she thinks, it begins unraveling the show's premise and the preconceptions of its characters in powerful ways.
The whole of "I'm Going to the Beach" feels like a dynamic shift in how Crazy Ex-Girlfriend tells stories; sure, every episode will have its two new songs (though "Beach" gets by with two reprises, and a great new Valencia song), and still have the same ideas about feminism, mental illness, and emotional attachment in the modern world: however, with Rebecca finally giving voice to her feelings about Josh by episode's end, it feels like Crazy is finally confident enough to begin moving away from its premise into new storytelling realms, pushing everyone into a slightly darker place during the party bus ride, in order to bring a lot of color and contrast to the mostly-idling stories its told so far.
"I'm Going to the Beach" is built completely around conflict; and smartly, around conflicts it couldn't just easily back away from. Josh and Greg's friendship is revealed to be a little more superficial than they thought, just as Rebecca finds out Josh's feelings for her have a little more meaning than she expected; the entire third act of "I'm Going to the Beach" is a stunning watch, slowly unwinding from the horrible awkwardness of Valencia confronting Rebecca to really dig into the characters and relationships Rebecca's been building with a series of half-truths and extremely dedicated, over the top stunts: naturally, the lack of honesty she'd built those friendships on comes crashing when Valencia becomes the audience mouthpiece, voicing the very real (if horribly, meanly delivered) concerns about Rebecca's proclivity to lie, deceit, and generally do anything it took to make Josh pay attention to her.
It makes for a very refreshing watch; rather than overextend itself by building to single moments in the season finale, Crazy Ex-Girlfriend remains flexible by pushing its characters forward, rather than continuously observing them in stasis, states only slightly altered by whatever short-lasting conflict is designed to build, occur, and resolve in the course of an hour. It's the staple of most television, even in this age; understanding characters make them fundamentally easier to attach to, thus making it easier for their characters to fall into a redundant pattern of behavior. Establishing habits and behavior breeds specific expectations; playing against that on a regular basis while maintaining an aura of true growth is something many shows fail to do, even on the most basic levels. Crazy Ex-Girlfriend, with a hilariously awkward hour fundamentally challenging its main character to evolve, understands how boring and damaging stasis can be for a character; and as the show continues to challenge and push its characters into uncomfortable realms, the better and better it seems to get.
Crazy Ex-Girlfriend Season 1 Episode 9 Review: "I'm Going to the Beach with Josh and His Friends!"
Summary
Crazy Ex-Girlfriend returns from hiatus with a Golden Globe in one hand, and arguably the best episode in the series in the other.