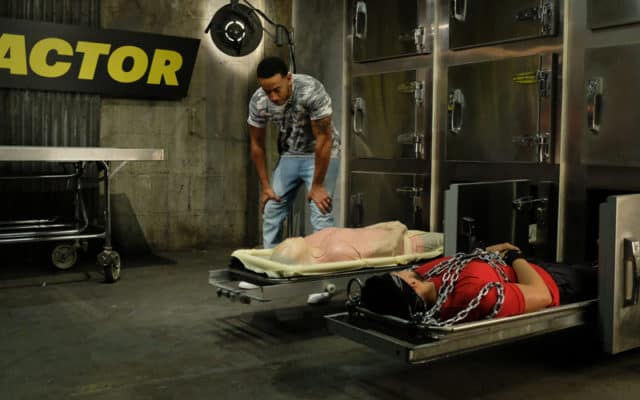 Since it's inception Fear Factor has been a show for only the most diehard and supposedly foolhardy competitors that want to attempt what most people would feel is impossible. It could be eating live bugs, facing down one's deepest, darkest fears, or it could be something that most people would never fear in a hundred years, but is anathema to another person. It's all a matter of what you're afraid of, and what terrifies you the most.
The goal of the show obviously isn't to overwhelm or cause harm to anyone, but the boundaries they push can sometimes seem a bit overbearing. For instance, the idea of being buried alive is, to many people, a terrifying and pulse-pounding experience that might seem a little too over the top. Yet on Fear Factor this is being used to give a young woman a chance to win $50,000. That's a lot of money to a lot of people, potentially enough to change one's life if they used it right. But is it really worth this kind of trouble? And why does it not seem that real?
The other contestants look way too excited.
It could be just nerves or it could be that they're glad to not be the ones in the box. But looking excited about the prospect of another person being buried alive seems rather morbid. The only one that looks truly concerned is her partner, and in any case she looks more pensive than anything, not entirely worried.
The reality of it seems questionable.
Even for a game show this seems way past the limits of common sense. Plus, on camera you can see the woman in the coffin actually talking as though the other woman can hear her. Now this could be chalked up to nerves and the need to hear her own voice, or something else entirely. Whatever the case the woman opening the other boxes seems to hear her at one point, so the validity is easy to question because of this. Plus, there is a limited amount of air within a coffin once it is covered over with dirt, so the very real risk of hyperventilating and running out of oxygen is all too real, and could not possibly be ethical for a game show. It seems staged in other words, but again, I could be wrong.
Phobias this strong would leave a lot of people a nervous wreck.
If she's not claustrophobic she might soon be. Resting in your own coffin is sure to be a harrowing experience for anyone, but having to depend on someone to get you out would be even more so. Sure the show can't let her expire in such fashion, but to even attempt such a thing on live TV seems a bit ludicrous, no pun intended. It could just be the doubter in me that looks for the edge of the curtain all the time but this show seems to have been blown way out of proportions as it's continued from season to season. A lot of the stunts might seem entertaining, but this one seems a little too contrived.
Maybe I'm wrong and maybe it's really that extreme. The woman's reaction seems kind of staged though.
Save