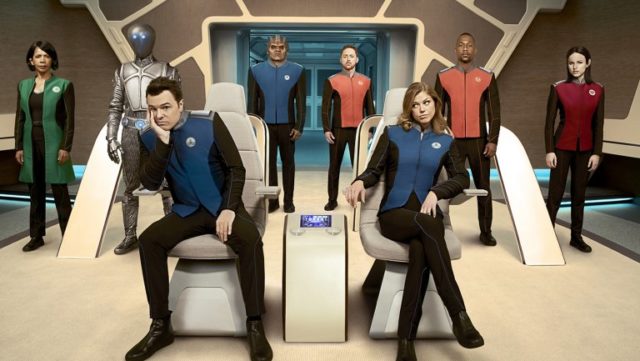 Let's be honest with ourselves. Where would be without the ability to laugh and enjoy moments of happiness? We live in a world in which the pace at which we must function is rapidly increasing. The pressure is always on and the demand for performance is constantly increasing. This is why it is important to take advantage of every opportunity to laugh. If you are a person who is entertaining the belief that there is nothing to laugh at, you are not looking hard enough.
There plenty of television series and movies there are loaded with content that will keep you laughing. One such show is the new Fox series, The Orville, that is scheduled to premiere this September. The series was created by Seth MacFarlane, who is also starring in the series. The Orville is the perfect mix of comedy, drama and science fiction all rolled up into one huge package of laughter.
A Quick Synopsis
Imagine a cross between Family Guy and Galaxy Quest with a little Star Trek thrown in for good measure. Now, you are starting to see it materialize. The title Orville is taken from the name of the star ship on which all of the adventures originate. The U.S.S. Orville is set some 400 plus years into the future and the acting ensemble that has been ensemble will be shooting each scene live.
If you are a fan of science fiction films and skits, you will definitely want to tune in and check this out on a regular basis. One of the most exciting aspects of this particular show is the fact that it will be shot live. In fact, it will be the first live-action science fiction thriller television series that MacFarlane has created and it will also be his first time starring in a live-action series. When you are shooting live, you are forced to deal with the unpredictable occurrences that tend to appear during the filming of a scene. There is no opportunity to cut the filming and reshoot because you are filming live.
The added component of not knowing what to expect in the way of the unexpected is actually sort of cool. It is amazing how creative actors and directors can become when things are not going as planned. It makes for some of the funniest moments in history.
MacFarlane admits that this show has been a long time in the making. Once he got the green light from Fox he revealed that he has wanted to do a series like Orville since he was a child, but he has been waiting for the right timing. Well, it seems that the timing is finally right. He admits that he loves working with the executives at Fox and that is why he approached them first with the idea.
If you are in need of a consistent laugh, then you really need to check out this show. To me, there is nothing funnier than watching an actor or actress tickle themselves in the middle of a scene in which they are not supposed to be laughing but can't stop. The nostalgia that is built into the series will also keep you reeled in.
Save