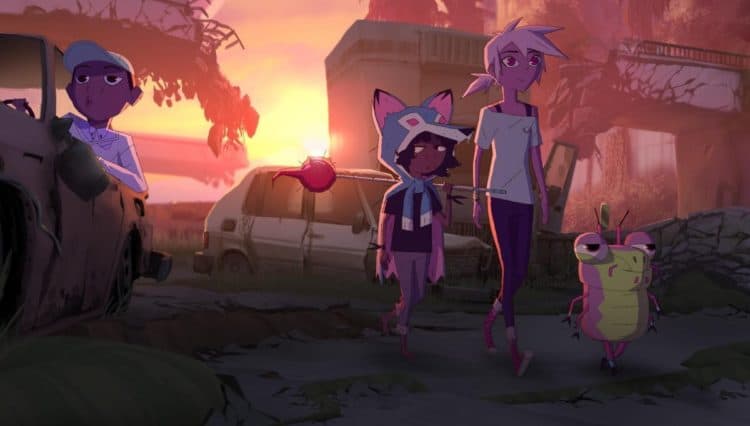 What do giant bunnies, a talking snake and Crossfit addicts all have in common? The new Netflix series from DreamWorks Animation, Kipo and the Age of Wonderbeasts. The series, which producer Radford Sechrist pitched as, "The Walking Dead but instead of zombies, everything trying to kill you is adorable" has caught viewers' eyes not only because of the originality, but also the heart & soul. The cast features the voices of Karen Fukuhara, Sydney Mikayla, Coy Stewart, Deon Cole, Dee Bradley Baker, Sterling K. Brown and Joan Jett. In honor of the recent release, we decided to speak with one of the show's creatives, composer Daniel Rojas on a wide variety of topics below.
-Is Kipo and the Age of Wonderbeasts your first streaming show? How has this streaming project been creatively different then your other projects?
Yes, Kipo is indeed my first streaming show. It is different in the fact that all ten episodes are released at once. On regular shows you work with a schedule where an episode airs shortly after you finish it. One of the biggest creative differences is you have time to go back. So, if you change your mind about something on episode six for example, you can always go back and modify. I did this a little bit with Kipo because I didn't score everything in chronological order.
-There are many different styles of music in Kipo and the Age of Wonderbeasts. Is this a dream project because of this?
Absolutely. Although, I have been able to do different styles of music throughout my career, I have never had the chance to do them all on one single project. Most projects have a more specific genre or sound. The whole sound of Kipo is variety. That is a pretty precious thing for a composer to be able to bounce around so much on one single project.
-Do you personally have a favorite musical style or genre?
I don't and I think that has been good for a project like this because I enjoy a lot of different types of music. I can really get into rock/pop for a day or two and then hip hop. I was a jazz musician before jumping into scoring, so I have really been all over the place as far as musical styles go.
-We have been reading many comments about the show's music and how you set the bar very high. How great does it feel when you read these comments?
It does feel great. It has been very exciting to see the response, which has been pretty positive overall. When we were working on the show, we were all very excited on the production side, but it's always a toss up to see how people are going to receive it because it's not a straight forward or traditional way to score an animated show. So I was a little nervous to see what the response to this approach would be, but it's really nice and comforting to see it has been really well received.
-You are half-Hispanic, half-Asian and grew up in Costa Rica. Do you think your diverse background has enabled you to bring something different to this project that other composers couldn't have brought?
I do think that background has allowed me to appreciate a lot of different styles and genres from around the world because I grew up in a household that was very diverse. So, I got a lot of different influences. Although Costa Rica is a small country, it is a very diverse place because of all the tourism. The country changes to all the different cultures. There was a lot of American influence, but there is also a lot of European and Asian influence. I was lucky enough to be around this from a very early age, unlike some areas around the world that are more homogeneous.
-Because you identify with a few different nationalities, do you tend to lean towards one more than the other, musically?
Not really. It always depends on the project. I try to draw from my experiences to bring the best possible to each.
-Do you have a favorite episode, musically? If so, why is it your favorite?
I like episode six a lot. This episode introduces a new character that I have been teasing on previous episodes. The setting allowed me to explore a lot of different styles of music in a single episode too.
-We read that the creatives wanted Kipo to be very pop-oriented. Did you go back and listen to any pop songs in particular to get in that headspace?
It's actually much more hip hop and urban music oriented. I had a playlist on Spotify that I listened to on a regular basis with everything from the 90s to more present day modern. Everything from early Wu-tang Clan from the 90s to Khalid and Chance the Rapper. I listened to this music in my car for about 6 months straight.
-On your IMDB it says you were the performer on a lot of songs for the Paramount film Downsizing. Can you talk about what exactly you did on that project?
I had a very friendly relationship with the music editor, Richard Ford and the director, Alexander Payne. When the film came up Alexander talked to us about producing some original music that would fit in the strange and quirky future that the film takes place in. We took over a lot a of the source music. So the music during the tutorial scenes in the film that showed how everything worked for example. Most of the music inside of the music that needed to be crafted to a scene, that is not score.
-Is there another composer you would love to collaborate with?
I would love to collaborate with John Powell and Thomas Newman because I look up to them a lot. They are both masters of their craft and they are both people who I know I could learn a lot from.
You can listen to the Kipo and the Age of Wonderbeasts Season 1 Mixtape on Spotify