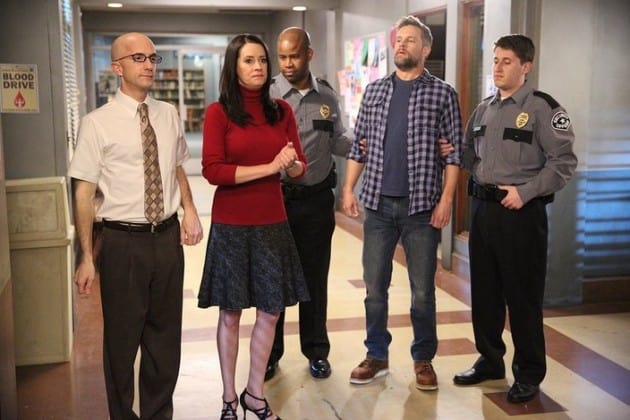 The longer Community goes, the more I am reminded of how glad I am to have it around still. It's come close to dying so many times, so I'm absolutely thrilled that it's still here. I watch a lot of TV for a lot of reasons, but Community has always been a show that truly brings me joy. This episode was no different.
This week on Community: The gang prepares for the upcoming alumni dance. Abed, Annie, and Chang set out to get Elroy to like them, while Jeff remains aloof. Britta's old boyfriend, Subway/Rick (Travis Schuldt, Scrubs), returns to campus, now selling Hondas. The Dean proves his (level SEVEN) susceptibility to guerrilla marketing.
Will Community ever run out of ridiculous ideas? I certainly hope not. At this rate, I'm certain that they won't. Of course, Dan Harmon could make a show about paint drying, and I'd probably watch it, hoping to catch a glimpse of Starburns or Magnitude. But, I digress. I'm so, SO impressed with the continued flow of new ideas, and the continued ability to make me laugh out loud. There are not many comedies on television nowadays that have heart, strong characters, and can still make you laugh. Community (while not on TV, per se) can still get the job done in all those categories. This episode proves that.
I have been particularly impressed in the sixth season with the comedic work by Ken Jeong. He's always been funny, and I've followed his work since he first jumped out of that trunk naked and screaming in The Hangover. While I still miss his days of being an evil mastermind/Spanish teacher, he's been one of the strongest players this season. When Jeong played Chang playing Mr. Miyagi? Brilliant. In this episode in particular, I loved Chang's PowerPoint presentation So good.
We cannot talk about this episode and not talk about heart. Community has always had heart, and this episode serves as a perfect showcase for it. Elroy struggled with seeing his ex from the band, "Natalie is Freezing." Jeff was so human in wanting Elroy to like him. And we mustn't forget Britta and her long lost love, Subway/Rick. These situations were a little ridiculous, but they all hit close to home. Everyone has struggled to get over an ex and longs to be liked, don't they? Of course, not everyone has so little self-worth that their only achieved existence is guerrilla marketing for companies overseen by "disappearing" Billy Zane. However, some people can relate, at least. Community, despite its ridiculousness, constantly shows that it has a heart and isn't afraid to tug on our heartstrings a little.
Here are some of my favorite quotes/moments from the episode:
-"What makes a DJ good, or bad, or different from a phone or laptop?"- Abed
-"I'm no magician, I'm just a guy who knows PowerPoint."- Chang
-"Is he black Pierce, old Troy, or Shirley without a giant purse?"- Chang, debating Elroy's role in the group
-Oh Rick, you'll always be Subway to me.
-Abed's rules about the ear game.
-"Chang's ahead by three…with an asterisk."
-"Man, I'm like a fart to that guy."- Jeff
-It's okay, Britta. I don't like Avatar either.
-"I just thought you know…these days, with all the apps."- Britta's dad. It was good to see Martin Mull and Lesley Ann Warren again.
All in all, another good one in the bank for Community. It was so good to see Subway again and continue to revisit all the elements that make this show great.
What did you guys think? Did you enjoy it as much as I did? Let us know!
Community streams every Tuesday on Yahoo Screen.
[Photo via Yahoo Screen]