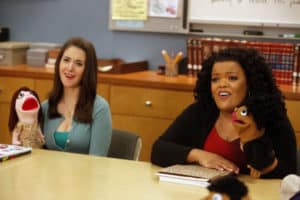 The much awaited puppet episode was here and it kind of disappointed. But then again, it had to live up to that amazing claymation Christmas special and the 8-bit video game episode. The plot for the episode was that the gang wasn't speaking to one another after events that took place when they decided to go on an adventure.
Pelton has the iDean to make the study group work through their issue with the use of puppets. Naturally like every Muppets movie, the study group puppets burst into song to tell the story. The thing that I never understand is that Yvette Nicole Brown, Alison Brie and Donald Glover clearly have the best voices, but they rarely sing. I just don't get it. However, we were treated to Yvette's soulful pipes when she had a solo that was more than just a run of the mill Christina Aguilera run.
The reason why the study group was incommunicado was because they got loopy off berries given to them by a stranger in the woods (played by Jason Alexander). They shared deep, dark secrets with one another, but none of them actually remembered the secrets until after Shirley revealed her (in a beautiful, yet melancholy song) during the therapy session.
What were the secrets? Shirley left her kids at the grocery store, Britta's never voted, Annie slutted it up to get test answers, Troy set the Greendale fire, Jeff ditched the perfect woman after meeting her son, Pierce lied about one of his epic sexcapades. But what about Abed? He never revealed a secret. He just saw how everyone stopped speaking to another so he just mimicked their behaviour.
Classic Abed.