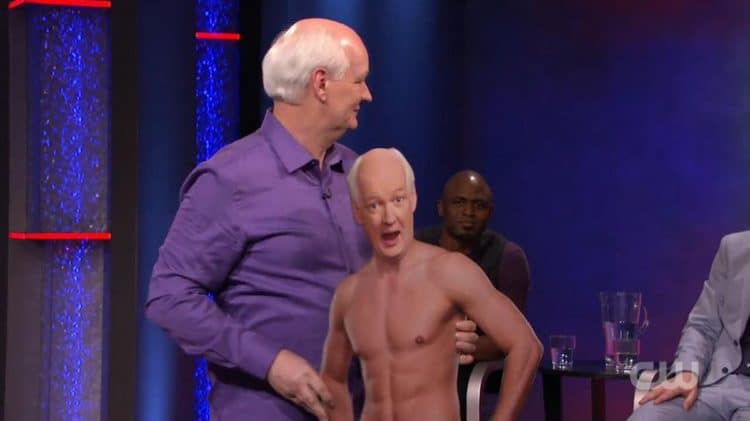 For many UK based actors, breaking into the American industry can be challenging. However, Colin Mochrie was able to find his niche with US audiences. Best-known for his work on Whose Line Is It Anyway? Mochrie has been a figure on both British and American TV screens for decades. In addition to his improv work, Mochrie has also appeared in popular sitcoms such as The Drew Carry Show. Now in his early 60s, Mochrie is still doing what he loves and doesn't plan on stopping any time soon. Continue reading for 10 things you didn't know about Colin Mochrie.
1. He Wanted To Be A Marine Biologist
If you've ever seen Colin Mochrie in action, it's probably hard to imagine him doing anything other than being an actor and comedian. However, his original plan was something completely different. When he was in high school, he really wanted to be a marine biologist. However, it looks like life had other plans.
2. He Never Get Nervous Before Getting On Stage
If you ask some entertainers, they'll tell you that their feelings of stage fright never go away. No matter how many times they step foot on a stage, they always feel nervous. Colin feels the exact opposite, though. He says he never feels nervous before a performance and he hopes he continues to feel that way.
3. He's Happiest Being At Home
As much as Colin loves his job, his favorite thing to do is relax and spend time with his family. Colin told the Daily Free Press, "I feel happiest when I'm at home with my wife and son. We have a really nice family dynamic. We have a lot of fun together…I find just being with my family really does buoy me up."
4. He Loves To Travel With His Wife
Colin Mochrie loves traveling and exploring cities with his wife. He shared, "We're adventurous that way. We love to travel and we love new experiences. We've been to the Congo and we've gone to Belgium and France. Every place we've gone to, we've just had a great time. We never really planned anything – we just see where the day takes us."
5. He Thinks Luck Is Important
Talent is a big part of a person's success, but luck is also a factor that some people don't like to discuss. Colin Mochrie has no problem acknowledging that luck has played an important role in his career. But while luck can be great, Colin also says that people need to be ready to execute when lucky opportunities come their way.
6. He Doesn't Like Watching Improv
Colin's improv skills have made him famous all over the world. So, it may be surprising to learn that he doesn't really watch improv. When asked about whether or not he enjoys watching improv, Colin said no, and told Big Issue, "First of all, there's nothing worse than bad improv. It truly is the worst of the worst of art forms. So it's either the worst thing I've seen or it's really good and I just get depressed and think, why can't I do that?"
7. He's A Very Supportive Father
Colin Mochrie's daughter, Kinley, is a transgender woman. Despite negative public opinions, Colin has remained a supportive father throughout his daughter's journey. He has worked hard to educate himself and continues to have a strong relationship with his daughter.
8. He Loves Walking Around London
When Colin Mochrie travels, one os his favorite things to do is walk around the city he's in. London is one os his favorite places to explore on foot. He says he and his wife like to spend the day walk around and visiting local museums, shops, and restaurants.
9. He Attended Theater School
Most people are familiar with Colin's improv work, and would consider him a natural. However, in addition to his natural talents, Mochrie has some professional training under his belt. When he completed high school, he took classes at Studio 58 in Vancouver.
10. He Got To Meet George W. Bush
When Colin Mochrie was asked to do a stand-up routine at a press corps dinner, he had no idea that George W. Bush would be his opening act. Before Colin took the stage, Bush surprised the crowd with a 10 minute comedy set of his own. Colin was impressed with Bush's ability to make the crowd laugh. The next day, Bush invited Colin to the White House and gave him a tour of the Oval Office.