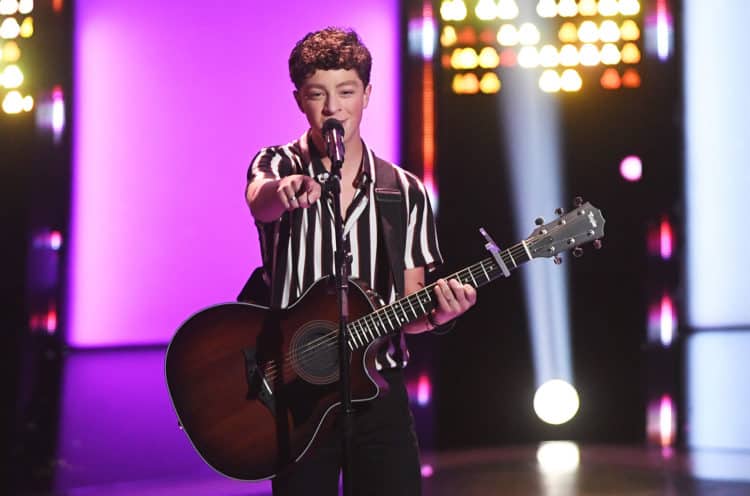 Tate Brusa is a young man who hasn't even begun his real life yet, and here he is making waves on national television as a contestant on the Voice. He's someone who has a raspy voice, a soulful sound, and some serious talent. You can't tell us otherwise that he is not the most spectacular talent, and he is only 16. He is someone the judges are continuously impressed by, he's someone that everyone loves, and he is someone who definitely makes it his mission in life to pursue his dreams. He's young, but he knows what he wants, and he's working hard to get there and make it happen. We want to know more about him.
1. He's From Salt Lake City
He's a young man born and raised in Salt Lake City. His Utah upbringing allows him to have a little bit of the best of every world. He gets white Christmases, cold winters, beautiful fall weather, perfect spring temperatures, and warm summers. He gets all the seasons, which we are sure he's not yet old enough to actually appreciate (that or he's not a Floridian, so he doesn't understand how glorious having an actual season other than summer and other summer feels).
2. He Damaged His Vocal Cords
As a child, he actually damaged his vocal cords. His voice is not naturally raspy by any means, but this is what pushed it over the edge. He ended up finding his raspy sound after the damage. We know that he claims the damage came from essentially being an annoying younger brother yelling and screaming all the time at his siblings, which sounds about right, but we can see that it was likely a blessing in disguise as it allowed him to cultivate this insane talent he has.
3. He's Been Playing Guitar Forever
You just have to guess that most people who are so musically inclined have been that way since they were young kids, and this is one of those times you'd be correct. This is one of those times that assumption is accurate as hit is a young man who has been playing the guitar most of his life. His parents bought him one of his own when he was only seven, which tells us he was already good at playing and has been doing this for a long time.
4. He Writes His Own Music
When his parents bought him his own guitar and allowed him to practice at home the way he does, he also began writing his own music. Tell me it's not impressive that a seven-year-old is writing his own music, his own songs, creating his own sound, and working on things like that at this age. Most kids this age are playing outside, trying to get more screen time from their parents, and looking forward to spending time on the playground with their friends at school. Tate Brusa was writing music.
5. He Performed at Sundance
What's probably most impressive about this young man aside from his talent is that he's already had a major gig. He was given the opportunity to play his own music and perform in front of a huge crowd of people at the Sundance Film Festival just a year ago. It's one of the biggest and most important events of the year in Utah, and it's attended by some of the most famous people in the world. Those people were given a chance to see this young man play his music and sing for them, not just once; but for a solid six days. He had a set that allowed him to play for six days.
6. He's a Golfer
When he's not working on his songwriting, his guitar, or singing, he's working hard at being your everyday teen. He plays varsity sports at school, but golf is his game. He's on the varsity golf team, and he is good enough to win when they have to compete against other school players around his Salt Lake City high school.
7. He Thought He Might Get the Puppy Blake Shelton Was Holding
During his own audition, singer Blake Shelton was holding an adorable puppy that was cute as can be. And he told the singer that if he chose to go to team Nick Jonas over him, he'd send the puppy back to the pound. The young singer knew Shelton was joking, but he momentarily thought that he might actually get to keep the dog for himself if he chose to be on his team. He didn't, but he didn't pick the team, either.
8. He's a Huge Jonas Brothers Fan
When it was time for him to go to California and audition for the show, he was also the recipient of two front row tickets to see Nick Jonas perform in Salt Lake City. His father picked them up knowing that his son is a huge fan, but he had a very difficult decision to make. Ultimately, he was mature enough to understand that he needed to be there to prepare for his audition, and he missed the show. But, now he's on the team of the same young man he didn't get to see in concert, and that is something that is probably a heck of a lot sweeter in his life.
9. He's Still Keeping Up With his Studies
He does not get to skip things like homework and being responsible just because he's on television, and that was a huge bummer. His teachers still send all the class work, homework, and everything in between, and he still has to spend time on the set studying and keeping up with his education.
10. No One But His Principal Knew Where He Was
All of his friends and teachers thought that he was going to a music camp when he was away from school so long, and they had no idea where he really was. The only person who knew the truth about where he was before his audition hit the airwaves was his principal, who did a great job keeping the secret.