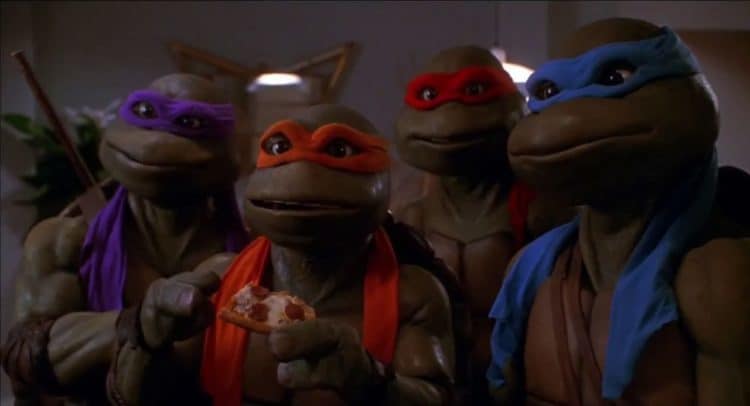 For more than 30 years, the Teenage Mutant Ninja Turtles have been a fixture in childhoods everywhere. On the surface, the concept of turtle superheroes dressed as ninjas sounds a little ridiculous, but there has always been about this pizza-loving squad that people just can't resist. Since debuting in the 1980s, the Teenage Mutant Ninja Turtles have become an entire brand that has expanded well beyond comic books. Now consisting of merchandise, TV shows, movies, and video games, TMNT is getting ready to add another film to the list. It was recently announced that Colin Jost and his brother, Casey, would be writing the script for a new live-action TMNT movie from Paramount.
The project is already getting lots of attention, and Colin and Casey are more than ready to live up to the hype. Keep reading to learn more about the upcoming Teenage Mutant Ninja Turtles movie written by Colin Jost.
The History Of The Teenage Mutant Ninja Turtles
The Teenage Mutant Ninja Turtles were created in the early 1980s by Peter Laird and Kevin Eastman. The four turtles are named after artists from the Italian Renaissance: Raphael, Leonardo, Donatello, and Michelangelo. In addition to the Ninja Turtles, their story also centers around their teacher/father figure, a rat named Master Splinter. The duo published a comic book featuring the turtles and debuted it at a comic book convention in New Hampshire. The whole idea initially started as a joke, and Laird and Eastman, but within about two years TMNT started to gain some traction.
By the late 1980s, Teenage Mutant Ninja Turtles had their own animated series and endless toys and other merchandise items. If you grew up during the late 1980s and throughout the 1990s, you remember just how popular these crime-fighting turtles were. They were literally everywhere from birthday party decorations and Halloween costumes to school supplies. TMNT eventually found their way onto the big screen. Over the years, the franchise has released four feature films.
Who Are Colin And Casey Jost
There are some people out there who may be wonder who Colin and Casey Jost are, and what makes them qualified to write a TMNT movie. For starters, both brothers have years of experience working in the entertainment industry and they've achieved high levels of success. They both have a background in comedy which means viewers can expect lots of humor in the upcoming movie. Colin is best known for being the head writer on Saturday Night Live, a position he's held since 2005. His work on SNL recently earned him an Emmy Award. Although this isn't relevant to his work, Colin is also married to Scarlett Johannson.
Casey is best known as a producer with the popular hidden camera prank show, Impractical Jokers. However, he has also done lots of screenwriting. Most notably, he wrote for Late Night with Jimmy Fallon in 2010.
While there's no doubt that Colin and Casey are very creative and talented, they don't really have experience with writing movies. It'll be interesting to see how they approach such a big project, especially one that is part of such a legendary franchise. Since they're both longtime fans of TMNT, they should have a pretty good idea of how to handle the story. Hopefully, they'll be able to find that perfect balance between appealing to a younger audience while also keeping the movie enjoyable for OG TMNT fans. If things go well with this movie, it could open up lots of incredible opportunities for Colin and Casey.
What Will The Movie Be About
Unfortunately, the details about the upcoming movie are being kept on the low for now. There hasn't been any information on the plot, casting, or a potential release date. What we do know, however, is that this movie will come out after the animated reboot from Seth Rogan which is slated to be released in the summer of 2023. This likely means that the Jost brother's version won't come out until at least 2024.
Releasing the movies close together could cause some unwanted competition, so hopefully, there's a nice gap between both projects. It would suck for Colin and Casey to have their movie overshadowed by another TMNT film.
How Fans Are Feeling About The Upcoming Movie
As soon as the announcement hit the internet, fans quickly flocked to various forums to share their opinions. Unfortunately, a lot of people don't seem to be that excited about it. A Reddit user named y2jerichoholic said, "This seems like the kind of film that will come out in the same month as many other blockbusters (including MCU and DC movies) and scrape by with making a small bump on the budget. Is there really much thirst for another TMNT picture?". Others seem to echo the sentiment that no one is really asking for another TMNT movie. Colin and Casey are definitely going to have to knock this one out of the park, but they seem ready and willing to take on the challenge.
Tell us what's wrong with this post? How could we improve it? :)
Let us improve this post!