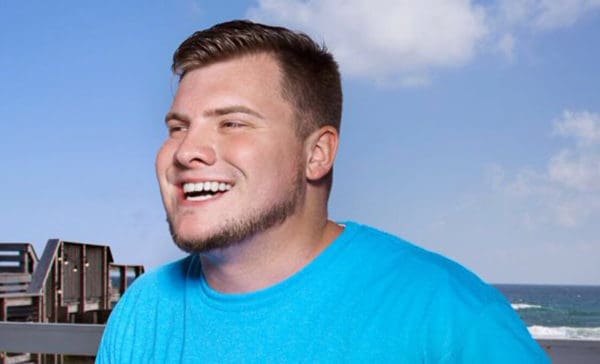 Fans of "Floribama Shore" must have seen Codi Butts being the spontaneous guy who keeps trying to win Candace Rice's heart. He was not famous before the show, but now everyone in his hometown recognizes him; he considers himself a public figure. The 27-year-old has become quite a star with over 236k followers on Instagram, and with the enthusiasm he has, that number will grow. Let's get to know more about him besides his acting career.
1. He is persistent
If the first time you fail, then keep trying. That is the life principle that Codi believes in when it comes to dating Candace Rice. Candace was torn between sticking to her boyfriend back at home and giving Codi a chance. However, even after Candace said she was not interested in Codi, the poor guy still begged for Candace to date him. His behavior did not help to build a case for him because he kept hooking up with other girls who might have turned Candace off. All the same, Codi does not give up easily, and he still hoped to have a relationship with Candace because he admits his feelings are genuine. With season three around the corner, his pursuit for Candace's heart may yield positive results.
2. His idea of a real gentleman
Having Codi as your boyfriend seems like landing yourself the ideal man. In his interview with Heavy, Codi laid down his idea of what makes a gentleman. According to him, a man should be respectful to his woman and never belittle her in public or behind closed doors. He added that a gentleman should never hit a woman and should be willing to do anything to make her comfortable. Codi believes that a man should open the door for his woman, pull her chair out, and do everything else that we only believe happens in movies. For Codi, doing everything for his woman does not make him her servant but instead displays courtesy and respect.
3. He has a keen fashion sense
For anyone to consider himself sexy, he must be very confident in his body. That is what Codi did in an interview saying that he was excited fans would see his sexy butt when he wore his speedo. What stamps his confidence is when he refers to himself as the "epitome of Southern." Codi likes going out looking all good, so he ensures his colors match, and his collar is popped. He, however, emphasizes that the need to look good does not get in the way of getting dirty when the need arises.
4. Being on "Floribama Shore" was his first time in Panama City
We should always welcome the opportunities that come our way, for we never know where they may lead. Codi is from Westminster, South Carolina, and he never knew how much his life would change by being a cast member of the reality television show. Westminster is a small town whose population was hardly 2,500, as per the 2010 census. He, therefore, was skeptical about what to expect from his housemates. The best thing, besides having people who are now like family, Codi got to be in Panama City for the first time. He loves the place so much and now considers it his second home.
5. His experience on "How Far is Tattoo Far."
Codi comes off as a person who always wants to be the best in all he does. Consequently, when his housemates Nilsa and Aimee inked each other in season one of "How Far is Tattoo Far," Codi felt they did not represent "Floribama Shore" well. Therefore in season two of the tattoo series, Codi and Kirk went at each other and designed tattoos for each to permanently draw on the other. Codi told Hollywood Life that the experience brought him and Kirk closer because they have tattoos to remember each other by forever.
6. He is indecisive
The heart wants what it wants, according to Selena Gomez, but we must learn to take control. In 2017, Codi Butts could not help but notice that he and Aimee had a Southern connection. While he is from South Carolina, Aimee is from Alabama. That fact alone made him feel there was a chance of him and Aimee becoming more than friends because he thought they understood each other. However, Aimee turned down his proposal to have him as her boyfriend since she made it clear that things would remain platonic with her male roommates. Codi once said he would love to date Nilsa before he moved on to pursue Candace. Moreover, he confessed to have been in love with his manager at work.
7. What he did before fame
From the way he made the "kukapoo" drink to celebrate Kortni's non-pregnancy party, it was evident the man has some skills. Before being cast in the reality show, Codi was a bartender at "The Spot on the Alley," a place he refers to as an old people's bar. It is while there that he fell madly in love with the bar manager Tracy, but the feelings were not mutual, which has become the story of his life. Codi also was a basketball coach before getting the bartending job.
8. His sister encouraged him to audition for "Floribama Shore."
We probably would not know of Codi Butts had his sister not pushed him to audition. His younger sister, Taylor Butts, encouraged him to give reality television a try while watching "Party Down South," and the casting call commercial came up. He was hesitant, saying that the producers did not want anyone from Westminster, but he still tried his luck. After six months of vigorous interviews, he was flown to Los Angeles.
9. He loves pampering himself
Codi admits that he is not a typical guy. While other men would be caught dead entering a hair salon, Codi has no problem. Matter of fact is he loves getting his eyebrows waxed. Since he also enjoys fishing and hunting, he does not bother with wearing camouflage clothes in the woods. Instead, he dresses in a Ralph Lauren polo shirt and goes ahead to hunt.
10. His love for "Floribama Shore."
Codi loves the show so much that he will not mind doing as many as the seasons they want to have him. He adores his fellow castmates, and being around them is fun since they have become close friends. Besides, with Candace, whom he considers as wife-material being there, that is all the encouragement he needs to be in the house.