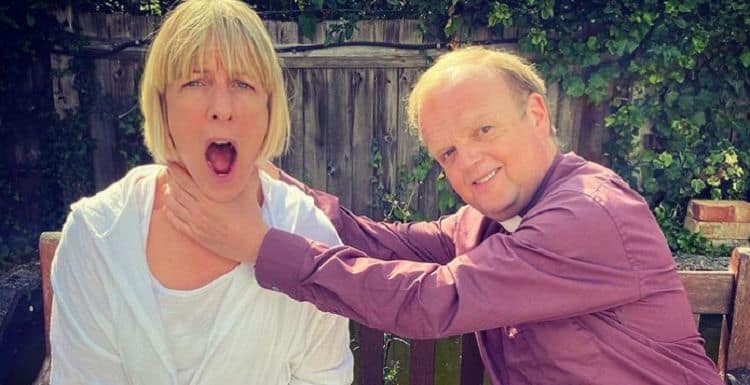 Claudie Blakley was born and raised in the United Kingdom, but she has become known to people all over the world thanks to her work as an actress. She has been in the entertainment industry for over 25 years, and she has worked very consistently during that time. Some of her most well-known credits include Lark Rise to Candleford and Manhunt. No matter what kind of project she's working on, Claudie is known for putting on great performances. Although she hasn't made any TV or film appearances in 2022, I think it's safe to say that we'll continue to see a lot more of Claudie. Keep reading for 10 things you didn't know about Claudie Blakley.
1. She Comes From a Creative Family
Claudie's decision to become an actress isn't too surprising considering her background. Her father, Alan, was a successful musician and music producer. Sadly, he passed away in 1996 at just 54 years old. Her mother, Lin, is a well-known actress who is best known for playing Pam Coker in EastEnders.
2. She's a Formally Trained Actress
Despite the fact that Claudie is a natural-born actress, she has still done a lot of work to hone her talents. She studied acting at London's Central School of Speech and Drama where she graduated in 1997. The school is known for producing top-notch talent and some of its alumni include Andrew Garfield and Sir Laurence Olivier.
3. She's Done Lots of Voice Work
Claudie has spent the majority of her career doing live-action work, but she is also a very talented voice actress. Her most recent voice credit was in the 2022 movie The House, but she has also done a lot of voice work with BBC Radio 4 and BBC Radio 3. However, it's been about a decade since she's worked with either station.
4. She's Not Really Into Social Media
Social media has become such a big part of most people's lives that it can be tough to imagine that there are lots of people out there who aren't that interested in it. While it's true that Claudie has accounts on both Instagram and Twitter, she doesn't spend a lot of time posting on either platform.
5. She's A Proud Mother
Trying to balance a thriving career with busy home life isn't always an easy thing to do. Still, Claudie has managed to make it work. She is a devoted mother of one and she loves spending time with her daughter whenever she gets the chance. At the moment, her daughter is a little too young to fully understand how much of a big deal her mother is.
6. She Enjoys the Simple Things
Even though Claudie has been in the entertainment industry for more than two decades, she has never gotten caught up in all of the hype. She is the kind of person who appreciates the simple things that life has to offer such as spending time outdoors and enjoying meals with loved ones.
7. Fans Love Her Feet
Apparently, Claudie's acting skills aren't the only thing that people love about her. According to Wikifeet, which is a database of celebrity feet, Claudie's feet have earned a little more than a 4.1-star rating. Those who are interested in seeing what highly rated feet look like will be happy to know that the website includes a few pictures of her feet.
8. She's Done Lots of Theater Work
On top of her on-screen work, Claudie has also spent a lot of time on stage. When asked if she prefers the stage of the screen, Claudie told Culture Calling, "I like to do all of it, is the honest answer! You go along one road for a while, and it's lovely to do some filming and TV for a bit, but then you can be absolutely itching to get back on the stage and get that live feeling, which is different every night, and that freedom you get in rehearsals where you can explore your character for however many weeks. It's so instant when you're filming and so I miss the live feeling there. It's good to keep it spicy and learn from each medium. So I'd say all of it, variety is the spice of life!"
9. She's A Dog Person
All of the dog lovers out there will be happy to know that Claudie is a dog person, too. She has an adorable fur baby named Sulley and she is proud of her role as a pet parent. Unfortunately, though, Sulley doesn't have his own Instagram account and she doesn't post pictures of him very often.
10. She Has Nearly 50 On-Screen Credits
Claudie's acting resume is nothing short of impressive, and she still has a lot left to share with the world. According to her page on IMDB, Claudie has 48 on-screen credits. This includes TV, feature film, short film projects as well as a movie that has not yet been released.
Tell us what's wrong with this post? How could we improve it? :)
Let us improve this post!