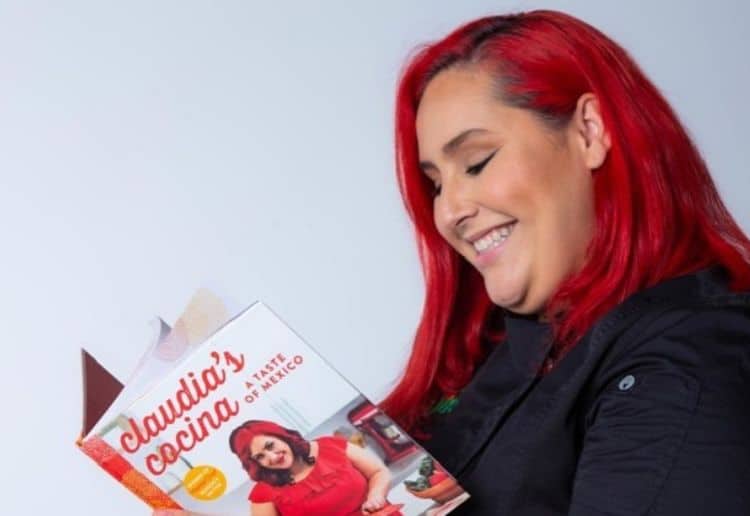 When it comes to food, Claudia Sandoval knows her stuff. After all, it is through being a professional chef that she gained her television fame as a competitor on the Fox reality show 'Master Chef', which she won in the sixth season. She also has a blog, 'The Adventures of a Single Latina Mama', and has gained a level of recognition from that as well. But she is just starting to get used to the fame that her chosen profession has brought to her; in reality, she is just a woman who was wanted to do what she loved, and this is where she is today as a result.
She hasn't always prepared delicious fares to earn a living, and being a television star was never her desire, nor is it the central focus of her life. There are many facets to this woman, and we feel she deserves a bit of attention. Enough attention, anyway, that the people who watch her and dream of trying her food will know her on a better level. After all, she's a person like the rest of us; the sun doesn't rise and set according to her quiche, for lack of a better term.
With that, we present for your approval ten facts about Claudia Sandoval and her life that you probably had no clue about. From her chosen profession to her home life, and everything in between, we are filling you in on the required information you need to become a true Sandoval fan. So kick back and soak it all up…maybe with a bag of chips and a cold beverage. You can always pretend that you're eating gourmet…
Here are 10 things you didn't know about Claudia Sandoval
1. Birth, Upbringing, and Education
Claudia was born in San Diego, California on April 16, 1984; she is and Aries born in the Year of the Rat. Her family is from Mazatlan, Mexico, though her parents were in the states when she was born, so she was raised in California as well. Claudia was brought up by her mother and grandmother, and they both taught her to cook from the start. She graduated from Sweetwater High School before enrolling at Grossmont College, though her course of study is currently unknown. We do know that she has never had any formal training to be a chef, aside from what she learned from her grandmother. Her knack for cooking and her flair for blending a variety of flavors into something new and special is completely natural.
2. The Beginnings of a Winning Chef
Initially, Sandoval worked for a San Diego marketing agency as an events manager. After being encouraged to apply to audition for Master Chef by friends and family, she went through with the process, and managed to land a spot on the show. After years of learning to cook from those around her, she was able to take a little of each lesson she learned, blend them together, and come up with her very own signature style and flavor. She calls it a 'modern take on Mexican Coastal cuisine'. While she really didn't have much professional experience in the field, she had plenty from home, and it proved to be enough to win her the season six Master Chef title. Today, Sandoval writes a blog, has written a book on cooking, runs a culinary consulting and catering business called Claudia's Cocina, and she also does work with a variety of well known brands, including but not limited to T-Mobile, Coca-Cola, and Kellogg's. She is also a judge on Master Chef Latino.
3. Charitable Causes
Claudia, as it turns out, has a passion for charities, especially when it comes to giving back to the community which she is a part of . She is board member and supporter of a variety of organizations, As a matter of fact, she made of goal of raising $250k, which is the same amount she won on Master Chef. To date, she has raised more than $450k that will go to providing direct support that will spark positive change in her community. The amount was just shy of doubling her goal.
4. Personal Life
Claudia is currently unmarried, and she has one child, a daughter, who is 14-years old. They reside together in San Diego. While she doesn't have, and isn't in the market for a boyfriend, she is a happily married woman. She stated that her husband has been a big encouragement when it came to her going on Master Chef, and he also supports her other culinary efforts wholeheartedly. To date, her husband remains unnamed to the public, like her daughter. Claudia likes to keep her personal life as quiet and uninterrupted as possible.
5. Net Worth
Claudia Sandoval is a modern celebrity who really hasn't been in the limelight all that long. Most of her income has been from her job an events manager, and of course, she has her winnings from Master Chef. Added to those are the incomes from the brands she works with, her book, any she may make from her blog, and from her catering company. According to Net Worth Stats, with those things combined, Claudia's net worth for this year is estimated to be between $100,000 and $1 million dollars, but it is steadily growing. Her win on Master Chef certainly gave her a much-needed boost when it came to her professional life.
6. Zodiac and Star Sign Traits
As we mentioned earlier, Claudia was born on April 16, which makes her an Aries. Aries women are said to be a bit feisty, and she seems to exude confidence to those around her. She is also very independent, and the successes that result from this prove her a role model for all the women around her. She is ambitious and hard-working, which also takes her to the places she longs to go professionally. She was also born in 1984, the Year of the Rat. Personality traits possessed by rat children include being intelligent, positive, and adaptable. They also tend to be open to others and are typically cheerful. On the other side of that coin, these individuals can also unstable, lack persistence, be a bit withdrawn, and behave with obstinacy when they don't get what they want, or when circumstance seem to work against them.
7. Her Blog
Claudia has a fairly popular blog entitled, 'The Adventures of a Single Latina Mama'. In the blog, Claudia typically writes about a variety of things, with nothing really being off limits. The statement at the top of the blog's homepage reads 'A series of excerpts, thoughts, questions, debriefs, and hilarious anecdotes of the life of a single Latina mom as she navigates motherhood, family, work, and dating'. If you are interested in checking the blog out, just visit 'The Adventures of a Single Latina Mama.'
8. Her Book
She was also able to release her first book, a cookbook, after her Master Chef win. The book is called 'Claudia's Cocina: A Taste of Mexico', and it features everything from recipes to one-liners, and is a entertaining as it is beneficial in the kitchen. It can be found on Amazon, Barnes & Noble, Goodreads, and at Target, as well as other places that sell books.
9. Social Media
For you die-hard fans who don't think watching your favorite celebrities on TV or buying their book will suffice, feel free to check out Claudia on social media. On Instagram she has over 70k followers, and she can be found under @chefclaudiasandoval. Likewise, she can be found on Facebook on her Public Page under Master Chef and Master Chef Latino Judge Claudia Sandoval. If Twitter is more your thing, check her out at @ChefClaudiaS. On all of these platforms you can see that she promotes recipes, books, her career, and a bit about her family and personal life as well. Also, Claudia has her own website, which shares much about her life and career.
10. Future Plans
First off, Claudia plans to continue to put her daughter first, as raising the girl properly is very important to her. Otherwise, she has a KickStarter campaign with which she is raising money to help her open Cochi Dorado, which is going to be a bakery. The bakery should open by next year, and will be located in National City, which is where she was technically raised. The bakery will offer authentic Mexican baked goods.
It seems that Claudia Sandoval has been marked for success from the start. She certainly has what it takes, and she also has a nose for business that many would only dream of having. Add that to her wonderful cooking skills, and the makings of success are right before you. I have to say that it was wonderful to see her win her Master Chef title, and we hope she has fun being in the judges chair. Claudia, we wish you success in all of your many endeavors, and want to take this moment to remind you not to forget to stop and smell the roses.