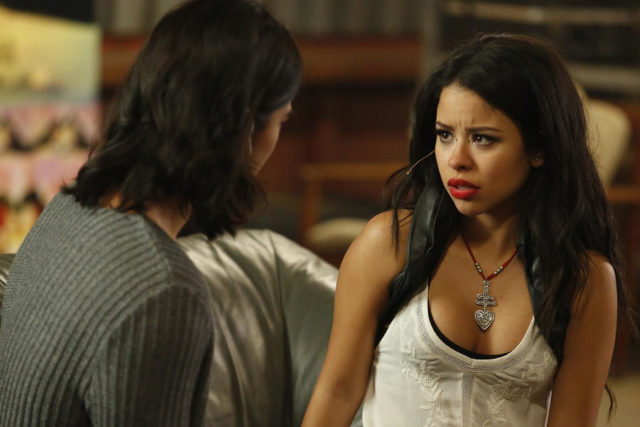 Cierra Ramirez has been known to sing, but she should be best-known to most people because of her acting. After all, she played Mariana Adams-Foster on The Fosters, meaning that she is starring on the spinoff series Good Trouble as well. Here are 10 things that you may or may not have known about Cierra Ramirez:
1. Cierra Means Mountain Range
Cierra is a variation on Sierra, which comes from the Spanish for "mountain range." To be exact, the term refers to a long mountain range with jagged peaks.
2. Ramirez Is a Patronymic Name
Ramirez is the 28th most common surname in Spain, meaning that it is pretty common in countries with Spanish influence as well. The name is patronymic in nature because it means "son of Ramiro." As for Ramiro, well, it is the Spanish version of a Latin version of a Visigothic name, which is why it can be traced to a couple of Germanic elements meaning "advice" and "famous." Visigothic influence isn't uncommon in Spain because the Visigoths carved out a kingdom from the Western Roman Empire in what is now southwestern France and the Iberian Peninsula.
3. Raised in Sugar Land, TX
Regardless, Ramirez was raised in the city of Sugar Land, which can be found in Fort Bend County in the state of Texas. The city is named thus because it started out as a company town of the Imperial Sugar Company in 1908, though sugar was being produced in the region long before that point in time.
4. Graduated from High School through a Home School Program
Education-wise, it is interesting to note that Ramirez graduated from high school through a home school program. This was necessary because she pursued an acting career, meaning that she needed something much more flexible than what a standard high school program could provide her with.
5. Got TV Debut Because of Singing
It is interesting to note that Ramirez got her TV debut at the age of 10 because of her singing. In short, what happened is that she performed a song on Showtime at the Apollo, which focuses on live performances from both professional and up-and-coming performers. Some people might be familiar with the show because it was revived in March of 2018 on Fox with Steve Harvey as the host.
6. Signed Empire and Tribeca Music Group
Currently, Ramirez is signed to Empire and Tribeca Music Group. So far, she has released a single EP in 2016 as well as three singles in 2016, 2017, and 2018. Besides that, Ramirez has been known to perform the opening act for other performers, with examples ranging from Ruben Studdard to Earth Wind and Fire.
7. First Notable TV Role on The Suite Life of Zack & Cody
Ramirez's first notable TV role came in 2007 on The Suite Life of Zack & Cody. For those who have never heard of the name, it was centered on a pair of troublesome twins living at the Tipton Hotel in Boston. In it, Ramirez played a recurring role as a camper with some serious anger management issues.
8. Another Recurring Role on The Secret Life of the American Teenager
Before The Fosters, Ramirez had another recurring role on the teen drama called The Secret Life of the American Teenager. The show started out with rather mixed reviews from the critics but managed to meet a much more positive reception from the viewers, which is how it managed to run for five whole seasons.
9. Co-Starring on Good Trouble
Currently, Ramirez is co-starring alongside Maia Mitchell on Good Trouble. Said show sees two of the Fosters children moving to Los Angeles for the purpose of starting out their careers. Politically, the show is very much on the progressive side of things, which it handles well enough.
10. Voiced America Chavez
Recently, Ramirez voiced America Chavez in an animated movie called Marvel Rising: Secret Warriors, which is based on Marvel Comics. Her character is the second to use the Miss America name as a superhero, though she is something of a stand-out in that there is no real distinction between her civilian identity and her superhero identity. Something that isn't always the case for Marvel superheroes.