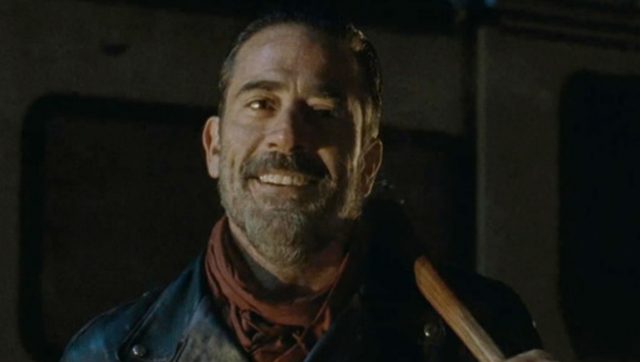 Fans of The Walking Dead comic know that Negan has a very specific look in his introduction, so those fans may have been a bit surprised when the infamous villain made his first appearance on the television series in last season's finale. While Jeffrey Dean Morgan's attire was pretty spot-on, his portrayal was visibly different due to the beard he had after stepping out of the trailer (his scruffiness was explained by Morgan's role on the final season of The Good Wife, which was filming at the same time).
The show's new trailer at San Diego Comic-Con showed us that the character will still be scruffy when the show returns for its seventh season in October, but that may not last forever. Morgan was seen near the set in Senoia, Georgia, by a fan this week, and he no longer has the beard.
Shaved the beard😱😱😱😱😱 pic.twitter.com/xygjlWlu11

– Michelle Sandiha (@madreeduslove) August 1, 2016
This may not indicate a change in appearance (the mid-season finale is wrapping up filming, so he could just be taking advantage of some time off with a clean-shaven look), but it could be that a more comic-accurate style is in store for the character. It's worth noting that the actor still had the beard during Comic-Con, and the seventh episode was filming at the time.
We'll end up finding out soon enough, as The Walking Dead returns for its seventh season on October 23 on AMC.
What do you think about Negan possibly looking more like his comic counterpart? Let us know your thoughts in the comments down below!
[Photo via Twitter]