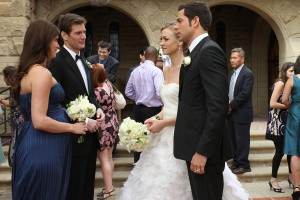 A sign at The First Church of Saints displays a funeral at 3:00. The camera pans down to reveal the Bartowski wedding at 4:00! With the CATs and Ellie as bridesmaids, Devon and Casey as groomsmen, Morgan officiating, and Sarah looking absolutely stunning in her wedding dress, it is Chuck's turn at his vows. How does he express the depth of his love for Sarah? He tries to think, even about how their children will be little superheroes with capes, but he can't properly do it. So, no vows, he'll just prove it to her every day of their lives. Morgan, through tears, asks each of them if they will take the other to have and to hold, and so on. "You may kiss the bride." As they kiss (and very Season 6 of Lost), flashes of the couple's love scenes from earlier seasons are shown (man, has Chuck's hair changed a lot or what?).
The couple get into their limo, and ask the drive to take them to the reception. As they share a kiss, the partition drops. Morgan is the driver too! "I'm having a little trouble letting go," he notes. Chuck asks him to raise the partition. "As you wish," Morgan replies. "As you wiiiiiiiiiish!" The car's phone then begins to ring. It's Hartley. He apologizes that he and Vivian couldn't be at the wedding, but he sent a gift in their place. Under the seat, Chuck finds an envelope. He opens it, and removes some papers. Chuck is shocked, and can only say, "Oh boy!"
Two weeks later, Chuck enters the Buy More. With a huge grin, he says hello to Jeff and Lester. The guys worry that the store has been sold and they're likely to lose their jobs. When Chuck departs, Big Mike yells at them to get back to work as the new owner might be stopping by soon. Chuck goes downstairs into an empty Castle. He begins to fish through a box of leftover nick-nacks. Decker appears on the screen. He says the box is of Chuck's personal effects that General Beckman wanted to make sure he received. Decker continues, noting that Chuck is just a pawn in a larger conspiracy. He's not fighting bad. Fulcrum, The Ring, Daniel Shaw, Volkoff? Chuck receiving the Intersect? Does Chuck really think they were all a coincidence? Everything was just part of a larger plan. Chuck angrily retorts that his life was changed forever when he received the Intersect. His friends and family were put in danger. What plan is in place? But Decker doesn't respond and just blips off the screen.
Later, Sarah, Casey and Morgan join Chuck in Castle. Who could control their lives so well, asks Casey? They won't have the opportunity to figure it out either as the CIA fired all of them. Chuck suggests they go into business for themselves. Casey is intrigued, but with what resources? Well, Chuck and Sarah bought the Buy More, and everything beneath it, including Castle. It seems Hartley's wedding gift was that he turned over all of Volkoff Industries' $877 million to them, though Chuck likes to call it a billion dollars. They have all of Volkoff's resources at their disposal. In fact, they bought a Gulfstream jet and all new technical equipment. Casey looks like a kid on Christmas.
"Freelance spies," Morgan notes. "Men and women of adventure." As Chuck, Sarah and Casey walk away to outline the new Castle, Morgan, now lost in his dreams of being a spy, sees a pair of glasses in Chuck's personal effects box. Thinking them, and himself, as a cool spy, he goes to put them on. What he didn't see was the note from General Beckman that the glasses are for Chuck. Morgan puts on the shades and flashes begin. When they stop, Morgan falls backwards. The others rush to hi side. Morgan opens his eyes and when asked if he is OK, replies, "Guys, I know Kung Fu!"
Commentary
Wow! That was certainly one hell of a season finale, wasn't it? Talk about fast-paced, that episode just did not stop moving forward, which I thought illustrated the seriousness of Sarah's condition, and the dedication to her that Chuck feels. This man would do anything for the woman he loves, as was quite evident. The episode also managed to neatly wrap up the Volkoff storyline and successfully "end" Chuck's story by having the Intersect removed, or at least suppressed, and Operation Bartowski shut down. Now, yes, it did open up a new story with whatever conspiracy Decker was referring to, and Morgan having the Intersect uploaded to his brain (all of which I will get to in a minute), but if this has been the series finale as well, I would have felt satisfied with this ending.
Fortunately, this wasn't the series finale, as Chuck has been renewed for thirteen more (and final) episodes this fall (along with a move to Friday nights at 8:00pm ET/PT). Of course, I am ecstatic with the renewal, as any more opportunity to hang out with these characters is welcome. That said, we have to take a look at where the story might be headed come Season Five. First off, we have Chuck and Sarah as near-billionaires who will now run a private spy business, a la Human Target.
Ostensibly, they will be investigating Decker and the conspiracy he mentioned, but I assume they will also take some other freelance work as necessary. With Casey by their side, I don't expect the missions to be markedly different than they have over the first four seasons, and for that, I'm grateful. Team Bartowski always had unlimited resources from the government, but nothing was ever too flashy or ostentatious. Mostly, this was due to the show's budget restraints, which certainly aren't going anywhere next season. But there was also something quaint that the "cheapness" leant to the series which I hope remains for the final season.
Also moving forward, we should have an opportunity for Casey and Morgan's respective relationships with Alex to mature and deepen, which should lead to some great sentimental and humorous moments that are uniquely Chuck. Throw in some more opportunities for Jeff and Lester to make asses out of themselves, and for Big Mike to probably marry Morgan's mom, and a lot of the show will still feel like it has previously. This is a good thing, in my opinion.
On the other hand, we come to the idea of Morgan having the Intersect. OK, when the scene played out, I loved it. I thought it was clever; I liked the way it aped Chuck receiving the Intersect in the pilot (with Morgan falling back the same way), and at the end of Season 2 with the "Guys, I know Kung Fu!" line. I had a huge smile on my face because of this…for about thirty seconds. Then I started to worry about what this means for the show.
Listen, the show is called Chuck, so he will always be the lead character, and the show will alawys be told through his eyes. That said, I am worried that Season Five, insofar as it deals with Morgan having the Intersect, could just be a rehash of the first two seasons when Chuck was trying to get used to the Intersect. This would not be a good thing in my opinion. It's not that I don't trust Josh Schwartz, Chris Fedak and the writers to make it funny, and I know Joshua Gomez will play it fantastically, it's just that if we only have thirteen hours left with Chuck and his friends, I want it to be about him and how he deals with whatever conspiracy brought the Intersect to him in the first place.
What I would like to see, if Morgan dealing with the Intersect for a couple episodes (and the hilarity that will ensue from Casey having to teach Morgan), but then realizing that he can't handle it (and not in the "the Intersect is melting my brain" way that we explored in Season Three). Chuck discovers a way to remove the Intersect from Morgan, and being that his own Intersect was just "suppressed," Chuck is able to reactivate his. The team then uncovers the conspiracy, defeats the bad guys. They get reinstated by General Beckman, and then Chuck decides, once and for all, whether he wants the Intersect removed permanently.
Now, if none of this comes to pass, I'm sure I will still love the final season. I've appreciated almost everything this show has done over its run, so I am certain I won't be disappointed. I just hope they keep the focus on the show's namesake in its final thirteen episodes. I have faith in everyone associated with the series, so I am very excited to see where it goes from here.
What did you think of the season finale? Did you think it was maybe too rushed? Do you think the Volkoff story was properly concluded? How great did everyone look at the wedding? How do you feel about the consequences of Morgan now having an Intersect? Please leave your comments below. It has been another great season of Chuck, and against all odds (and ratings!), we will have thirteen more episodes with our favorite accidental spy. Be sure to check back frequently at TVOvermind.com during the summer for all of your Chuck and other TV news. I'll be back this fall recapping the final season. Until then, in reality, I'm off to make a fist and hit him as hard as I can.
Follow: twitter.com/tvovermind
Follow: twitter.com/MikeNJD
Email: michael@tvovermind.com