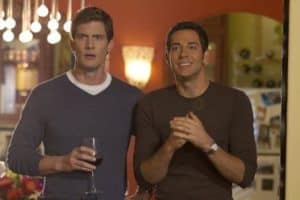 It is close enough to Christmas for Chuck once again to pull out the Die Hard references and whilst this weeks episode was not as strong as the previous homage in the season 2 outing of "Chuck vs the Santa Claus", nor as last weeks Sarah Walker ass kicking fest it was still fun.
Timothy Dalton was used terrifically as both the lovestruck and threatening master villain and is a terrific addition to the series and for an episode that could have come across as a stale his excellent performance meant otherwise. This was due in part because I believed he was capable of doing anything- yes I half expected for someone that Chuck loves to take a bullet or for Chuck to take a knife to the gut, after all he did point out that is one of the only things his mother hasn't done to him. This meant that I was on tenterhooks, especially at the dinner with the Awesome's which led to a hilarious game of charades, The Bourne Identity any one? If you haven't seen the Edgar Wright's fantastic comedy Hot Fuzz and enjoyed Dalton's performance in Chuck so far I implore you to check it out for some more comedic menacing brilliance.
Awesome as less than awesome is always amusing, his foray in to the spy world last year was great because of this and so with Chuck's revelation regarding Volkov and his return to the spy world the look on Awesome's face was priceless, mainly because he is also aware of what a terrible liar he is. Awesome's attempt to conceal the gun down the front of his pants was a funny moment, as was his comment to the CIA emergency device: "Wow. That is surprisingly soothing."
I do wonder if it would service the Ellie/Awesome story if they were both aware of Chuck's continuing spy life and whether this will be a point that we will reach by the end of the season. It is also on the confusing side that the Rourk computer that seemed intended for Ellie was instead a device for Chuck to reboot the Intersect, especially after their father was so intent on Chuck not being part of the spy world. I hope that this isn't just a gaping plot hole but something that they will address at some point. Whilst I am glad that Chuck has the Intersect back and functioning, I was also happy to see some more exploration of 'Chuck: Unplugged' and to see what other martial arts classes Morgan and Chuck would partake in.
Morgan as John McClane was pretty inspired, to have it be Casey would have been too obvious and so this was another tick of approval of where the writers have taken Morgan since he found out about Chuck's spy life last year (in an episode that was also directed by the same Zachary Levi who directed this weeks outing). In other pop culture references this week Linda Hamilton got to utter a Terminator line with "Come with me if you want to live" which I'm sure got a cheer from many people. Hamilton has grown on me, even if the dance of what her motivations are seems never ending and that another bad spy mother in the form of Alias's Irina Derevko always springs to mind in these moments, I think she has captured the emotional heart of the show.
The ending was cute with the repeated line of "I know kung fu. Again" I just wanted something a little more, especially as there won't be another new episode till January 17th. Overall though it was a fun outing and without it being overtly holiday themed has made this reviewer feel a little more festive and to my boyfriends delight made me want to dig out Die Hard.
What did you all think Chuck fans? Enjoy the Die Hard and Terminator references? Are you glad Chuck has the Intersect back? Want Ellie to know that Chuck is a spy again? Let us know in the comments below or in the forum and be sure to check out Michael Salerno's full recap here.