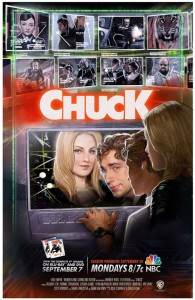 Season 4 Premiere: Monday, September 20 at 8:00pm ET/PT on NBC.
We Chuck fans know that the fact that I could write "Season 4 Premiere" above is pretty awesome. For those not in the know, Chuck was supposed to be a Dead Spy Walking last season. Thanks to the great Subway Sandwich campaign at the end of Season Two, NBC renewed Chuck for a thirteen episode Season Three (as opposed to a normal twenty-two). We were all happy to receive just that, but when The Jay Leno Show tanked, NBC found it needed more hours of programming, so Chuck, which had a bit of an uptick in its ratings, was asked to produce six more hours. Since those additional six hours were ordered after the original thirteen episodes were plotted out, it was as if Season Three had two full storylines and two finales. All the better for us Chucksters! So what did we get in those storylines? How about the consummation of a relationship, the death of a father, the recruitment of a couple new spies, the revelation of a secret life, the reconnection to a daughter, the destruction of a store, and the discovery of a mother, for starters? The Chuck crew certainly packed those nineteen hours, and with only thirteen coming in Season Four (so far!), I can only imagine they will be similarly full of the comedy, action, drama and romance we have all come to love.
What You Should Know
Chuck & Sarah– Finally, finally(!), Chuck and Sarah are a bona fide couple. After they (thought they) eliminated Daniel Shaw in Paris, the two spies professed their love for each other and made a go of it as a couple. While they are still exploring what exactly it means to be a pair of spies in a relationship (perhaps they can tune in to NBC on Wednesday nights for some advice), they are indeed happy. In fact, Chuck told Sarah that he promised Ellie he'd quit the spy game, and wondered whether Sarah could love "a normal guy." "I fell in love with a normal guy," Sarah replied. It seems like nothing but bliss for these two. For Sarah, personally, she spent much of the last season worrying about her feelings for Chuck and how to right them with her job, which often left her passive, with others acting around her. When she delivered the final blow to knock out Shaw, it, hopefully, sounded the return of the kick-ass spy we have come to know. Last, it was revealedthat Sarah's actual name is Sam.
Chuck & his Parent(s!)– Season Three was one of a loss and a possible gain when it concerns Chuck's family. His father, Stephen, was killed by Shaw, but he left Chuck with two things. First, the Governor: a watch Stephen developed that helps regulate the ill effects of the Intersect on Chuck's brain. Prior to receiving the device, Chuck's brain began to short out, leaving him in mortal danger. With the Governor, everything should be fine. Second, in a post-mortem video message sent upon his death, Stephen informed Chuck that there was a lot he had to learn about his family's identity. Namely, Stephen had been a spy for the last twenty years — not for the government, but for himself. Stephen had been searching for Chuck's mother, Mary Elizabeth Bartowski. The video instructed Chuck to return to his childhood home where he found his father's files on a number of different projects, including one on Chuck's missing mom. All we, the audience, were allowed to see was the back of a woman's head as she answered the phone, with the caller telling her, "We're going to have to move you." Who is Mary Elizabeth Bartowski, and what does she do? Well, we have at least one answer.
Casey – Much about Casey's younger days was revealed this past season, including his real name, Alex Coburn. It turns out that Casey was a young, married soldier, with a baby girl on the way (he didn't know about), when he was selected to joining a covert black ops squad of the military. Part of joining the squad was faking the death of Alex Coburn and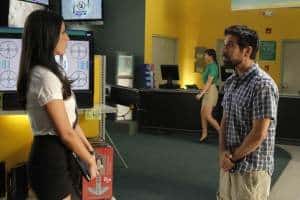 taking the name, John Casey. In a fateful meeting with his ex-wife fiancee (who didn't recognize him), Casey realized that he has a daughter named, aptly, Alex. Later in the season, he confessed his paternity to Alex, and gave her a key to his locker at the Buy More which contained a lot of cash he wanted her to have. Casey also did a stint as a civilian thanks to a plot to capture the rogue General that led his black ops team that had Casey betray General Beckman and the government. During this time and after his eventual reinstatement, Casey, hilariously, trained a new spy and possible suitor for Alex: none other than…
Morgan Guillermo Grimes– Chuck's best bud had whole new worlds opened for him in the last year. Not only did he become Ass. Man. at the Buy More (that's Assistant Manager to us), but he finally learned his best friend's secret: Chuck is a spy. Of course, having been brought up on video games, Bond movies and the like, Morgan immediately wanted in on Chuck's spy missions. Much to Casey's chagrin, General Beckman agreed to let Morgan join the team, as no one knows Chuck better than he does. Hilarity ensued as Casey tried to train Morgan in spy games, but the Bearded One did prove useful on a mission or two. More importantly for Morgan, however, was that he met a possible paramour in Casey's daughter, Alex.
But wait! There's more…on Page Two!!
Ellie & Devon– Captain Awesome (nee Devon Woodcomb) found out early that his brother-in-law is a spy when he himself was mistaken for Agent Charles Carmichael. Devon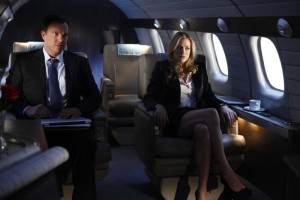 was needed for a few missions, but found it increasingly difficult to keep such a huge part of his life secret. He eventually tried to escape with Ellie to Africa as part of Doctors Without Borders, but the spy world followed him there, too. The couple's new advisor in the Congo was actually working for The Ring, and used Ellie to find Chuck and Stephen. While being holed up in the CIA's Los Angeles offices (thinking she was actually helping the government), Ellie happened upon Chuck on a spy mission. Chuck had to admit that he is a spy, leaving Ellie flabbergasted. After Stephen was killed, she made Chuck promise he would quit the spy game after The Ring was defeated, which he did. It is left to be seen how she will react when (if??) she is told her mother is alive.
Jeff, Lester, & the Buy More– Yes, there were appearances by Jeffster! (perhaps too many?), and general creepiness from the two Buy More guys, as can be expected. Of most consequence for them, though, is the fact that they believe they blew up the Buy More, though it was the explosives Shaw planted that actually brought the building down. As a result, Jeff and Lester are on the lam (running from no one), although it might not be too hard to find them.
What to Look For
The Search for Mama Bartowski– This will be the driving force behind Season Four. Who is Mary Elizabeth Bartowski? Is she a spy? If so, is she on the side of the angels, or the devils (not these Devils, though that would be interesting)? To aid his search, who will Chuck tell about his mother's existence? I assume he will tell Sarah and Casey so the core team can stick together (the show always clicks best when those three are acting in harmony), but what about Morgan? Chuck told Ellie he is getting out of the spy game, so he can't tell her — at least not right away. Further, will Chuck keep his search a secret from the government? Bonita Fredericy, who plays General Beckman, has been made a series regular this season, so that means the government will stay involved in Chuck's life, but to what extent? How Chuck is able to maneuver between his responsibilities for the government, his family, and his search for his mother will be interesting to watch unfold and the heart of the action this season.
Three Couples and a Baby – The creators of Chuck, Chris Fedak and Josh Schwartz, have promised that Chuck and Sarah will remain a couple throughout the season. There was enough controversy last seasonwhen the two spies were kept apart that the Powers That Be have no desire to do that again. That's not to say that there won't be bumps in the relationship road as Chuck tries to find his mother, but they will remain a couple. As mentioned above, Morgan has become a bit enamored with Alex, so how can he navigate attempting to score a date when her father is none other than John Casey? Last, Ellie and Devon will try to settle down their life after all of the spy business by trying to have a baby. It isn't certain how easily successful they will be, but there is no doubt that the kid will be pretty awesome.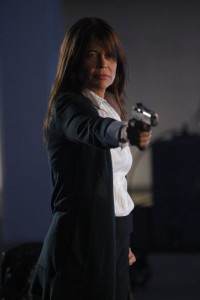 The Resurrection of the Buy More– Yes, the Burbank Buy More is no more (thanks to Shaw's explosives and Morgan's broken thumbs), but that doesn't mean it is gone forever. In its place will be a brand new, bigger and better Burbank Buy More (mmmmm…..alliteration). There is one catch: this new Buy More is actually a front for the CIA. Furthermore, the new manager of the branch is a rotating person named Greta, regardless of the sex of that person. This will lead to a number of great guest stars playing said role, including Olivia Munn, Stacy Keibler and Isaiah Mustafa. Speaking of guest stars, Chuck will be full of them this season, from Linda Hamilton as Mary Elizabeth Bartowski, to none other than James Bond himself, Timothy Dalton in an unknown five-episode arc.
Chuck's Future – It seems like we go through this every season (because we have!), but the future of Chuck is unknown. Like last season, NBC only ordered thirteen episodes, as opposed to a normal twenty-two. Now, last season the show got six more hours — could something similar happen this year? As always, the answer to this question will depend on the ratings of not only Chuck, but the rest of NBC's lineup (Chase, I'm looking in your direction). Hopefully, the ratings will be strong enough that NBC will want more Chuck, but if not, these final thirteen episodes could be the final ones ever. So, get whomever you know that isn't watching Chuck, and get them to start watching Chuck. Like they have done every year, Fedak and Schwartz have made the start of Season Four another great jumping in point for the series. If someone has never seen an episode before , there will be no doubt that that person will be able to join the series next Monday night. It just takes us devoted Chucksters to convince them they will not be disappointed.
Check out all of our great Chuck news and photos here. Brittany Frederick will be bringing you instant reactions after each episode, and I will be back every Tuesday morning with a full recap. Until then, I'm off to have my Governor fixed (and, yes, as a New Jersey native, that was an intentional pun).
Chuck premieres Monday, September 20 at 8:00pm ET/PT on NBC.