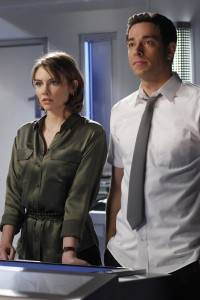 Continuing where we left the expanded Volkoff situation last week Chuck once again produced a fun episode that was both funny, touching and had some great action moments.
Vivian and her lack of a relationship with her father was explored as a parallel to the one that Chuck had with his own absent (but good) father, this worked as a way to become emotionally connected to Vivian but also as a way to exploit her feelings by Volkoff's lawyer (the always excellent Ray Wise). A normal CIA agent would probably use these methods to use the asset to reach the end target but as we already know Chuck is no ordinary spy and so his promise was more than a way to get to their endgame. Obviously Vivian is oblivious to this fact and by the episodes end appears to have chosen the dark side, though I'm sure that Chuck will make good on his promise to get her a meeting with Volkoff.
The action set piece this week was the bank robbery which was super fun, riffing on both The Matrix and Pulp Fiction. Both Chuck and Sarah pulled off the all in black/sunglasses look and used this time to discuss some really happy elements of their relationship, which was a welcome change to relationship issues on missions and made the scene even more fun.
I'm glad that this week we got to see the spy JC Penny room where they get the endless supply of spy costumes, they really do have something for any occasion. The room made me think of Cher's closet/computer system in Clueless that I know every girl who saw that movie wanted, but I liked that Chuck took it one step further with Star Wars like hologram versions of themselves in the outfits. This room provided us with my favourite moment of the episode with Sarah and her wedding dress montage and gave Yvonne Strahovski the chance to be both goofy and emotional. This being Chuck I liked that her perfect dress was in need of repair due to a mission mishap. There was an apparent parallel between the bridezilla monster that Ellie unleashed in Sarah (nice 'Keep Calm and Carry On' notebook that Ellie had) and the one that Chuck may have created with Vivian and I'm wondering with regards to Sarah whether this will be a joke just for this one episode or whether she will get wedding obsessed.
The Morgan plot of the episode did have it's moments but felt too contrived, surely if he was looking for a place to stay for the night to avoid the 'cats' he could just stay with Alex, right? The point I know was to get him to stumble upon whatever it is that Casey is doing and so he could move in with Casey which again makes me ask why? Why would Morgan want to live with his girlfriends dad? I hope that this will lead somewhere promising as the set up was rather disappointing.
Overall though it was a very fun episode that pushed the story forward and there was also a lovely little nod to Lost at the beginning of the episode that instantly made me smile.
What did you all think? What is Casey up to? Is Vivian going to be the next villain? Want that spy closet system? Let us know in the comments below or join us in the forum. Be sure to check out the always excellent Michael Salerno's recap here.
Tell us what's wrong with this post? How could we improve it? :)
Let us improve this post!