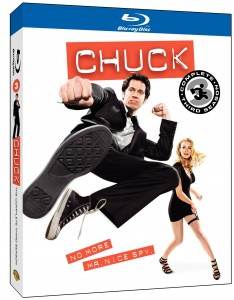 The wait is over, Nerd Herders! Chuck Season Three arrives on Blu-Ray and DVD September 7, and I have your inside scoop on the Blu-Ray edition right here!
The Show
If you still haven't seen Chuck, you're missing out – and I can say that from experience. I hadn't watched the show until getting the plum assignment to interview the cast at WonderCon 2010, and I ended up marathoning both Season 1 and Season 2 in a week. Season 3 became appointment TV in my house on a night normally reserved for 24 – a show that Chuck was routinely better than each week, and I say that as someone who's been a 24 fan for all eight seasons. Chuck is that good.
In Season 3, there's more spy mayhem and Buy More madness. Chuck (the vastly underrated and underpaid Zachary Levi) is still trying to balance his spy life with working at the electronics store. This wouldn't be so hard if he also hadn't downloaded the Intersect 2.0 into his head – while the new Intersect gives him more skills, it also may be driving him not-so-quietly insane, much to the distress of his handler and love interest Sarah Walker (Yvonne Strahovski). Meanwhile, NSA tough guy Casey (the scene-stealing Adam Baldwin) finds himself partnered with Chuck's fumbling best friend Morgan (Joshua Gomez) and dealing with people from his past. Oh, and did I mention there's a Superman in the house?! Brandon Routh portrays ruthless CIA agent Daniel Shaw, who takes over the operation and also has his eye on Sarah.
There's a lot of stuff going on in this season of Chuck. There are also some pretty great guest stars – Robert Patrick and Adam Baldwin have an X-Files reunion in one episode; Scott Bakula returns as Chuck's father; Smallville alum Kristin Kreuk pops in for a few episodes, and her first appearance also features Stone Cold Steve Austin (who's already been confirmed as returning for the upcoming season 4). You really can't go wrong with this show.
The Blu-Ray Discs
When I bought Season 1 and Season 2 of Chuck, I bought the DVDs after reading complaints about the poor Blu-Ray transfer, so I was a little apprehensive about how this Blu-Ray edition would perform. Now, I'm no video and audio technical expert, but the presentation didn't raise any red flags for me. It looks plenty viewable and I had no problem with understanding the audio. I don't want to say it's a flawless presentation since I don't know the technical fine print, but it's certainly watchable. All the episodes are presented in widescreen, which is always a plus.
The art is pretty much exactly the same as it was with the previous two seasons, both on the discs and in the accompanying booklet, just with different episodic pictures. The music on the menus is the exact same too. This isn't a bad thing, as it gives the whole show a uniform feel. The booklet has the same basic information that all Warner Home Video sets come with, which is to say the basic facts about each episode that you might want to reference.
Since this is a Blu-Ray release, there's no real packaging to discuss – one of the things I've noticed about Blu-Ray is that all Blu-Ray cases are fundamentally the same, as opposed to DVD boxes that can be either huge (like Deadwood) or tiny (like Family Guy's later volumes).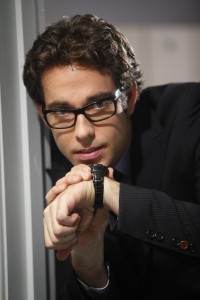 The Special Features
There are fewer special features here than there were on the previous seasons of Chuck. There's the by-now-standard deleted scenes (here called "declassified"), a gag reel (which on this show is always hilarious), and two featurettes – "Chuck-Fu and Dim Sum: Becoming A Spy Guy" and "The Jeffster Revolution: The Definitive Mockumentary."
Whoever designs the special features for Chuck is a freaking genius. These are always so much fun to watch (anyone remember the spoof Buy More employee training videos?). It also helps that they get just about everyone involved with them, be it the executive producers or the entirety of the cast, plus in this case, the inclusion of major guest star Brandon Routh. I never find myself wishing that someone was on the DVDs, or that a featurette could have been better. The main featurette is incredibly thorough, and covers the entire season, so don't watch it if you haven't seen all of the season yet. It contains Comic-Con footage, Zach Levi making up words, and even a meatloaf metaphor from Ali Adler. What other show would give you that?
The second featurette is an absolute blast, and is exactly what it says on the tin. It's a mock documentary about Jeffster, the band formed by Buy More employees Jeff (Scott Krinsky) and Lester (Vik Sahay). This is the kind of thing you might have seen on MTV or VH1 when they still played music. It takes fans all the way through the entire history of Jeffster.
I know I seem to say this with almost every review, but I'd love to see commentaries on this season. This cast is downright hilarious, leaving me wondering what they'd do if unleashed on their own work. I wonder if the once-commonplace audio tracks are becoming extinct on DVDs.
The Bottom Line
While it doesn't have as many bells and whistles as the first two seasons, Chuck fans won't be disappointed by this release. People who haven't seen the show are advised that the show itself is more than worth the blind buy. Highly recommended.
You can pre-order through Warner Home Video by clicking on the box art above, or the season hits stores on September 7. More info is available on the official DVD site, http://www.chuckdvd.com.