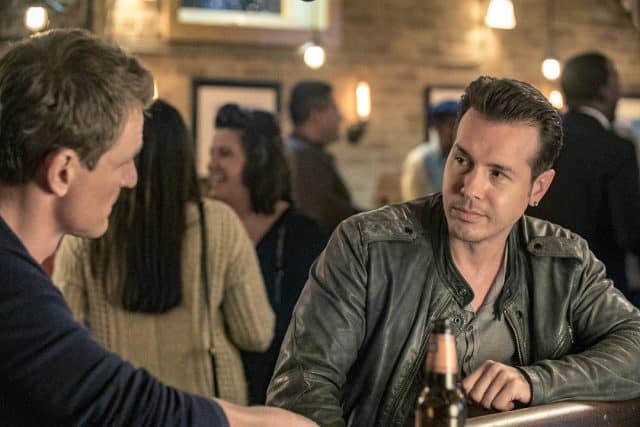 With the holidays approaching it's another important time for avid television viewers. We're beginning to see the waves of midseason finales roll in, and Chicago P.D. decided to end the year with a double dose of cases. We were told this was coming, and as we close out 2016 in Chicago we saw it happen. In the two hour midseason finale of Chicago P.D., Antonio decides that the time has come for a major career change. His departure shakes up the structure of the Intelligence Unit, and places a finishing touch on the team at the center of the next 'Chicago' spinoff, Chicago Justice.
It starts with a specific case the State's Attorney's office can't handle on their own. Assistant State's Attorney Stone asks Intelligence to find out who killed the key witness in his case against a rich playboy rapist and murderer named Oliver Tuxhorn. Stone's witness Tariq Bolad was in protective custody but managed to slip away to help a friend in need. Intelligence finds it appalling that Stone's investigators not only let Bolad slip away, but ignored the fact that the he and his wife were being followed. Stone does his best to control the trial in the meantime, but he's on thin ice without a witness.
Intelligence does their due diligence, finding out that Tuxhorn's lawyer has been making payments to an ex-cop who retired under suspicious circumstances. Luckily this guy is an old acquaintance of Olinsky's, and he wants no part of any of the Tuxhorn's illegal activities. He points Intelligence in the direction of Tuxhorn's brother Leo. Leo was so desperate to shed his shameful junkie label with his family that he tried to prove himself to his family by finding Tariq. There's just one problem. He didn't find Tariq, his sister Sloane did. Tuxhorn was able to arrange for Sloane to take out the witness through a Facebook message in code. It's enough to get Sloane to crack and offer up the ex-cop as the shooter.
As soon as things seem calm the city is under siege by a shooter targeting cops. Two officers are killed at random, but with almost military precision. This guy isn't an average shooter. There are a lot of people who hate the police, but the precision with which he strikes is not ordinary. He's too good of a marksman, and too knowledgeable about police procedure and their radio frequencies. After a lot of false leads and many, many people who hate police officers, they find their guy. The only person who would know that much about cops is a cop. Carl Dougherty, the son of an officer killed in the line of duty, was kicked out of the police academy just a few months in. Since then he was diagnosed with a delusional disorder. Dr. Charles describes his mindset as a fixed, but false set of beliefs based on amplified slights that go against those beliefs. This is how he rationalizes killing cops as righteous work.
By this time Carl has abandoned his shrine to hating officers to hold hostages in his childhood home. Carl is so far off balance he tries to feed his own delusion even as he's on the phone with Voight. He demands that Voight follow proper hostage negotiation protocol, and continues to rant and rave about how the police killed his father. It's all Carl's way of getting as many officers as he can to the house rigged with explosives. Voight does everything he can to talk Carl down, even sharing with him the story of his own father, and how he died in the line of duty. As much as Voight tries to talk Carl off the ledge, he's just too far gone now. They have no choice but to take him out.
It's been a sobering few days for Intelligence. For anyone who hasn't noticed, Antonio's been under a bit of a strain lately. When Stone offers him a position heading up the Investigations Unit for the State's Attorney's Office, Antonio genuinely doesn't know what to say; especially since Voight endorses this move out of nowhere. Voight seems to know Antonio's mind and future better than he knows himself. Voight knows Antonio is ready for the responsibility of running his own unit. Plus he really needs to be there for his children right now. It used to be that he could hardly ever see his kids. Now his ex-wife is so preoccupied with her new boyfriend that Antonio has to juggle his job and basically being a single parent. Gabby had to face a similar choice when she became a parent to Louie. Ultimately moving back to the ambulance was best for her family. The increased responsibility with the added bonus of working more stable hours is too good of an opportunity for Antonio to pass up. It also creates a vacancy in the unit…
Burgess's new partner crosses a line when he illegally posts a humiliating photo of a citizen he pulled over. Standing up for him doesn't do Burgess any favors. Burgess is a tougher cop than most though. When the city's cops are under attack she never falters, not even when her partner quits. She's just getting restless waiting for her shot at Intelligence. Despite her poor judgment, the job was made for her. Voight doesn't even get to officially offer her the job before she says yes! The unit is shocked by Antonio's decision to leave, but supports him all the way. So rest assured we'll see plenty of Antonio Dawson in the new year. You'll just have to tune in to another show to see him. As for what to look forward to when Chicago P.D. returns in 2017, we'll let Bunny's final words to Erin explain: "Your dad is in town and he wants to see you".
Enjoy the holidays everyone, and get ready for a changes in Chicago P.D. and the premiere of Chicago Justice.
Chicago PD Season 4 Episodes 7 & 8 Review: "300,000 Likes/A Shot Heard Round the World"
Summary
Chicago P.D. says goodbye to Antonio Dawson in this week's midseason finale, but offers viewers a sneak peek of where to find him next year.