The focus for Chicago Med's third season is the connection. Connections among the staff, as well as between the Emergency Department staff and their patients, is what makes the third show in Dick Wolf's Chicago franchise so successful. So agrees series star Marlyne Barrett, who plays Charge Nurse Maggie Lockwood. In our exclusive interview with the Chicago Med star, Barrett talked about her character's biggest personal and professional challenges, the show's third season arc, and the real-life medical news story which shook her in its familiarity to one of Maggie Lockwood's most powerful storylines.
How do you feel Season 3 has changed from the past two seasons?
You know, I describe it as an onion. Onions are really, really good for you. But as you cut through them, you realize that one of the benefits is that it is an emotionally charged vegetable. It helps you cry. With the good loving of an onion comes a lot of tears, and I think that's what it is with Chicago Med. We go to the depth of things, and the depth of the issues in healthcare going on in people's lives. Then at the core of it, as these surprise events or illnesses happen, you're dealing with real people. And I think that's what's rich about NBC and Chicago Med, and everything that Wolf Films always tries to do, [has to do with] the richness of people. [However], in the limited amount of time you're given with them in the hospital, you're dealing with a limited amount of expression. How much can you tell people about what's going on with your life, with your parents, with your sister or brother? I think it's a really great place to be in our 3rd season.
Maggie has always been this constant force to be reckoned with. In her dedication to her patients, she is completely unwavering.
There's a sense of stability in the quality of the care that she gives, in the quality of her relationships with people, and she has a great turnaround any time an event happens. [Any strong reaction] is not taken personally, it's taken with a grain of salt because of the pressure everyone lives in that E.D. Although she allows herself to sponge it in, she's able to exhale it at the end of the day. Maggie has a personal life that we're finally gonna start seeing. I don't know how deep we can get into it with all of the other characters. I think Maggie still needs to be involved in those friendship storylines for us to discover a need for 'Who is this woman who is always there for everybody else? Who's always there for the E.D.? Who's always there for everybody in the hospital?' That's very often something that happens to people who work these blue-collar jobs for many, many years. Maggie's been a nurse for a decade and now she's a Charge Nurse, and she's really, really good at it. But what is she really good at? I think her really big gift is people. But sometimes when you take care of people, you forget to take care of yourself.
This season is Maggie going to be taking care of herself, or are we going to see someone taking care of her?
We're discovering the dialogue that Maggie's having with it. [In Episode 1 and 3] you see that guy, who you find out…has a role in her personal life. That's the question she's going to be asking herself. Is there room in her life for someone else? I don't think Maggie's the type to get into a relationship very fast…I think she's quite possibly scared of it. She watches so many other people get into these relationships, and are doing it with more of an emotional skillset than she probably wants to develop, because she's so good at the medical stuff. There's a nervousness with, she does medicine so well, she does nursing care so well, I think she thought that her career was her driving force…Now it's time to develop those [dating] skills.
And if Maggie were to get into a relationship, she'd probably want it to be with someone mature and stable, someone who wasn't going to cause a lot of drama. For as much as Maggie doesn't know about dating, she saw Choi and April arguing, and she shut that down quickly.
When you're dealing with so much drama meeting trauma in emergencies, you just want a cup of tea, to read a good book with long pages, try to stabilize your life into a sense of normality. I think when you deal with so much trauma, you need some type of stability. That's what Maggie is looking for. If that can't be provided, that's where the questions come up.
As we saw in Episode 3, Maggie took a risk and went out with her ex. This season, is she going to actively look for a relationship, or is something going to find her?
There's a lot of knocking at the door, would be the best way to explain it. Just because she doesn't know how to do it, doesn't mean she isn't hungry for it.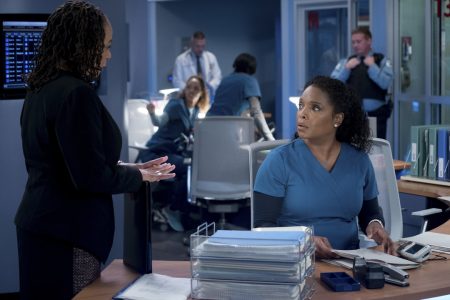 There's very few things that actually rattle Maggie, that she isn't prepared for. Does anything come up that does shake Maggie?
Maggie will encounter some difficulty when the system that supports this great medicine is rattled. You can only do great care if you have a great system supporting that care. The foundation has to be solid. When the hospital itself is putting Goodwin under pressure, that pressure naturally hits Maggie. She has to figure out how to cut corners, how to work with extenuating circumstances and longer hours. That's happening right now in urban hospitals around the country. What do you do when budgets, when things that are outside the hospital, affect [inside] the hospital? That's what we need to see in a lot of medical shows…[where] we start to see the life force that's happening in society, and we start asking the questions that the everyday person is asking themselves.
Maggie seems like she would be rattled, but also more prepared for that change, because she comes from an environment that is treated very poorly with their medical care.
I would agree with you. When I thought about Maggie at her core, [she was] traditionally raised. I thought of Maggie's grandmother as someone who would have the home remedies…passed down from generation to generation…[and Maggie is] someone who watched mom and dad not be able to afford great healthcare, and wanted to make a difference. Now that she is in the system, the spirit side of her is a healer. She fundamentally believes that people can heal in a great environment. When she encounters a system that can't provide that environment, the frustration isn't just 'should I stay in the South Side and provide great care there?' Well, there's already budget cuts over there!
The good thing here is that pretty much everyone is well-equipped to handle these cuts. Choi with his background in the military, Rhodes with his time abroad, others depending on where they grew up and their circumstances. This is a well-equipped environment, these are people who have been around the block.
It's kind of like those companies that have 5-6 different divisions, and each one has its own budget. What do you do when your unit is the one that has to take care of people with [limited to no] health insurance? Your unit is definitely going to take the hit.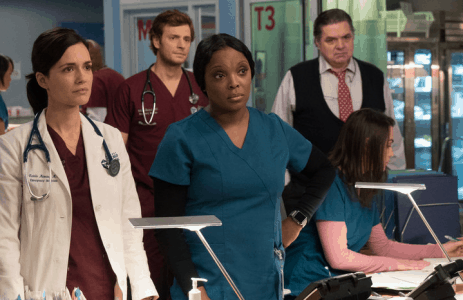 You have hands-on experience because of your background as a registered nurse. You have medical consultants on the show, but do any of the other actors ask for advice on how to make the medical procedures believable?
Not now. After 3 years, we know where we're going. The first year, we talked about what we were doing a lot. I am a registered nurse, but our trauma surgeon, [Chicago Med's Executive Medical Consultant] Dr. Andrew Dennis, is pretty bad-a**.

Prior to acting, my parents really wanted me to do something else. My mom is an NICU nurse, my dad is a medical engineer, and I have two sisters who were pre-med. We just have an affinity toward medicine. I did my nursing in Canada where you can do it straight out of high school. I have an associate degree, but I've never practiced a day in my life. I am so pleased that I got to [have the best of both worlds]. I asked my mom if she would ever praise my nursing skills on TV. She attributes this success because she forced me to do the nursing!
What else can you tell me about what's coming up this season?
The relationships have a really in-depth arc. [We're looking at] their interpersonal relationships, whether Dr. Manning or Halstead, or Dr. Choi and April Sexton. What can a group of people handle who deal with such traumatic incidents at all times? How do they deal with the pressure of those situations and their relationships? That is what we're going to explore, the relationships' post-traumatic medicine.
Are we going to get deeper into Maggie's personal life this season?
I hope next season. I really like the idea of the development of the show, of this season, being like an onion. Maggie's home right now is the E.D. trauma. After a long day, we're starving for Maggie, and Maggie is starving to go home. Her days are so long! Last year, she had a bit of a blow when she got arrested, but she still was able to contain it. Last season, Maggie needed to know [about the E.D. relationships]. This season she doesn't want to know. I like that secret. I've always asked myself, 'what are the questions that I'm not asking myself that could be preventative medicine for me?' And that's what I like about this show, if it's not rushed. I'm comfortable [waiting for it in a potential] season 4, because I'm convinced she has a bad-a** crib!
You mentioned last season's Maggie-centric episode where she was arrested for taking care of a patient. How surprised were you when that same thing happened in real life to a Utah nurse last July?
I received a text message from Colin [Donnell, Dr. Connor Rhodes] about this. I sat down and read the article, and it floored me! I couldn't believe it. There's something about Chicago Med where faith and fate meet. This particular story, S. Epatha Merkerson found. She pitched it to the writers. Little did we know, a year later, this prophetic thing was going to happen. I often wonder where that woman is and how she's doing, because I'm convinced it would be a great storyline to follow up on. That's the idea behind great television and great movie-making. You're kind of using your foreknowledge of situation meets pressure. We're imposing strange things on people. It really freaked me out. I would love [to talk to that woman]. I wanna get more involved [this year]…to visit Nurse's Unions and get their stories out there.
You can watch Marlyne Barrett unfold Maggie Lockwood's story on Chicago Med, Tuesdays on NBC.