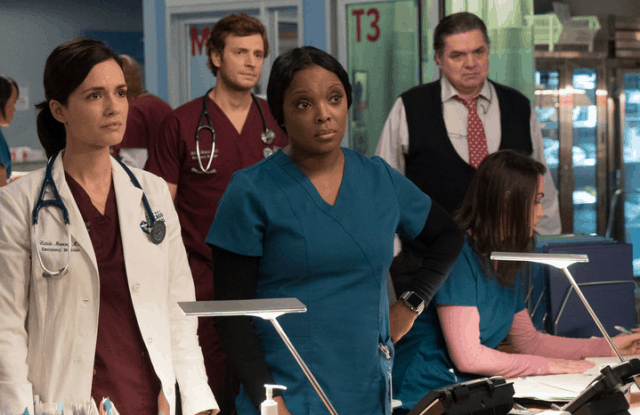 People go to a hospital in the hope of fixing their ailments. What is impressive is that now more than ever before, mental as well as physical ailments are given due consideration. The latest Chicago Med told a story about one such case.
Natalie hits the ground running when a 13-year old girl comes into the ER in respiratory distress. Natalie is immediately concerned because the girl recovers too quickly when according to her father, she is supposed to have a very rare disease. Halstead isn't buying the diagnosis the girl's father has given, mostly because he never got a muscle biopsy. When he tries to convince the father a biopsy is necessary, Halstead is attacked for his troubles and the girl collapses. Dr. Charles witnesses the whole incident and is immediately concerned. He and Halstead secretly watch the girl and whisk her away so that Dr. Charles can talk to her one-on-one without the father's interruption. Dr. Charles is convinced that the proper diagnosis is Conversion Disorder. Ever since the girl's mother died, her father has been devastated. Everytime she gets sick, he is not as sad because he is preoccupied. This wouldn't be such an issue if she actually had any physical ailments. Charges of Medical Child Abuse are brought against the father, and he retaliates by trying to involve the police. It does no good, but the circumstances force the father to at least consider the possibility that he could have. It sounds dumb and cliché, but it really is true that the first step to healing is admitting you have a problem.
With a Middle Eastern prince in town in need of surgery, one of the best surgeons in the country is called in to operate on him. Dr. Downey observes Connor's surgical skills and calls him in to help him prep for surgery. By that I mean Downey asks Connor to make him his tea. I'm sure there was some hidden medical message in here somewhere, but unless I see a continuation of this story, it was just a waste of airtime.
At least someone is having a good day. Sarah is having fun getting to know Joey the lab tech until she finds out he has an online dating profile. At least Sarah has a confusing case herself to distract from her romance woes. Luckily her case isn't nearly as complicated as the teenager's was. After a quick misdiagnosis which reveals Sarah's patient slept with her best friend's boyfriend, all she had was Lyme Disease. Since Joey is the one to help Sarah form a diagnosis, and he agrees to take down his profile, Sarah gives him a second chance.
Dr. Choi's day starts off well when an old friend from the Navy comes into the ER. Chief Petty Officer Mason's visit starts off routinely, until he mentions blood in his stool which tells Dr. Choi the officer needs a CAT Scan. Choi diagnoses his friend with colon cancer. He hopes to get him to his Naval Reunion, but massive bleeding nearly prevents it. Mason pulls through, but after wrongfully chewing out a VA doctor (Arrow's Cynthia Addai-Robinson), Choi can't stop thinking about how uneven the quality of medical care is in this country (pay attention people, it's election year). Choi is just proud to be able to see Mason enjoy his reunion, and he also gets the chance to apologize to and chat up the cute VA doctor.
What did you think about the Conversion Disorder storyline?
Chicago Med Season 1 Episode 8 Review: "Reunion"
Summary
Chicago Med does an impressive job of explaining a psychiatric case in an otherwise uneven episode.