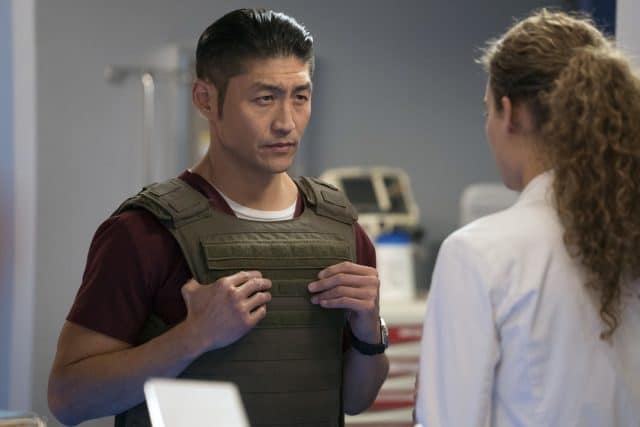 The emergency room of a metropolitan hospital is a strange place sometimes. On this week's Chicago Med the place seemed to be a draw for the strangest of the strange cases to converge. Not only did each case challenge the doctors, there for a few which actually put the staff in emotional, and even physical peril. Yet I've never felt more confident in their abilities and vulnerabilities than I did during this week's episode.
A camera crew filming a promotional video for the hospital follows Dr. Stohl around the ER while his staff is busy trying to treat patients. Stohl is more concerned with getting the most interesting cases on camera than treating patients thoroughly. Halstead takes the time to treat the patient and makes Stohl look a little incompetent. Moreover Halstead becomes uncomfortable displaying what turns out to be a terminal diagnosis for his patient on camera. At the risk of his own job security, Halstead tries to back track his patient's waiver to appear on camera, but it turns out the man is actually okay with it since it's the one time in his life he was the center of attention, and his story could actually help people.
Dr. Rhodes is amazed to be treating a man whose organs are in the reverse position of where they should be inside of his body. During the course of preparing for this particularly challenging heart surgery, Dr. Latham loses his cool because in his mind it breaks so violently with the protocol his mind recognizes. Remember he has been recently diagnosed with Asperger's Syndrome, so now he is doubly uneasy about his surroundings because he questions people's reactions to him. It's up to Rhodes to defend his boss so that the nurses don't jump ship. Displaying that kind of endorsement gives Dr. Latham the courage to tell Dr. Rhodes about his disorder so that they may better work together as a team during the surgery. After the surgery is a success, Dr. Latham feels just comfortable enough to join his staff at Molly's for a drink, even though he doesn't feel 100% comfortable in a bar.
Dr. Manning calls in Dr. Charles for a teen with physical pain that jumps to different parts of her body, and a Type A workaholic mother who believes her daughter is faking all of her symptoms for attention. The girl actually has a very rare psychological disorder, wherein she literally takes in the emotions and physical symptoms of another person. She literally feels her mother's growing stress. It has to be very stressful for someone to take on the weight of the world, and all Dr. Charles can do is teach the girl coping mechanisms. Hopefully it is enough for now.
You would think the reversed organs would be the strangest thing the hospital would see that day. Dr. Choi and Jeff end up getting the most dangerous case when they have to remove a gun from up a young man's…place where nothing should be shoved up! You get the idea. Not only does he put his own life in danger, he puts the lives of all the doctors in danger if there is a live round in the barrel of the gun. If you think that the danger is in any way exaggerated, ask Jeff how the bullet in his arm feels. Retrieving the gun is tricky enough without the boy's father insisting the police get a warrant for the gun since it is evidence in a crime. Reese has decided to go through with therapy, but cannot stop under-analyzing her problems. She decides that she's going to help the kid with the gun since he clearly has some things to work through. He needs more than she can give, which leads Reese to confront her own fear of not knowing anything and being responsible for helping other people in similar situations.
It's a tough call, but which patient do you think had the strangest diagnosis? Furthermore, which patient came out healthy?
Save
Chicago Med Season 2 Episode 12 Review: "Mirror Mirror"
Summary
Chicago Med handles a myriad of strange cases, one of which injures one of the doctors.