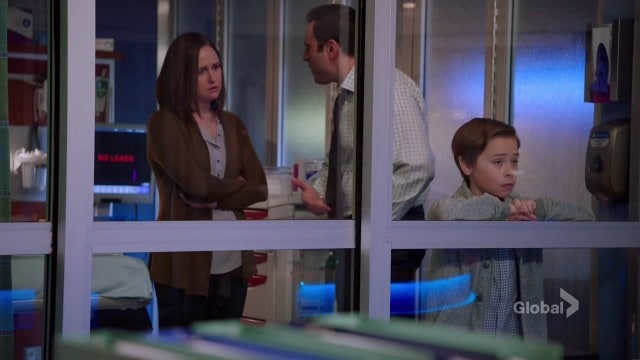 Since its debut Chicago Med has talked quite a bit about patients who don't have options but desperately need it, and patients who desperately need help but don't want it. "Hearts" tackled both questions at once, while keeping the controversy going in how to save a patient from his own family.
April is still very friendly with the former NFL player whose son was admitted to the hospital last week. April is smitten, but Maggie warns her that dating an athlete and a patient's family member might be ill-advised. April has faith though, and you can't deny the spark between the two.
Someone not very friendly is Halstead to Manning. She needs some support treating a young boy with a broken wrist, but she'll have to settle for Dr. Charles's help instead. She suspects abuse in the family but wants to be sure before calling DCFS. The parents are defensive and worried, but their other son is remarkably calm and friendly. Even more disturbing, he gravitates towards blood. He seems to have an answer for every disturbing thing he says. Dr. Charles believes the boy is a textbook sociopath. Based on his opinion DCFS can recommend that the boy be removed from the home, but it is up to the parents to make that call. They resist at first, but they can't deny how terrified they are for their other son. They love both of their sons though, and blindly believe it will all work out. It may take seeing their son commit an undeniably heinous act for them to fully realize the consequences of not getting him help.
Reese is set to leave the ER soon. As a congratulatory gift for getting her Pathology match, her boyfriend gets her a slide of the Bubonic Plague from the 1870s. That's kind of romantic, in a geeky microorganism-loving way I suppose. Reese faints while seeing a patient, so Halstead insists on running tests to make sure it isn't serious. All her tests come back clean, which means her symptoms are caused by something psychological she is feeling. Reese really doesn't want to leave the ER. She's been afraid to admit it to her boyfriend and to herself. By the time she realizes this, it's too late. She can't change her mind on what is already a legally binding contract.
Dr. Rhodes is getting used to learning at the feet of Dr. Downey. He has one amazing save, and one terrible loss. It's almost like he is going through residency all over again. You think that the more you learn the less losses you will have, but even that is out of the most experienced doctor's hands.
Dr. Choi and Dr. Charles treat a veteran who rushes into the ER complaining of blinding pain and a pulsating heart. He goes so far as to jam a pencil in his ear so that the doctors will admit him. Unfortunately Dr. Choi can't find anything physically wrong with him to explain the symptoms he is experiencing, so he assumes it is PTSD. After noticing some weird vibrations, literally, around the patient, Dr. Choi orders tests on his heart. The man actually has a build-up of scar tissue around his heart which is amplifying its vibrations. The scarring is too close to the heart, so nothing can be done. Dr. Choi's girlfriend Dr. Glass makes a correlation with Choi's PTSD-working through the pain you can see and the pain you can't are two different battles. This gives Dr. Choi an idea. The veteran can't take the pain away, but he can learn to control it, to be one with it. To paraphrase, what sustains you makes you stronger.
What was the best storyline from "Hearts"?
Chicago Med Season 1 Episode 14 Review: "Hearts"
Summary
Dr. Manning and Dr. Charles have a disturbing abuse case on their hands this week on Chicago Med.