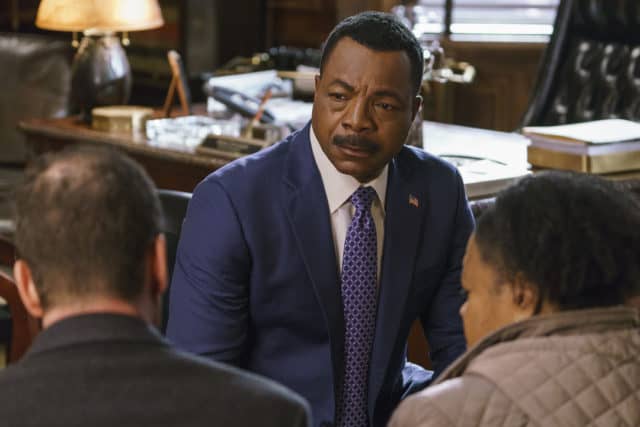 Just two episodes in and Chicago Justice is proving that it can stand on its own apart from its sister shows. The same thing which makes Justice stand on its own is the same thing which makes it similar to its counterparts. The number one rule for all the departments involved in the franchise is that they each do what is necessary to their individual jobs, no matter the risk. Chicago Fire will put their own lives on the line if it means taking a few extra seconds to save a life. Chicago Med will think outside the box to help a patient who has no other alternatives. Chicago P.D. will blur some lines of conflict if it means catching a criminal. Chicago Justice won't bend the law or truth no matter the cost, even when it pits them against another valued department.
On a visit to the CPD, Anna Valdez is pulled into the investigation of a young man who died in police custody. Justin Wilkes was brought in on a drug charge, but the way he was looking and feeling, there was no reason he shouldn't have received proper medical attention at some point. Antonio and Nagel have to start questioning all the medical and police professionals involved in the last 24 hours of this kid's life. The doctors and paramedics were flip with this kid since they assumed he was just another drunk, but they weren't negligent per se. That doesn't mean they didn't contribute to his death. Unfortunately, Atwater ends up being the arresting officer in the case. To protect his friend from being falsely railroaded, Antonio uses shall we say, circuitous avenues to find video footage of Atwater arresting Wilkes. The problem is that the footage doesn't definitely show that Atwater put a seatbelt on Wilkes after arresting him. Not to mention Wilkes' fatal blow to the chest could have been caused by Atwater accidentally, and just taken hours to catch up to him.
The Reverend who helps Mrs. Wilkes during her grieving has enough trust within the community to gather his own evidence and opinions. State's Attorney Jefferies knows the firestorm Reverend Fitch will stir up if someone isn't prosecuted. The problem is that no one person can be definitely charged, so they decide to charge everyone. The idea is to charge everyone collectively as apart of a 'contributory negligence' idea, even though that is not a legally recognized term in a court of law. It's also not without its risks.
Stone's opposing counsel is an old friend of his father's from New York. Welcome back from the depths of Law & Order Paul Robinette. Personally he stirs up some doubt in Stone regarding his strained relationship with his father. Professionally he makes a move that traps the judge into tipping him off about Stone's strategy. Because Stone wanted indictments on multiple people, he creates a plethora of reasonable doubt for Robinette to work with. Antonio has no choice but to arrest Atwater, and Jefferies has no choice but to publicly denounce Atwater to the media.
The whole situation is a huge strain for Antonio and Atwater. Antonio might have been doing his job, but the justification that his hands are tied doesn't change anything. Atwater's life and the lives of his family have been turned upside down. Atwater's career will never be the same and he might never gain back the trust of his community. Stone believes in the letter of the law, which is why he is pushing so hard. He even uses testimony from a criminal in the next jail cell about Wilkes's state. Luckily Antonio realizes the guy is lying before Atwater can be sentenced. Atwater's actions did not kill Wilkes, the criminal with a bad temper did. Who knows how this whole experience will affect Atwater's career, but at least he knows Antonio never stopped looking for the truth.
Because we're dipping into Law & Order territory here, would anyone like to see an on-screen appearance by Ben Stone (Michael Moriarty) himself?
Chicago Justice Season 1 Episode 2 Review: "Uncertainty Principle"
Summary
Chicago Justice feels the pressure to honor a victim, but has no choice but to go after Chicago P.D.'s Atwater in order to do so.