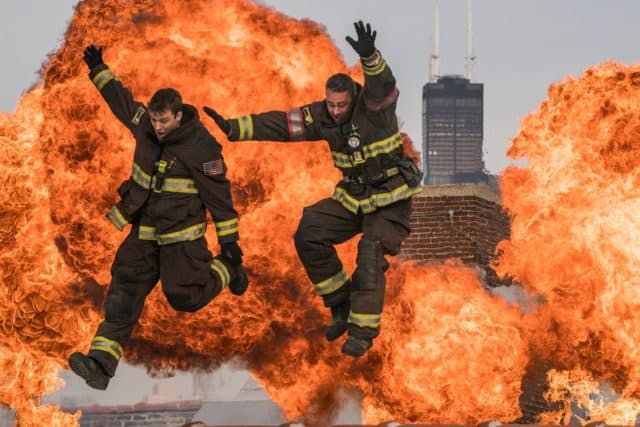 It has long been established that Chicago Fire's Casey and Severide have different personalities, and those personalities sometimes clash. They are bound to disagree on a call now and again, but they always work it out. There are many who think that Severide should have had a bigger reaction to Casey's promotion to Captain. Severide has strong opinions, but he himself has said that he has a better head for leadership than management positions. Deputy Chief Grissom is the one rocking the boat.
This time Casey and Severide's difference of opinion nearly leads to the escape of a convict from a sheriff's van, and leaves the sheriff's deputy in worse shape than before. Grissom makes a big show of scolding Casey for overriding Severide's call on the scene, especially when the deputy sheriff dies. While Grissom is upset about the call, his opinion is biased going into the house since he wants Severide to step up, as a part of his own legacy. Because he spins the conversation according to his already established bias, Casey is made the fall guy, while Severide gets a commendation for his efforts.
Yes, Casey loses his cool for a second on Severide. That's only because he feels the weight of the deputy's loss. He would never actually blame anyone for a split-second call like that. In those situations, a first responder is hardest on his or herself. The true ones are, anyway. Grissom's response is to "light a candle" and move on up the ladder. Severide wouldn't have his father pushing him, and he sure isn't going to let Grissom.
Herrman's daughter Annabelle comes to the firehouse for "Take Your Daughter To Work Day", and immediately makes herself at home. In Boden's office, in Mouch's spot on the couch, she is bored out of her mind. It's clear Annabelle has no interest in carrying on her dad's work once she sees Trudy in her sergeant's uniform. If Herrman was smart, he would be more receptive to teaching his daughter the in's and out's of the firehouse. For all his fear about getting his daughter excited about his own dangerous job, I'd wager he would prefer his job to a police officer for his daughter. Dads want to keep their little girls safe, but given that Firehouse 51 has three headstrong females, I'd say Herrman is going to learn just how little say he has in Annabelle's career choice.
As Valentine's Day approaches, love is…confusing. Everyone who isn't married is in a strange phase of first dates, reconnections, and a bunch of other awkwardness. Brett accidentally invites Cruz to a couple's spa day that Dawson and Casey couldn't use, and is immediately apprehensive. It's already awkward, and she doesn't even know that Cruz has fallen for her again. With Otis pushing Cruz to drop his crush, lest it interrupt their good flow as roommates, Cruz sends Mouch to the spa instead. (Did Trudy know about this?)
Zack the Hazmat guy is wonderful, but it's not good that there is awkwardness every time Severide comes into his conversation with Stella. It's not a good sign that she stays on the topic. Stella is the one girlfriend Severide ever had that could accept him as a friend. Severide would never stand for anyone trying to change him, in his personal or professional life. Severide jumps into the fire, and would rather stay behind than risk losing a life, protocol be damned. He even saves Zack's life on a call.
Which is why he needs Casey. Casey not only balances his best friend, he is the only push that Severide will accept. Severide will accept commendations when they come from his best friend. That's the kind of supportive friendship everyone deserves. Here's the funny thing that happens though. Sometimes best friends influence each other so much that they begin to adopt the other's traits. Severide is the one who traditionally does something crazy, not Casey. I hope they knew what they were doing jumping off that building into the river before the gas explosion.
Chicago Fire will be on hiatus during the 2018 Winter Olympics, returning March 1 on NBC.
Tell us what's wrong with this post? How could we improve it? :)
Let us improve this post!