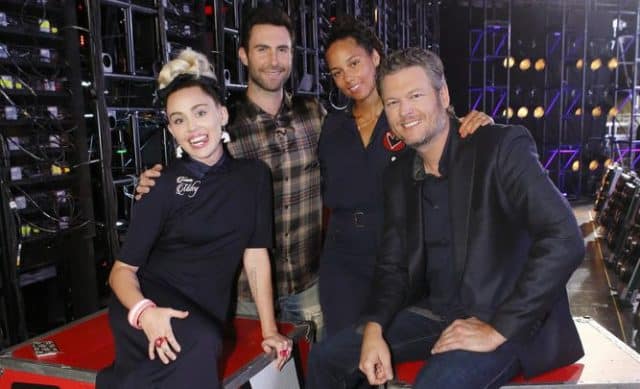 Tomorrow I hope everyone eligible in the U.S. is going out to vote in the presidential and local elections. Tonight though, take a break from politics and vote for your favorite singers on The Voice Season 11 live show eliminations. Check back to see who's up to be voted on – and if your favorites have made it through!
First Up: Team Alicia
First up is Christian Cuevas singing "Yesterday" by The Beatles. Nails it. Next is Kylie Rothfield. She's doing "I Can't Get No Satisfaction" by The Rolling Stones. I wanted to love it, but she's a little off in the beginning, and again in the middle.
After a commercial break We McDonald is up signing "Home" from The Wiz I can tell she's nervous. It's not the best performance she's done, but it's still good. Josh Halverson does the rather unexpected "Cupid" by Sam Cooke in a ultra-laid back arrangement that reminds me a little of Jimmy Buffet. SaRayah brings it home with the Etta James classic, "I'd Rather Go Blind". After the commercials, the voting closed for team Alicia.
America Saves: Christian Cuevas and We McDonald. Alicia saves SaRayah.
Since SaRayah's performance was the most polished in the group, I couldn't imagine her not picking SaRayah. All in all, I really like team Alicia.
Second: Team Blake
Dana Harper is first singing "Maneater" by Hall and Oates. It's a good choice. Austin Allsup sings next, "I Ain't Living Long Like This" by Waylon Jennings. He's followed by Jason Warrior. Jason is singing something called "One Dance" – by Drake. It's an awful choice for him! (So much so I didn't even recognize the song!) I wonder who came up with it for him? The last thing he should be doing is a reggae-influenced song – he's still got too much of that musical theater sound in his voice to pull it off. Jason does the best he can but the song is definitely a handicap. Right after this Sundance Head is great doing "Blue Ain't Your Color" by Keith Urban. Like, I'll be buying this. Courtney Harrell caps off team Blake by singing "It Must Have Been Love" – a terrible song choice for this particular artist. Nevertheless, she works it! Hurry up and vote!
America Saves: Austin Allsup and Sundance Head. Blake saves Courtney Harrell.
The one thing that comes to mind is that it's Sundance Head's second time around on a vocal competition. He was on American Idol in 2007. He's hardly the first contestant on The Voice that's had national exposure and a record deal at one point in their lives. (He's not even the only one on this season.) I was sad to see Dana go, but I can see why he did. She;s got that old-school classic sound that's very specific. Courtney has more range.
Third: Team Miley
We start out with Sophia Urista singing "Da Ya Think I'm Sexy" by Rod Stewart. She is just always so good! After the commercial Darby Walker is up. She's doing an oldie, "Those Were the Days." I think Darby is someone you either get or don't. After this performance I'm less enthralled than I was with her blind audition. She does the same vocal shtick every time. This time she was off pitch more than once. Especially on that last note. Belle Jewel is okay doing "Runaway", but, it's got more style than substance. That last note she hits is great – and surprising . I didn't know she had that kind of vocal power. Aaron Gibson is awesome! "Round Here" by Counting Crows is a great song for him. I could see him winning. Of course, when Ali Caldwell sings "Times Have Changed" by Irma Thomas. I think the same thing.
America saves: Aaron Gibson and Ali Caldwell. Miley saves Darby.
When Miley calls Darby her "Mini-me" everyone knew who she would pick. I think Sophia is the better singer and performer, but Darby is clearly a favorite with Miley fans. How that will hold out against the other teams remains to be seen. One thing's for sure: there is no one like her in the top 12, which is a good position to be in.
Fourth: Team Adam
As The Voice season 11 live show eliminations continue, host Carson Daly says something about what fun this is. Not really. I'm glad this format is mostly because of the election. You can't really enjoy the performances.
First up is Brendan Fletcher. He does a nice job, with "To Love Somebody." (It was originally done by the Bee Gees, but he's doing the Michael Bolton version) However, Simone Gundy is next and she is singing "Diamonds". Josh Gallagher is really good as well. He does "Colder Weather" by the Zac Brown Band. Although he's a country singer, his sound can easily crossover, so he' got double appeal. As the competition continues I think Blake is going to regret letting Josh go!
While zooming through watching this what occurs to me is something Blake said earlier. These live playoff eliminations are a lot about who can keep it together under this kind of pressure. So far, I'd say Simone and Josh have done it well. Even though I love Brendan, I have to say Josh did a better job tonight. There are still two more to go though.
We come back from commercials to hear Riley Elmore singing "Luck Be a Lady." He's flawless. Billy Gilman does "Crying." He starts out a little off, but then quickly knocks it out the park!
America saves: Billy Gilman and Josh Gallagher. Adam saves Brendan.
Adam saved Brendan? Wow! That doesn't seem like the best strategy, but to be fair, he had 30 seconds to make a decision. I can see why he didn't pick Riley. What Riley does is so specific that it's unlikely he'd get that far (It's similar to the Dana situation on team Blake, but more so.) Also, since he's only 16 there's plenty of time for him to build his career.
Still, it does feel like Adam may have narrowed his chances in the long run by not choosing Simone. He basically doesn't have anyone to compete against the R&B singers on the other three teams.
…Nevertheless, I'm glad Brendan is staying. I don't think we've seen his best yet. So far his blind audition is my favorite. In contrast, "Diamonds" is the best Simone's done. I could see that performance getting her signed to an r&b label.
Perhaps Adam is banking on the idea that Brendan doesn't have any direct competition within the top 12? Vocally, the closest would be Aaron on team Miley, but Aaron is more alternative rock. For Brendan to really compete with Aaron, Adam should consider taking Brendan's guitar away – at least for a song or two. That could help Brendan focus his energy out to the audience more when he's singing.
The Wrap Up
Overall, that was…I'm not even sure yet. There hasn't been time to really process it. I think one thing that's sad is that by going from 20 to 12 four singers lose the opportunity to have one more performance under their belt. Even after a season of The Voice ends those performances live on on YouTube and iTunes. Every bit of exposure helps in trying to build a music career. Maybe they'll do a variation on the wildcards with more singers getting a chance to do one last performance?
Did your favorites make it through? Did any of the eliminations – or saves – surprise you? Let me know in the comments!
Tell us what's wrong with this post? How could we improve it? :)
Let us improve this post!