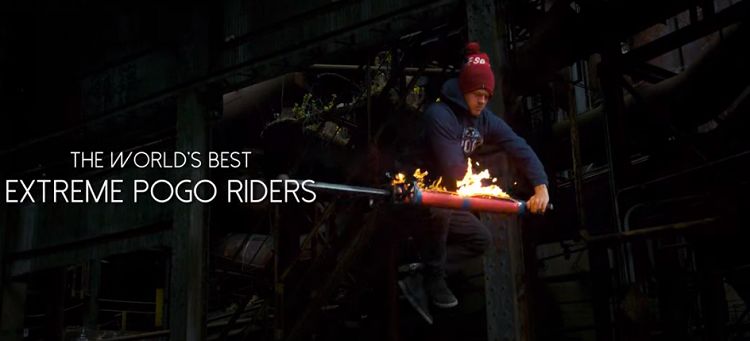 Of course someone would make the pogo stick look like it was just completely awesome, and they nailed it thankfully since this does look pretty cool, though one has to wonder how many hours of practice this took since for some folks just staying on a pogo stick for more than a couple bounces is an accomplishment. Some of those tricks are pretty sick to watch and it does make a person wonder if they've fallen on their faces a time or two since defying gravity with a pogo stick is no small feat when it comes to pulling stunts like the ones that are on display. It might be a little confusing to a lot of people why anyone would bother, but hey, it's a personal thing with some folks and gravity, they feel the need for a brief separation now and again and when it comes down to it, the liberation from one another is a beautiful thing to watch really. All joking aside for the moment however, gaining that kind of skill with a pogo stick might sound like something that was meant for kids, but the reality of it is that anything a person has a passion to do might look or sound like a bit of ridiculousness to anyone else, but if that passion is strong enough then it becomes worth far more than anyone could possibly understand.
When the stick is on fire however is where it appears to get a little risky since like it or not, fire is cool to look at, but once it licks your hands it's going to be pretty hard to hold onto that handle. No doubt the jumper is thinking the same thing when he lets go not long after it touches him, though up until that point it's a pretty interesting effect. For those of us that have actually tried a pogo stick in the past these tricks definitely look like something that took a few tries to get right and a few injuries to learn from considering that if you've ever been rammed or smacked with a pogo stick then you know it's not exactly forgiving. It is apparently a good exercise though and it's not too hard to figure out why since it's low-impact and can burn quite a few calories. Just imagine trying to stay up on that thing while you're bouncing around like a jackrabbit and then you'll get the idea of why it's a workout. Then imagine jumping all over the place like this, holding your balance at the same time, and working to help the bounce get even bigger by learning how to work with the stick in order to maximize the jumps. That's a workout in the making and it's one that might make some people tired just thinking about it.
The cost of a pogo stick is insane though as one can only imagine that a professionally-made stick is constructed of materials that will make it more durable, possibly a little more aerodynamic, and even a bit heavier considering that a kid's pogo stick is designed and rated to take up to 160 lbs. and not much more. Imagine a grown adult coming down off of one of these jumps on the run of the mill type of pogo stick that you buy in the store and you might wince since unless the adult is within the recommended weight parameter the thing is likely to crumble or at least shake horribly before spilling the adult right off of it once it breaks. In a way it's enough to make a person roll their eyes thinking that anyone would try to go extreme with a pogo stick in the first place, but that's the big mistake a lot of people make. If it's possible of being taken to the extreme then there are a lot of people in the world that are going to make it happen. It might sound like a worthless waste of time to someone else, but those that have the time and inclination to make it happen are going to do so largely for the challenge of it since if it's there then it's made to be challenged and possibly conquered. The backflips with the stick were kind of interesting since one would really need a decent amount of strength and balance to make that happen.
Like it or not though people are going to do thing that don't make sense sometimes, but now and again they manage to come up with ways to make the mundane appear spectacular in a way that might not look the same at full speed, since slow motion is able to capture a lot more of the impressive nature of this activity. Is it a sport? Maybe, but it's definitely something that a lot of people would still rather watch than try.