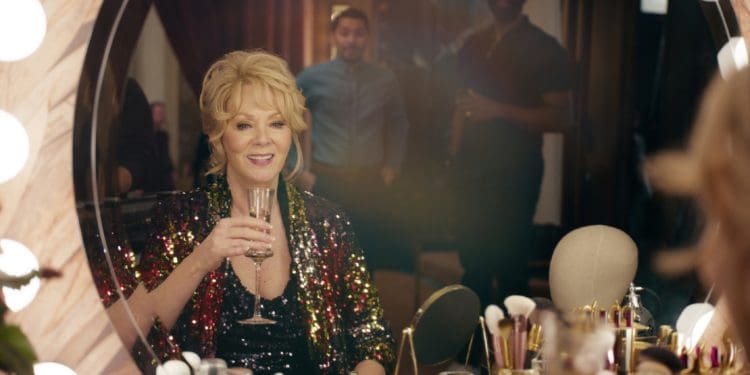 It's kind of like someone watched Funny People, with Adam Sandler and Seth Rogen, and then gender-swapped it to push a slightly different narrative but with roughly the same storyline. Wait, could someone do such a thing? Hacks does look like a fun time but it also looks like something that might have had strong roots in another movie unless someone wants to step up and admit it. Plus, Hacks will be featured as a series that will put actresses Jean Smart and Hannah Einbinder together as a duo that will almost mirror that of Sandler and Rogen since Smart will be playing the aging but still popular comedian while Einbinder is a young up and coming talent that will be brought on to help Smart's character come up with material to keep her act fresh and capable of competing with other talents that are shown to be contending with her residency in Las Vegas. In other words, an aging comedian needs help but is bound to be as tough as she can be on the talented young writer that will be brought in to offer her expertise and skill, and somewhere along the line and after a brief feud the two will come to realize that they both have serious talent and that they can assist each other if they stop fighting with one another. It's a story about holding on to what you've got and accepting the help that's given, but also realizing that being prideful and sarcastic is only a start to the comedy business, not the whole thing. In other words, it's a buddy comedy that takes a while when it comes to the buddy aspect of it.
It would be kind of fun to see just how many people still don't realize that a lot of comedians don't write their own material and tend to need help with their jokes now and then. While there's no doubt that thanks to their delivery and overall wit, a lot of comedians are genuinely funny, but there are some out there that have either lost that spark and need help to get it back now and then, or somehow managed to get famous simply because they can tell a joke in a convincing manner. This realization is kind of tough for some people to take, but it's the absolute truth since there are plenty of comedians that write their own jokes, but there are also those that have risen to fame by either stealing material here and there and hoping that people won't notice, and there are those that have a writer, or a team of writers, that provide their material and thereby make the comedian look good when they're on stage. Some comedians are decent enough to recognize such individuals and will gladly give them the credit since it becomes a team effort. The writers come up with the jokes, but the comedians deliver them in a manner that makes people laugh, so it becomes a partnership of sorts that, if fostered, can be a beautiful thing. But as one might guess, a lot of comedians will take a great deal of credit and leave their writers in the dark to keep doing their thing.
Hacks is already looking as though it might be this way since the lead character played by Smart is so desperate to hold onto her stardom that even when given a writer to work with she's less than receptive to start with until the writer stands up for herself. It's easy to feel one way or another about this show already since to be fair it's depicting something that might not appear entirely fair to some people while others might feel that fairness isn't the issue so much as the idea that a fading celebrity is doing whatever they can in order to hang on and yet will feel less gratitude than the need to constantly grill the newcomer on what is expected, what will happen, and just how hard to comedy business can be. In truth, it's likely that the older character, who has been through more than the newcomer can understand, is bound to be a little bitter and even resentful at having to rely on someone else to do what they've been doing for so long and as such will need a few moments to transition through several different emotions before coming to accept that the two of them will be better together than they are apart. The continued growth of the newcomer is eventually bound to be what the older comedian will seek to foster, while the newcomer will no doubt come to learn that the old comedian is quite skilled, but like all things, talent fades, even as wisdom remains. To be certain, it has the air of a show that will be about learning how to grow as a person and how to welcome the next generation without resentment.