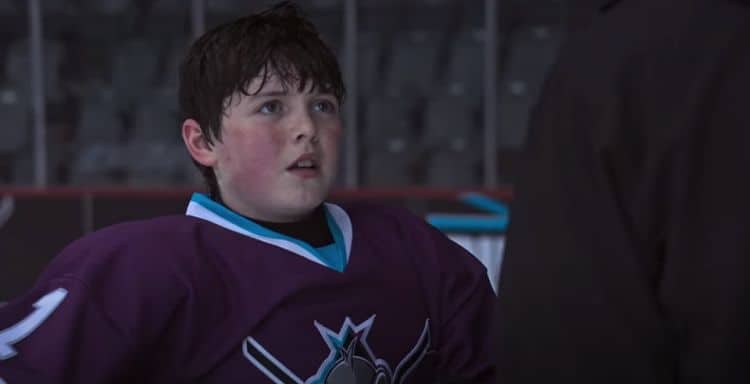 Does anyone else feel that a loop is about to close now that Gordon Bombay is back in action, the Ducks are somehow the dominant team filled with jerks and a less than stellar coach that actually berates his players, in front of the parents no less, and there's another group of misfits that need help? Granted, there's likely always going to be a band of misfits that need help when it comes to sports since a lot of people want to play but the sad fact is that some don't have the physical abilities, some aren't able to pick up on the plays, and others, well, they're better suited to helping the team in other ways that are needed. If that offends anyone it's a little too bad since the ability to be included in sports doesn't mean a person has to be able to play, it just means that they need to be able to help out. But when it comes to the physical and mental talent that is needed on the ice, hockey is not a game for those that can't take a hit or throw one when it's needed. So far this series looks like something that might be kind of fun, but will probably leave people pining for the days when The Mighty Ducks were just formed.
The series doesn't start until March 26th but it does feel as though there are a few things that are pretty noticeable as of now, such as Bombay being the anti-hockey individual he used to be when the franchise was first started. Back when the first movie came out he was a hotshot lawyer that wanted nothing to do with hockey even though it used to be his life when he was younger. Somehow he grew older and became even more cynical than he was when he started out, or maybe just the same. In any case, it's looking as though he wants nothing to do with hockey, but he still operates an ice rink and professes that he doesn't like kids, which is another big wtf moment. Enter the single mom with the kid that's been cut from the team due to his lack of skill, which is new really since remembering back to the first movie, Charlie, played by Joshua Jackson, was a part of the misfit pack and the Ducks hadn't been established yet in the peewee league. Instead, they were known as District 5 and they were a true bunch of misfits since there were really only a few skilled players on the team while the rest were there because they were friends and came from the same general area.
Getting to the point, District 5 was already a team, no matter that they really sucked, as was said in the movie, whereas it appears that this show will be forming a team as the Ducks are already the best team, much as the Hawks were in the original movie. That's kind of a twist, but if it's following the same line as the movies then it makes a lot of sense, as the original Ducks are all grown and no doubt off living their own lives. It would be great to see a couple of cameos though since the originals are all still up and around, as only Lane Smith, the opposing coach in the first movie, passed away in all that time. Yes, the guy that plays Hans is still alive, but as a lot of folks should remember, Hans did pass away in the movie, so he won't be making it back unless Gordon needs some inspiration and a possible cameo using stock footage. That might be what it comes down to since it's bound to take something to remind Gordon why he gave his life over to the sport, and why he still has plenty to offer even he feels like he has nothing to show for it. It's going to take some soul-searching for Bombay to get back into the swing of things obviously, but it does feel certain that it will happen, but maybe with more reluctance.
So far this show looks like it could be an updated mirror image of the first movie, but it feels as though things are going to be quite a bit different simply because there are different expectations in this day and age, and parents, no matter how supportive or concerned they were back in the day, were there to see their kid do well, not have a sports psychologist watch them to see how they were doing. Oh yes, things were very, VERY different back in the day, when sports were still popular but they were allowed to happen as they needed to and weren't analyzed in such a smothering fashion. Call it toxic or whatever else you will, but things have definitely changed.