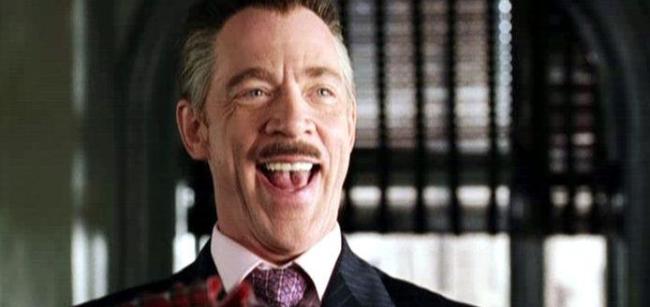 It doesn't always happen that a character is so perfectly matched to an actor in the movies, but it almost feels a though J. Jonah Jameson from the Spider-Man comics was made for J.K. Simmons and was just waiting for him to step up and take the role. It's amazing to think that Simmons can be such a sweetheart in some roles and a tyrant in others, but Jameson is one of the roles that he fits into like a comfy pair of shoes. And even better than that, he actually likes the role and has stated that it's one of those that have actually been among the greatest in his career. Okay, he said something close to that, but the sentiment is about the same. But the point is that Jameson is one of Simmons' absolute best roles since he fit the character like a glove and it's proven in his screen test almost two decades ago. Back then he hadn't donned the hairstyle and mustache yet, but his voice was spot-on for what people believed Jameson should sound like and his gruff manner helped to seal the deal.
For a while, not a lot of people knew why Jameson hated Spider-Man so much, especially since Spidey was a definite hero and didn't seek to do any more damage than he had to. But the downfall of any superhero that has to fight off menaces that the cops can't handle is that there's bound to be collateral damage, and Jameson saw Spider-Man as a menace since there were times that he did cause a bit of destruction, or at least had to stop his enemies from creating even more. The funny thing is that Jameson revered heroes like Captain America, who often did just much damage, but thought of Spider-Man as a vigilante that had to be stopped. The sad truth is that even fighting to help law enforcement and do good isn't quite enough for some people to consider heroes as anything but vigilantes.
Spider-Man (2002)
J.K. Simmon's screen test for J. Jonah Jameson pic.twitter.com/sNYFxNYiLS

— Daily Raimi Spider-Man! (@EARTH_96283) July 17, 2021
There's a whole argument to be had just on that subject, but if the superhero movies prove anything, it's when people with superpowers or technology and/or skills that allow them to operate past normal crime-fighting limits confront their enemies in the open, quite a bit of damage is done and the people that don't have powers tend to suffer the most, be it from injury or property damage that's too expensive to fix. I'm not about to get down on every superhero since the truth is that they don't always cause the damage, but the fact that they contribute to it sometimes is hard to ignore. Anyway, one of the main reasons that Jameson has always hated Spider-Man is that he doesn't technically work with law enforcement and tends to do his own thing quite often, which entails him fighting supervillains that are out to destroy, harm, maim, and otherwise ruin the city. One would think Spidey's efforts would finally sway Jameson to his side, but there are times when the character would probably rather shave his mustache with a rusty razor than admit that Spidey is a very needed character in his world.
But if anyone could find a better actor than Simmons to play the part of Jameson it has yet to be done since he's not an easy character to top at the moment. It's very possible that in the years to come that Simmons will end up aging out of the role, but as of right now he's still perfect, and he's been perfect for the role since he first tried it on for size. There are those that are perfect for the roles that they accept, but they're so few and far between, at least on this level, that trying to point them out is bound to run into the thicket of opinions that many people are bound to toss out left and right to use as a means of disagreeing with others. When it comes to Simmons playing Jameson though, that's a pretty clear path given that it's tough to see anyone else taking on this role in the same manner right now. Obviously someone probably could, given time and enough practice, but it has yet to happen.
The fact that he showed up in the last portion of Spider-Man: Far From Home, tends to indicate that we're going to see more of him, in one manner or another and without a good part of his hair, as time has apparently not been kind to Jameson. But how much we'll see of him is up for grabs since the appearance he gave was brief and to the point and every bit what people might have expected from the character. No matter what happens in the years to come it's going to be hard to find another character that's matched this well.