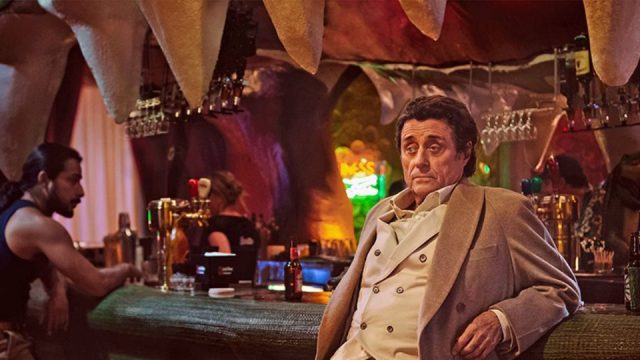 One of the most exciting series coming in 2017 is, without a doubt, American Gods. An adaptation of the acclaimed novel by Neil Gaiman, American Gods is a fantasy drama from showrunners Bryan Fuller (Hannibal, Pushing Daisies, the upcoming Star Trek: Discovery) and Michael Green (The River, Alien: Covenant) that pits the old gods against the new in a war for the ages.
Most of my excitement for the series has come from Bryan Fuller's involvement (I firmly believe that Hannibal is among the best television series ever made), but, in following the production of the series, it's seemed as if every single aspect has come together in a great way. The show's cast, including Ricky Whittle, Ian McShane, Gillian Anderson, and Kristin Chenoweth, has evolved into an all-star dream, and the recent first-look images have only enhanced my enthusiasm for the series.
This past weekend at San Diego Comic-Con, Bryan Fuller and the rest of the American Gods cast and crew debuted the first trailer for the upcoming series, and it looks even better than I ever expected. Check out the trailer down below:
[youtube https://www.youtube.com/watch?v=oyoXURn9oK0?rel=0]
American Gods is described by the network as follows:
When Shadow Moon is released from prison, he meets the mysterious Mr. Wednesday and a storm begins to brew. Little does Shadow know, this storm will change the course of his entire life. Left adrift by the recent, tragic death of his wife, and suddenly hired as Mr. Wednesday's bodyguard, Shadow finds himself in the center of a world that he struggles to understand. It's a world where magic is real, where the Old Gods fear both irrelevance and the growing power of the New Gods, like Technology and Media. Mr. Wednesday seeks to build a coalition of Old Gods to defend their existence in this new America, and reclaim some of the influence that they've lost. As Shadow travels across the country with Mr. Wednesday, he struggles to accept this new reality, and his place in it.
What do you think about the first trailer for American Gods? Are you looking forward to the series as much as I am? Let us know your thoughts in the comments down below, and be sure to keep checking TVOvermind for updates on American Gods!
[Photo Credit: Starz]
Tell us what's wrong with this post? How could we improve it? :)
Let us improve this post!