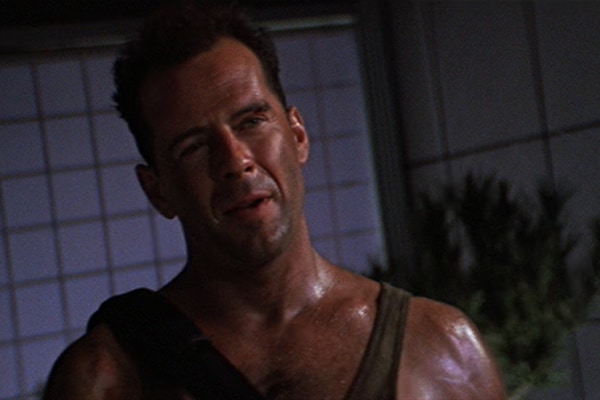 Can you imagine what would have happened if Die Hard's trailer had been in the same style as Baby Driver? Right off the bat the language would have likely gotten it tossed right out the window for being too vulgar. Then the action sequences and the violence might have gotten it tossed out yet again for being too hardcore. And then people might have thought that the accompanying musical score didn't make sense and that despite the action-packed nature of it that the entire film wasn't quite their cup of tea. Well, some of that might have happened. Instead of the dire musical score that really set the tone for the movie the score of the Baby Driver movie might have sent Die Hard in the wrong direction.
But if it was released today like this you know people would be all over it. Try to remember that back in the 80's expectations for movies were still different. Even in the late 80's movie into the 1990's movies could only get away with so much before people started getting offended for one reason or another. Of course those of us that loved this kind of film would have laughed and seen it anyway, just like we do today. I mean come on, action films and offensive depictions of people and certain situations are at times very necessary in the cinematic experience if you're going to have any realism at all.
Die Hard had very little to really be upset about at any rate. The action was hard-hitting like many movies within its genre, it got bloody just like dozens of movies before it, and the language was intense and vulgar throughout a lot of it as well. So what? People seem to forget that in real life the language of the average citizen could be one hundred times worse than anything that's being said onscreen. Aside from that some of these actors, who are going off of a script no less, are by far and large some of the most cultured people on earth and can't stand foul language. That might not be true for Bruce Willis but one thing is guaranteed, he's not a loose cannon that goes around shooting terrorists and coining catchphrases in real life.
If Die Hard was to be put out in the theaters today it might not do as well simply for the fact that people have seen so much in the theater that this kind of action would actually be kind of ho-hum anymore. The level to which films have gone in an effort to entertain the audience has become so insane and intense that Die Hard is a measuring stick that some films go by in terms of whether or not they're really pushing the limit.
So Die Hard using the Baby Driver musical score might be interesting, but it wouldn't really sound like Die Hard anymore. The old music scores are still some of the best for a good reason, just like the new ones are for the current movies.