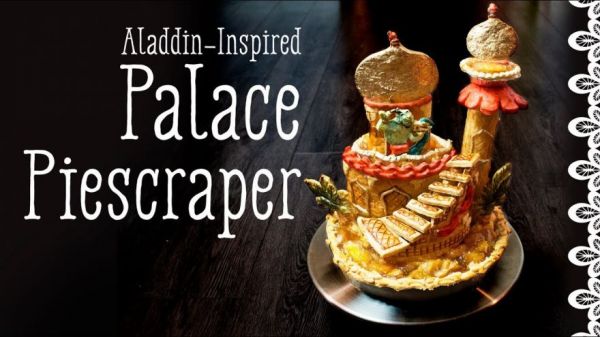 First off, wow. I mean it, WOW. That is a lot of work for a pie but the effect is great. A lot of times you don't think about dressing up your favorite treats except in the most functional of ways so that they're easy and enjoyable to eat. But this Disney-inspired piescraper is something special that you just don't see that often. You could go to virtually any bakery and ask for a Disney-inspired cake or even a pie, but more often than not the details are achieved using plastic parts, fondant characters, and other gimmicks that are impressive but have been repeated again and again until they're little more than over-used props that don't so much amaze anymore as amuse.
This pie creation requires a great deal of time and effort but when it's done it is a masterpiece of such proportion that it could honestly be called a work of art. It might seem to some a thing to do when you have the time and really nothing else to occupy your schedule, but that would be a very dismissive attitude and not at all deserving of the wonder that is created with pie dough, food coloring, and a few stationary props. This is something that anyone at home can make and won't have to break the bank when it comes to obtaining the necessary materials.
In fact the only thing you might want to do is either rent or go out and buy the movie Aladdin in order to make certain that you're getting the details right. If you have kids this part is important remember because they see dang near everything and want it to look like the real thing. Apart from that though getting the look right is a point of pride too since it shows just how detail-oriented you can be.
The hardest part is going to be the construction by far, as it will take precise cuts and at least a few measurements to make certain that you've got everything where it needs to be. If you can cut everything by tracing or eyeballing it then kudos to you. How big the tower is will depend on how much work you really want to do. Keep in mind you don't need to follow any set schematic for this Aladdin-inspired wonder, it should be at least your design in part. Remember this is your project, you get to do it according to what you want.
Coloring and texturing the pieces will likely be the easiest part of the project. Just take a look at the artwork of the movie to really get an idea and a feel for what you need. The brickwork doesn't have to be perfect, just press a few sections here and there to indicate that the structure is not completely smooth and it should look great.
Gluing the pieces together will probably be the only other part that is a bit difficult as it will be necessary to make certain that every piece is adhered before you can move on. Otherwise the whole thing might fall apart. This fun project is a lot of work, but in the end you should be very pleased with what you've managed to accomplish.
Save