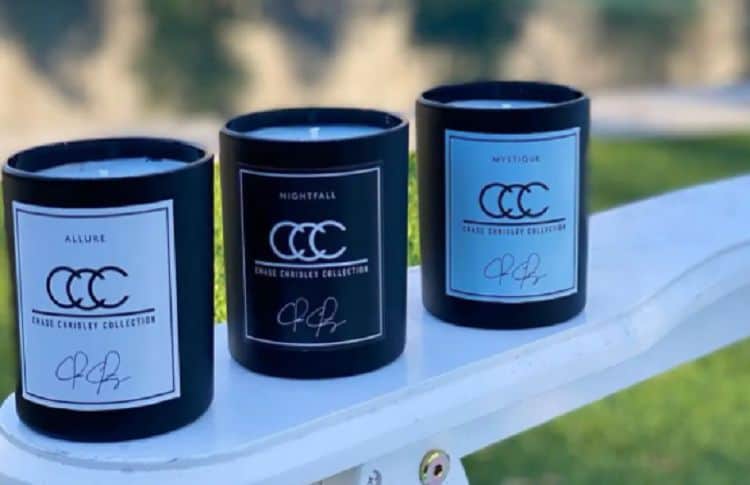 Candles, candles, and more candles. It's what most of us purchase when Bath & Body Works does their buy three, get three free on Black Friday sale. It's what we all buy 18 of when the same store does their $9.95 candle day once every December (because $9.95 down from $25 is a good price). We all love candles, and some of us have a deep love for very expensive candles. Dipytique, anyone? Their BAIES candle is probably one of the best in the world, and it's worth absolutely every penny of the $68 you'll spend on one 6.5 ounce candle (calm down…it's an indulgence, and we're all allowed our indulgences). But, it seems that newbie Chase Chrisley (yes, from that Chrisley family) is under fire right now for his own candle line. Why? Read on to find out.
Chase Chrisley Loves Candles
Listen, he's a young man with a love of candles that runs deep in his soul. Most people feel that, right? He's a reality television star who also calls famous real estate tycoon Todd Chrisley dad and Julie Chrisley mom. He's been on reality television for a long time with his family in "Chrisley Knows Best". His family first began documenting their everyday lives back in 2013. He now has his own spinoff with his sister, Savannah, called "Growing Up Chrisley," which premiered back in 2019. He's no stranger to fame and fortune growing up in such a wealthy family, but he's on the way to creating his own business that allows him to create all the candles he wants.
The platform he came up with is the Chase Chrisley Collection, and it looks lovely. The packages, the scents, the very simple but elegant design; it all flows well together and seems to work. He announced his new venture in November 2020 by saying, "I'm so happy to announce that my collection of candles is finally finished," and proceeded to share with fans they could pre-order on November 20.
What's the Problem?
If you're sitting here wondering where the problem lies in this entire situation, you're not alone. Why is everyone so upset about everything? Why is everyone giving him a hard time about his collection? Well, the reason is that his fans and critics are a little put off by the fact that Chase Chrisley is selling his 7.5 ounce candles for $35 each. If we are being honest, we don't see the real issue here, but we also love candles, and we've seen higher prices.
However, fans can't be too upset by it because his collection sold out before long. He has three scents being sold through his candle website, and all three are gone. Allure, Mystique, and Nightfall are all sold out, and we have no idea if he will have any more to sell prior to the Christmas holiday. We also don't know if they're any good since no one has posted a review yet. Are they worth the price? Are they not worth the price? We aren't sure.
What Makes One Candle so Expensive?
Let's get right down to it. Why are some candles so expensive (because while we love them, we can admit $68 for one candle is a lot)? It's all about quality. Sure, you're going to pay for the designer label, but it's about the quality of the materials used to create the candle. It's an investment. Let's break it down.
Synthetics are where it's at when it pertains to candles. You see, to create a good candle, a designer needs a killer concoction of oils. Certain oils do not burn well – for example, those with black smoke? It takes a lot of oil to create a candle – significantly more than it takes to create a perfume, for example. Why? When you wear perfume, you're only making yourself smell nice. When you light a candle, you're making the entire house smell delectable. It takes a lot of oil, and it's not cheap. When you use good, high-quality essential oils in a candle that burns well, burns long, and doesn't create black soot or an overwhelming allergy issue, you're paying a high price for the oils that have to go into that candle.
It's all science. Additionally, complexity is another issue. Some scents are just harder to make and require a lot more work. Packaging is another consideration. And, oftentimes, it's the simplest packaging that costs the most. So, at the end of the day, is there a chance that these candles are worth the $35 price tag? Probably…depending on the ingredients used.