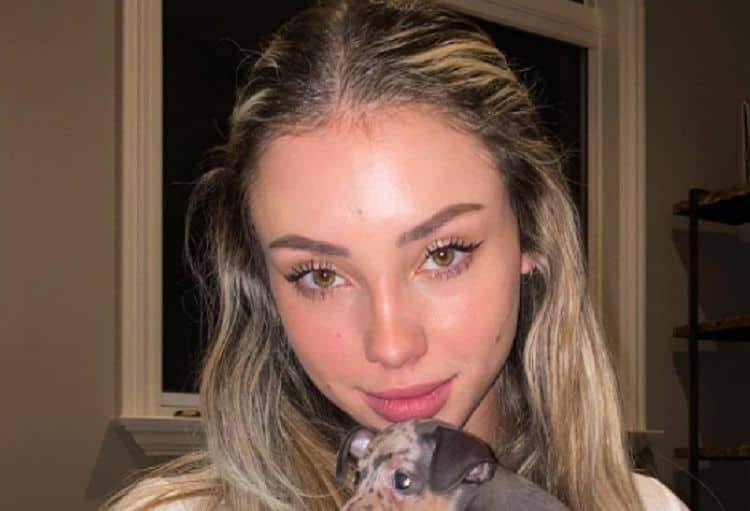 Being a social media celebrity may seem like fun and games, but in reality, it can be a very stressful experience. This is something that Charly Jordan is learning firsthand during her breakup with fellow influencer, Tayler Holder. The couple, who have large individual followers, got even more attention for their relationship. Needless to say, lots of their followers were shocked when the couple announced their breakup in March 2021. Although things initially seemed to be ending amicably, things eventually started to get messy, leading Charly to the conclusion that she wants to share less personal business on social media. Hopefully, she'll be able to bounce back from this over time, but for now, she's hoping to find some peace and quiet. Here are 10 things you didn't know about Charly Jordan.
1. She's A Painter
Many people don't realize the amount of creativity that goes into being a social media influencer. While it may look like they're just posting random things from their daily lives, they typically put a lot of thought into what they post. What lots of Charly's followers, don't realize, however, is that social media isn't the only place where she utilizes her creativity. Charly is also a painter and she hopes to eventually start selling her work.
2. She Was Raised Mormon
Charly was born and raised in Nevada and she comes from a Mormon family where she has six younger siblings. Despite being raised in the faith, however, she decided that she wanted to explore other beliefs when she was a teenager. It's unclear what role — if any — religion currently plays in her life.
3. She's Signed To A Modeling Agency
Modeling is something that Charly has always been interested in. When she was a teenager she decided that she wants to get into the industry, but she didn't have any luck finding any legitimate agencies. She decided to start posting photos on Instagram and things started to take off for her. She eventually got the opportunity to work with an agency and is currently signed to Select Model.
4. She's Athletic
Charly has always been a very active person and she played several sports growing up. While her organized sports days may be over, Charly still enjoys working out. In a Q&A on her YouTube channel, she shared that she might consider becoming a personal trainer.
5. She Lived In Costa Rica
Being an avid traveler is one of the things Charly is most well-known for. She has gotten the opportunity to visit places all over the world including France, Switzerland, South Africa, Spain, and the Netherlands. On top of traveling though, she has also lived outside of the United States. Charly lived in Costa Rica for two years when she was younger. In 2018, she returned for the first time in many years.
6. She Isn't Afraid To Step Outside Of Her Comfort Zone
In order to really be successful in life, you have to be willing to take a certain amount of risks. This is something that Charly fully understands and embraces. She is the kind of person who is never afraid to try new things and have new experiences. Her adventurous spirit is one of the things her followers love about her the most.
7. She Likes To Inspire Others
Over the years, Charly has built a massive platform that has allowed her to reach millions of people all over the world. One of Charly's favorite things about being an influencer is that it allows her to inspire other people to chase their dreams and try to get the most out of life.
8. She Has An OnlyFans Account
In 2020, the premium content platform OnlyFans started to get more attention than ever before. OnlyFans has become known as a place where people post X-rated content for a monthly fee, although some people choose to keep their content more PG. Charly has an account on OnlyFans, however, she doesn't charge people to subscribe.
9. She Understands The Importance Of Mental Health
Although awareness surrounding mental health is becoming more common, it's still a topic that a lot of people are uncomfortable talking about. But Charly understands how important it is for people to take care of their mental health and she has been very open about some of the things she's struggled with.
10. She Likes Taking Pictures
Charly may spend most of her time in front of a camera, but she's also pretty comfortable behind one. In fact, her love for photography is what initially sparked her interest in modeling. Charly enjoys taking pictures and she has a natural eye for capturing great moments.
Tell us what's wrong with this post? How could we improve it? :)
Let us improve this post!