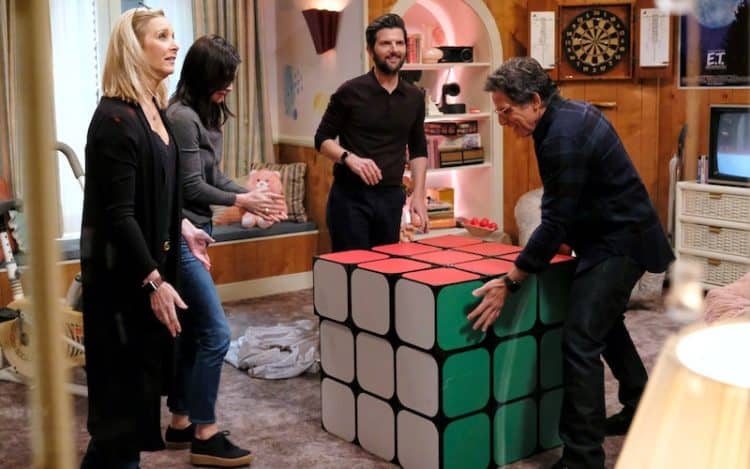 Escape rooms, the quintessential party game for those who wish to test their reasoning ability with a group of their choosing, have taken the world by storm, with hundreds popping up every year. The objective is simple: Once you enter the escape room, you and your friends are locked inside, until you unlock the mysteries of the room. In true keeping with the escape room tradition, Red Nose Day takes a group of smart, witty and competitive celebrities, and lures them into the fiendish clutches of one, Jack Black. So sit back and enjoy, as Celebrity Escape Room brings together Jack Black, Courtney Cox, Lisa Kudrow, Ben Stiller and Adam Scott to tackle and unravel the tangle of clues all for the sake of charity.
1. Mars Candies Offers an Added Bonus
Candy giant Mars is a big fan of Red Nose Day, and has been for years. In fact, Mars offered to toss an extra $150,000 into the till if the gang of celebrity escape artists could figure it all out in under 60 minutes. But, that's just a bonus for the television show, Celebrity Escape Room. In reality Mars candies has rounded up millions of dollars for the Red Nose Day Charity, and in doing so helped better the lives of thousands of impoverished children. Their Red Nose Day TV spot which helped to promote the charity and bonus, scored in the 83 percentile with regards to consumer sentiment.
2. Jack Black Owned his Character, the "Game Master"
We're all familiar with the stereotypical "mad genius" often seen in books and and film. The millionaire in his smoking jacket and cravat, deviously contemplating how to terrorize his victims. When asked to host the Red Nose Day Celebrity Escape Room, Jack immediately began to ponder just who he could be, or has he puts it, "what version of me". However, to hear him tell it, it was a no brainer. Jack developed the character of a mad, millionaire with a slightly wicked side, to host the escape room, host mad parties and torment celebrities. As we all can see, it was a raving success!
3. Ben Stiller Admits He's Not as Savvy with Escape Rooms as He'd Like to Be
Executive producer for Celebrity Escape Room, Ben Stiller in an interview for JBWebTV, talks with fellow thespian and overall comic genius, Jack Black about his experience with escape rooms in general. Ben admits that he's done a few escape rooms, and has always performed below his own expectations, stating that he doesn't use that part of the brain as often. He further adds that he'd like to do better at them. Fortunately for Ben, and his fellow escape artists, they all were able to rely on each other to help escape Jack Blacks house of riddles and puzzles.
4. The Rooms Were Carefully Laid Out with Participants in Mind
Celebrity Escape Room is just that, an escape room game which centers around celebrities and their bid to escape, all for charity. But, it goes a little further than that. In order to add a bit of spice and fun to the game, the rooms were designed around themes, with certain items in each room relating to the individual celebrities themselves. For instance, did you know that the very first room they entered was designed around the television show, Friends? Notice that the items and the room design itself comes with an 80s flavor to it.
5. Celebrity Escape Room is Part of the Red Nose Day Event
Celebrity Escape Room is part of the overall Red Nose Day experience. Originating in the United Kingdom way back in 1985, Red Nose Day was a decidedly British way of helping to alleviate poverty among children at home and across the globe. Founded by writer Richard Curtis of Notting Hill, Black Adder, and Mr. Bean fame, the American version of the charity event first saw its light of day in the states on May 21, 2015 on NBC. A resounding success, it has returned to NBC every year since then, and has helped to raise millions of dollars for those in need.
6. The Game Master had to be Jack Black
Being the son of one of the most famous comedy duo's on television, Anne Meara and Jerry Stiller, you can bet that executive producer, Ben Stiller had his reasons for casting Jack Black as the infamous, "Game Master". For you see, the premise of this escape room not only involved having well known celebrities solve a plethora of puzzles and riddles, but also match wits with the puppet master of the game, or the Game Master. Ben wanted the Game Master to be a character that visibly enjoyed tormenting the hapless celebs, and glean a great deal of enjoyment for himself doing it, and decided that Jack was the man.
7. The Red Nose Symbolizes Enjoyment
In the opening scene, we see Jack Black holding a red nose, which represents Red Nose Day. Red Nose Day has only been celebrated in the states since its first airing in 2015. So, it's understandable if you are not familiar with the event or why celebrities and fans can be seen wearing red noses. The answer is simple: The red nose was chosen as a symbol for this charity, as it relates to clowns. Clowns make children laugh, they bring momentary escapism from pain and suffering, all the while providing much needed entertainment. In short, it represents happiness, light heartedness and joy.
8. Richard Curtis Brought Jack into the Red Nose Day World
f you've seen the Celebrity Escape Room, you are already well aware of the amount of creativity and dedication that went into creating the sets, each puzzle and riddle. Also, how integral the Game Master was to the game. But did you know that this was not Jack Blacks first association with Red Nose Day? Back when he was making Gulliver, Jack met up with Red Nose Day founder, Richard Curtis, who is responsible for getting Jack into the fold, which lead to him starring in Celebrity Escape Room
9. Donations for Celebrity Escape Room are Geared Toward Alleviating Child Poverty
There's no question, the Celebrity Escape Room lead in for the nights festivities was a massive success, with people clamoring for more, even to have it become standard TV fare. But just where do those donations go, and how much has Red Nose Day raised? If you donated while watching, that your donation benefits children residing in the USA, Puerto Rico, Africa, Asia and Latin America. Since its inception in 2015, Red Nose Day USA has improved the lives of approximately 25 million impoverished children with over $200 million of donations.
10. The Show was Shot Before the Pandemic
If you watched the show, then you are aware of the fact that no participant wore a mask or practiced social distancing. So, how was this achieved? The answer is that the entire show was planned and filmed before social distancing was enacted. Remember, networks have a lot on their plate, and this type of special needed to be planned, filmed, and go through post production well before it could air. Executive producer, Ben Stiller reinforced it by stating that the show was filmed pre-pandemic.
Tell us what's wrong with this post? How could we improve it? :)
Let us improve this post!