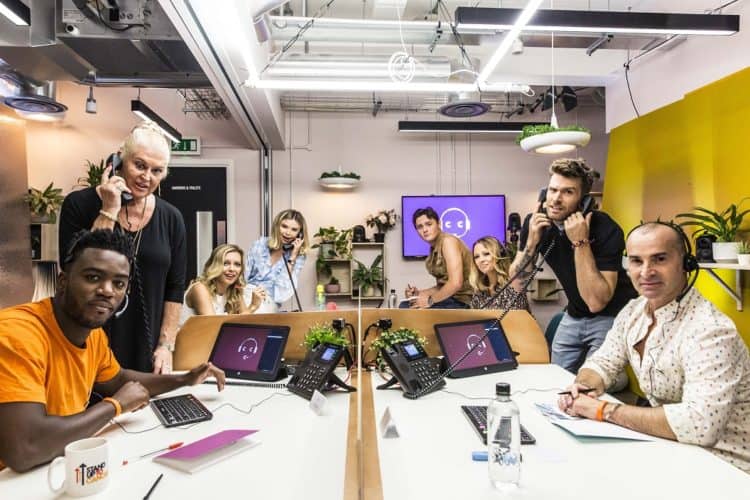 When you need solid advice, who do you call? Most people would probably agree that a close friend or family member would be the best option. However, there's a new show on E! that is suggesting otherwise. The series, Celebrity Call Center, allows people to call in to a 'call center' and get advice from celebrities. The advice these celebrities give is surprisingly solid, and it'll definitely be entertaining. After all, sometimes you need help with things you don't want to share with people who actually know you. With all of the craziness going on in the world right now, Celebrity Call Center is the perfect thing to watch if you're looking for something lighthearted. Keep reading for 10 things you didn't know about Celebrity Call Center.
1. There Will Be A Wide Variety Of Celebrities
What's cool about Celebrity Call Center is that the show features a wide range of celebrities. Cast members will consist of actors, reality TV stars, and even athletes. Some of the cast members for the season will include NeNe Leakes, Vivica A. Fox, and Alyssa Milano.
2. The Show Is Based On A UK Series
Celebrity Call Center is a new concept to most American viewers, but the show itself actually isn't new at all. The series is based on a show of the same name which made its debut in the UK back in 2018. UK based game shows being repurposes for American audiences is becoming more and more popular.
3. Nick Cannon Is One Of The Producers
Not only will Nick Cannon be a cast member on Celebrity Call Center, but he's also one of the producers. According to a press release for the show, '"Celebrity Call Center" is produced by Main Event Media, All3Media America, and Ncredible Entertainment with Cannon, Michael Goldman, Jimmy Fox, Amanda McPhillips, Steven D. Wright and Carolyn Gilbey serving as executive producers."
4. The Show Is Unscripted
In real life, it's not possible to read from a script when someone asks for advice, so it won't be happening on the show either. Celebrity Call Center is entirely unscripted. This means that the celebrities will be forced to come up with their advice on the spot.
5. Season 1 Will Have 8 Episodes
E! ordered 8 episodes of the show for season one. This is 4 more episodes than a lot of new shows have been getting during the pandemic. Since the series is so new, there's no word on whether or not it will be renewed for a second season. However, early feedback for the show has been pretty positive.
6. The Show Isn't Live
If you were hoping to call in to the show while it's airing, you're out of luck. All of the episodes are pre-recorded. While it would have been a nice touch to allow live callers, it also opens the door to lots of potential issues. Unfortunately, we weren't able to track down information on how callers were chosen for the American version of the show. However, casting for the UK version seems pretty straight forward.
7. You Might Learn Something New About The Celebs On The Show
You know they say experience is the best teacher, and if there's one thing these stars have a lot of, it's experience. As they handle each call, viewers are likely to find out a few new things about the celebrities on the show as they use situations they've been through to help give good advice.
8. Some Of The Calls Will Be Awkward
Lots of the calls on Celebrity Call Center will be sweet and light. However, there will also be some that tread into awkward territory. Some of these callers have really gotten themselves into sticky situations and they're really hoping something can help them figure things out. For example, one caller dials in with an interesting question about a one night stand.
9. The Series Is Self Shot
COVID-19 has put the majority of shows on hold. Production has been shut down all over the entertainment industry and there's no official word on when things will pick back up. Fortunately, that doesn't impact Celebrity Call Center because the entire show is self shot. The callers are never shown on the screen and the celebrities simply record themselves from their webcams. This gives the show a more relaxed and authentic vibe.
10. Each Caller Will Get Advice From Just One Celebrity
When a person calls into the show, every celebrity on the episode won't get the chance to offer advice. Instead, each call will be handled by one celebrity (or two in the case of celebrity couples). It's unclear how the celebrities are paired with the callers, but it likely has something to do with how much they can relate to the situation the caller needs advice about.