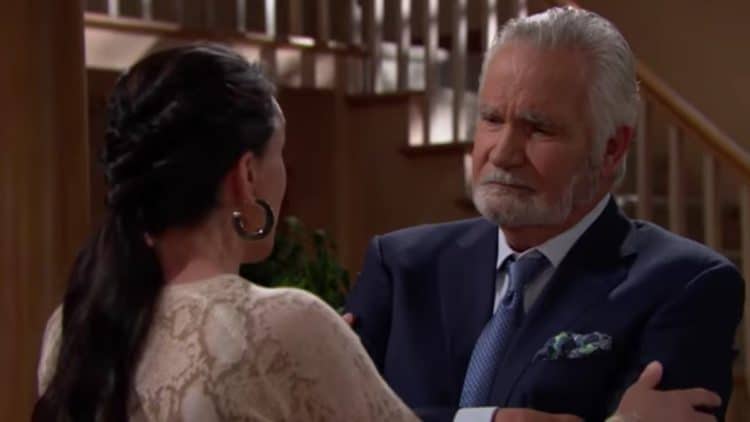 Bold and the Beautiful fans know there are a few dads in town. These are good dads, bad dads, dads who need to improve their game a bit, and everyone in between. We are fair. We know that no dad is perfect, but we also know that so many of them are trying hard to be as good as possible. Kids make it hard to be the best dad ever what with their way of making us all feel like we are amazing one day and completely lunatic the next. It's all right. We are celebrating all the good dads out there today, and we thought we might mention a few of our favorite Bold and the Beautiful dads this day. It was harder than we thought when we were going through the list of dads we wanted to celebrate. It's not that we don't like some of them, but we are kind of wondering if it's fair to mention a dad who then goes on to marry your own ex wife and have babies with her as a good one? We don't know, but we thought we might think about it.
Ridge
He's a dad who would do anything to protect his kids, even when that means putting his own marriage at risk. He's never married his kids' spouses, he's never tried to kill them or kidnap them or use them to get what he wants. He's always just been there for them, and he has done what he could to try and make things right with them. We like him despite the fact that he is definitely working with a few flaws.
Liam
Liam hasn't been a dad for very long, but he seems to have taken to it like it's been his life goal. He's done a lovely job of becoming a dad and being there for his girls. He didn't even know that one of those girls was his when Steffy adopted his baby that was lied about, kidnapped, and fraudulently sold to Steffy. However, he wanted to be the father of the baby his own ex-wife adopted because that little girl would be the sister of his little girl, and they both needed some parents. We think that Liam might have the makings of a really, really good dad in him.
Rick
We don't get to see much from him, but he's been good from what we have seen. He's been there for his wife and their baby. He worked hard with her to have a baby, and they've done all that they could to spend time with their baby even when we thought there might be a chance her sister might try and take the baby from them since she did technically carry the baby and all of that.
Bill
So he didn't know he had some kids for a long time. So he slept with his son's wife and then treated his son like dirt. So, he's lied to his kids, used them, and been awful to them. If we had to say he's a good dad a year ago, we would not. However, we do think he's realized a lot of the errors in his ways, and he's been working hard this year to be a better dad. He realized that he's not done any justice in that department, and we think he's trying very, very hard to do a better job of being a good dad, and we'd like to go ahead and give him the benefit of the doubt this year on Father's Day that he might be able to keep that up and make it work for himself.
Eric
We can try hard to ignore the fact that he did marry his own son's ex-wife and then have some babies with her and not really consider that in this situation. But, he's a dad who raised a kid who was not his own kid, considers him his son, and has never once questioned that no matter how many times their family has fought, argued, and had many issues. We think that this is one of those things that you just have to go with. Eric loves his kids.
Tell us what's wrong with this post? How could we improve it? :)
Let us improve this post!