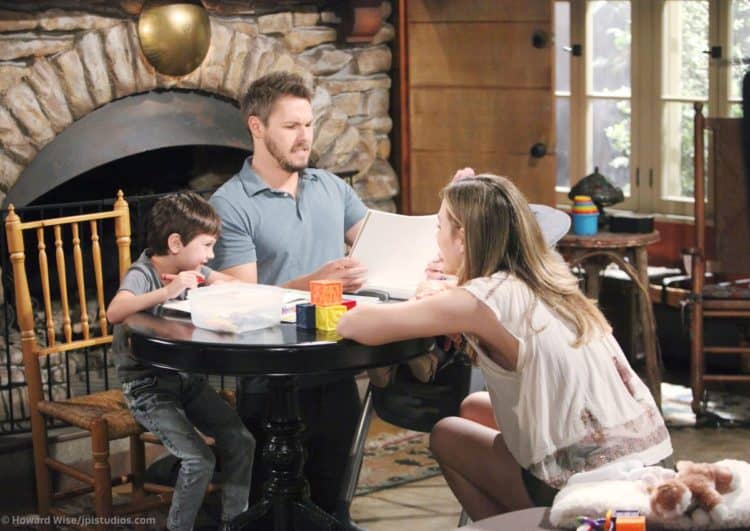 The Bold and the Beautiful fans know Thomas is not a good person. He needs medical help for what is going on in his mind, but no one seems to realize just how much help he needs. They aren't getting him what he needs, but he is getting what he wants. He's managed to get Danny to share the news about what his father was up to the night he was passed out drunk and dragged home by Shauna, who did kiss him, and spent the night with him. He did make things right in his own frame of mind, too, when he went out of his way to get this secret buried. But, his son, who is miserable with his own life and hates all people, has decided to ensure Brooke finds out. She did, and he's loving it.
She's not, and she's demanded answers from her husband, who doesn't really know what happened. Shauna has made it clear to him that she is not a woman who will go out of her way to get her life in order, but she is a woman who will go out of her way to make things right in the world. She's got a lot on her plate, and she's going to focus the best way she knows how. She's going to make it right. She's going to get what she wants, and she's going to let this situation unfold. She's not going to sit back and let Brooke get what Brooke wants where there is so much on the table for her. On that note, how much longer can Hope and Liam keep Douglas from Thomas? He won't want them raising his son, and that's a final thought for all.
What's Happening on the Bold and the Beautiful
We are LIVE with @DENISE_RICHARDS and @Iamthorstenkaye! To tune in and ask them a question, click here: https://t.co/MZWYZz07Qs pic.twitter.com/crL9weGdrc

— Bold & The Beautiful (@BandB_CBS) October 2, 2019
This should be amazing!
What's Next on the Bold and the Beautiful
Shauna's obsession could destroy Ridge's life. See what happens this week on #BoldandBeautiful! pic.twitter.com/gXvTBJJjgg

— Bold & The Beautiful (@BandB_CBS) September 29, 2019
Ridge is not in a place in life where he thought he would be, where he wants to be, or where he even needs to be. He's a mess with so many things going on in his life that he cannot handle, and he cannot make it up to anyone for this. He is not happy. His wife is upset with him. His kids are upset with him. His kids are a mess in their own personal lives, and someone else is trying to take his grandson from him and his family. He's not happy, but he has to make some changes. He's about to, also. He's about to make some changes that will make the world an entirely different place, and they might just be good for him. He might be able to change things around a bit, but at what cost? Will he be able to make the world a better place, and will he be able to make his kids happy again? We think this is the chance he needs to turn things around.
Meanwhile, we also know that there is a lot going on when Katie and her son have a very special moment together. She's scared and she's worried and she's not sure what will happen. She needs a new Kidney, and she and Bill are about to get some news. She doesn't know if it's good or bad, but she knows that she has to be there for her son in this moment. There's nothing else she can do to make her life better.
Stay tuned for more The Bold and the Beautiful and be sure to check out TVOvermind daily for the latest The Bold and the Beautiful spoilers, news, and updates.