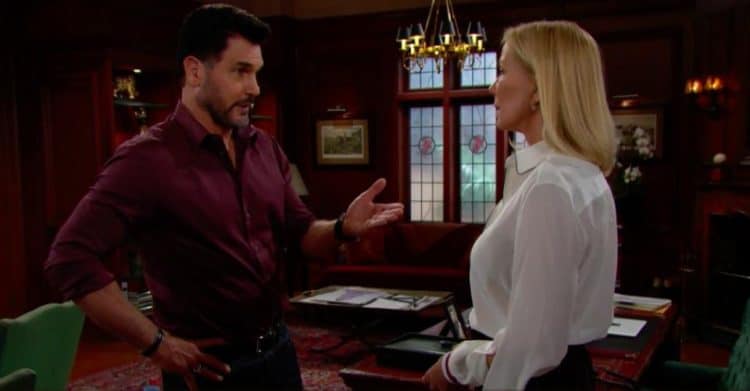 The Bold and the Beautiful fans are not sure what to say or do about all that is happening with Brooke and with Ridge, but we know that things will never be good for them again. For one, we can see that they will suffer for what might be the rest of their own lives now that things have unfolded the way that they have. She went back to Bill to share with him some information, which we know is never a good idea for her since she cannot spend time with him without them falling for one another. Bill went to the hospital to speak with Thomas, and everyone is currently in a very unhappy place with one another. There is little anyone can do about this, but we suspect that they do have a choice in the matter. They can focus on things being what they are, or they can focus on things being worse than they are. There are a few things that might make this worthwhile. He will get to the bottom of what is bothering him, though.
Then there is Ridge. He's beside himself in a way that will not change in any capacity. He's upset, he's mad, he's furious. He's visited Flo, and he is not happy with her. She is so sorry and she keeps telling him that she felt terrible and wanted to tell this entire time, but that does not do anyone any good at this point. Her desire to want to tell didn't win out over her desire not to tell, and he has assured her that he will do anything, everything, and all the things in his power to make sure that she does not get to live a happy life ever again. We also think that it might be possible that she really will not get to do that, either.
What's Happening on the Bold and the Beautiful
A mother would do anything for her child. 💕 #BoldandBeautiful pic.twitter.com/oLfClVTyZx

— Bold & The Beautiful (@BandB_CBS) September 3, 2019
We know this for certain.
What's Next on the Bold and the Beautiful
It's time for payback this week on #BoldandBeautiful! 🚨 pic.twitter.com/AlN8deRozm

— Bold & The Beautiful (@BandB_CBS) September 1, 2019
Brooke is in a bad place right now. Her husband feels that his son did not accidentally fall off a cliff as she said he did, but that she and/or her own daughter had something to do with it. She's not happy with him, he is not happy with her, and they are both furious with the other's children. And this is not good for them or their marriage. We have a feeling that someone is about to call it quits on this one, and we might see it being Brooke. She is going to find that her sisters are there supporting her, which they always do. But, we have to ask ourselves if we think this is something more than what it might seem to be. Is there more to this story than meets the eye? Is there more to this than we see coming? Are they there to support her through some other things?
And what about Detective Sanchez? He's here to make some answers come to light, and he's going to bring up some type of involvement with Thomas. Does he think he did this? And does he feel that he is responsible in any way for the death of Emma? That's what he is thinking and what he is feeling in his life right now, and that is no good. But, we do think this might be a situation we can see happening. Will they get through this? We cannot tell in the moment, but we can see things unfolding poorly.
Stay tuned for more The Bold and the Beautiful and be sure to check out TVOvermind daily for the latest The Bold and the Beautiful spoilers, news, and updates.