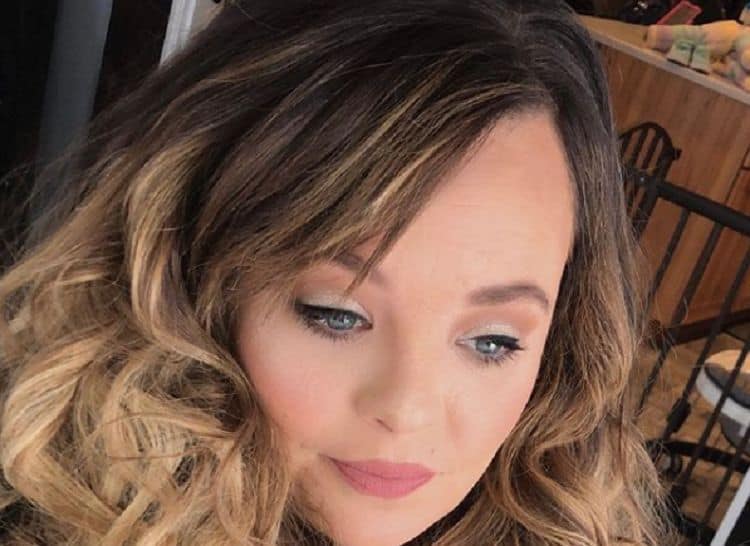 Catelyn Baltierra was born, Catelyn Lowell in Port, Michigan on March 12, 1992. She is most known for her roles in reality TV shows, but is also an author, public speaker, and entrepreneur. Catelyn Lowell is married to Tyler Baltierra and the two are parents of three children, however, they currently just raise two in their home. Baltierra has made an impact on young mothers and young families by speaking out on young, teen pregnancy and getting through tough times in life with your partner. You may have seen the shows she took part in, 16 and Pregnant, or it's spin-off, Teen Mom, but here are 10 things you didn't know about Catelyn Baltierra.
1. She's most known for her appearances on reality TV shows
Baltierra made her appearance on MTV's reality TV show, 16 and Pregnant, Teen Mom, and Teen Mom OG. Her first appearance on 16 and Pregnant was in 2009 when she and her boyfriend at the time, Tyler, were expecting their first baby. The show follows the journeys of the young teens through their ups and downs of pregnancy at such a young age, but Catelynn's and Tyler's story was particularly memorable to the fans.
2. She gave her first daughter up for adoption
The teen couple had a hard decision to make when they found out they were pregnant together, and the decision they made while on the show, 16 and pregnant was to give up their baby for adoption. The baby girl was named Carolyn Elizabeth by Brandon and Teresa, the couple who adopted her, according to MTV Moms fandom. The adoptive couple promised to keep in touch with the Baltierra's so that they could still see their daughter through the years.
3. She and her husband came from dysfunctional homes
Baltierra and her husband openly discussed their dysfunctional and very chaotic home lives. They each grew up in homes where addiction was a problem for their parents and Tyler's father was in and out of jail at times. They lived in low income housing and both witnessed domestic situations with their parents.
4. She's been with her high school sweetheart for years now
Baltierra and her husband, Tyler, began dating in middle school when they were only 12 years old. They met in music class and have proven that love can conquer all, despite the circumstances. Tyler says he fell in love with her immediately upon seeing her and at one point, walked up to her and took her hand to hold. Catelynn didn't reject it, and without looking at each other, they just knew they were going to be together from then on. The couple finally married in 2015 after plans for marrying 2013 fell through.
5. Catelynn was once Tyler's step-sister
Not many know that Catelynn was once the step-sister to her now, husband. During the beginning of the series, Teen Mom, Tyler's dad Butch, and Catelynn's mother were married, which means that the two young lovebirds were step siblings. The marriage of their parents didn't last long due to domestic issues, and they divorced.
6. Catelynn opens up about mistreatment from mom's boyfriends
Catelynn and her husband describe very dysfunctional situations in their own homes in their book. They have both been victims of mistreatment by outsiders of the family, and for Catelynn, it was a boyfriend of her mother's who wasn't the best person to have around the home. Drugs were only one of the issues she dealt with, with her mother's boyfriends, and it wasn't until Tyler stepped in to help, that she says things did get to be a bit better.
7. Fans may be wondering if she's pregnant with a fourth
According to Cheatsheet, pics of Baltierra have been seen on her social media with her cradling what appears to be a baby bump, which online media was suggesting could be a fourth baby. Comments on the pic between her and her husband, also gave way to indication there may be another on the way, however, Baltierra put the rumors to rest during an interview for US Weekly that she is not expecting another baby, though they do have hopes of growing their family.
8. She's the co-author of a book
Catelynn Lowell and her husband Tyler Baltierra wanted to share their experiences of love, life and family with others. The two have made it through more than many relationships could make it through, and together, they wrote a book on how they managed to do it. The husband and wife duo discuss everything from starting a relationship at a young age, pregnancy during their teens, to adoption and raising children, in their book titled, Conquering Chaos. According to MTV, the book was released in 2016 and is geared to show others how couples can make it through even the roughest challenges.
9. She started a clothing line
The couple have been working on starting their own children's clothing line, called, Tierra Reign. Catelynn says the designs are mostly coming from her husband, Tyler, and she is helping. He puts the designs to paper and a seamstress puts the pieces together. The first pictures of some of their designs didn't come with warm welcomes from fans, however. A young girl wearing a questionable shirt that appeared to be too sexual for the age group earned them a lot of backlash on social media. Catelynn says her husband addressed the negative comments and they re-worked the shirt to make it more age-appropriate. Hopefully after a rough start, they can get on track to make their venture work.
10. She battled with postpartum depression
Baltierra has been through more than her share of trials, including one that many women experience, postpartum depression. Although this many women can experience postpartum depression, issue for women after, however, Baltierra's mental health issues have been quite severe, including having suicidal thoughts, which she was admitted and treated for in 2016.