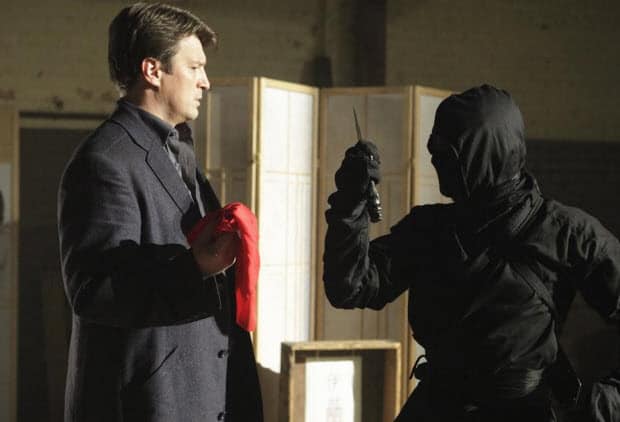 This week's Castle was so much fun! Sure, the accents weren't very good (several people complained on my social media timelines), but otherwise, it was a wonderful, classic Castle episode with tons of laugh out loud moments. After years of guessing "ninja assassin" as a suspect on nearly every case, Castle finally gets his wish–he's going to have to come up with some new wild theories if they keep coming true like this.
After our victim, Jade is murdered with a throwing knife to the heart, the following morning, Castle and Beckett discuss Kate meeting up with an old friend. Kate requests that Castle call her to get her out of it. "If I don't call, come save me." "This is what having a partner in life is all about." Castle sets an alarm so he doesn't forget. What a good fiancé!
Our victim was a Japanese ballet dancer. Castle and Beckett visit her boyfriend and his family, who don't seem to have any idea who might want to hurt her. Jade was lurking around the Marigold Cookie Company abandoned building, so Castle and Beckett head there and find a shrine and a match to the murder weapon. Just then, a ninja comes and grabs the knife right out of Castle's hand! Castle is so excited!
Castle goes off with ninja theories–"ninjas are masters of the surprise attack"–but Beckett is not having it. Their banter is Gates' office was awesome and so very them. A woman, Ms Tagami, from the Japanese consulate arrives and tells Castle and Beckett about Jade's distant family back in Japan but denounces Castle's ninja theory. Castle is upset when everyone dismisses his theory. "It would be such a let down!" "Yes, because we can't let facts get in the way of a good story." I loved that line because it reminded me of the now famous Castle quote, "Don't ruin my story with your logic."
Their next lead, Jade's ballerino co-star, had a thing for her and grew more and more upset when she didn't return his advances. He claims that he got over his feelings, but was getting angry because Jade wasn't taking things seriously. Also, he's not a ninja, as Castle tests, he's Korean. "way to racial profile." Jade was making secret calls to a "tea important company." Kate wants to cancel her dinner, but Castle convinces her to go, he and the boys will handle this one. There's a lot of handling alright–it's a "hostess bar" with a supremely unsubtle song thumping in the background. The ladies slide up to the boys, who have taken this to be an undercover mission to get more information about Jade. Ryan is adorable in the way that he repels the advances of the girls ("I'm married." "That's okay, most of the guys here are." "No. I'm really married."), but Castle's girl knows something and wants to tell him in private. Off they go…
Into a private room, where she tells Castle that she knew something was up. Jade was messing with a guy names Saito. Castle's Beckett alarm goes off right in the middle, but he ignores it in order to get more information. Just then, the bouncers realize they're cops and throw them out. Just when Castle was really about to call Kate, a ninja arrives and tosses a throwing star right into his phone! Good thing he's a bestselling author!
The boys don't do well in the ninja fight, but a second ninja comes to save the day. With a very Mortal Kombat voice, one of them tells the guys to "stay away" and they both vanish in a puff of smoke. Back at home, Beckett lays into Castle for not having her back. Her friend, now married, spent the entire time complaining about being bored in her marriage and Kate fears that will happen to them. Castle makes them vow to never be boring, but when one comes home with a tale of actual ninjas, hard to imagine that'll be a problem for these two.
Castle and Beckett track down the mysterious Saito, who claims to not know Jade, despite them knowing she was at his party the night she died. Saito plays power games with Beckett and wins–she can't do anything to him without a warrant. But they have another problem, Ms. Tagami from the Japanese consulate has been on maternity leave for two months and the impostor lied to them about Jade's origin. Jade was an orphan, whose family died in an explosion placed in the house by a Japanese gang enforcer known as the Green Dragon. They believe Saito was the Green Dragon and Jade was hunting him down and he killed her. They find the Tagami impostor–it's her sister Saiya, who also survived the explosion.
They get a warrant against Saito, who says he's been betrayed right before he is shot right in front of them! The real Green Dragon arrives and attacks Castle and Beckett, who are saved by the other ninja, who we know to be Saiya, Jade's sister. One awesome ninja fight later, Saiya unmasks the Green Dragon and it's none other than Jade's boyfriend's father, who worked for Saito in Japan when Jade's family was killed. Kate stops Saiya before she kills him, relating to her on that personal level in a way we haven't seen in a while. Kate understands the desire for revenge, but it's better to let that anger go.
It was very interesting to me to see the subtle ways in which Castle trusts Beckett more than the boys. When heading into the hostess bar, Castle expresses reservations about going in alone, but later when entering the abandoned cookie factory, he and Beckett go in alone knowing there's a suspect inside–no reservations there. Just an interesting little dynamic that's cool to see on screen.
This episode had so many great moments between Castle and Beckett, Castle and Gates, Castle and the boys, really awesome to see all those relationships and the way they've grown and steadied over time. It was so much fun and I laughed a lot while watching it.
Other fun moments:
"The goddess that lives in her hoo-ha."
Castle presenting his bill for $6000 to Gates asking, "Can I get this expensed?" Gates' expression and crumpling it up was hilarious!
And the final follow up to that moment, Castle accidentally tossing the throwing star from his phone into Gates' office, presumably giving her a wicked slice. This isn't the way to remain on her good side, Rick.
[Photo via Nicole Wilder/ABC]