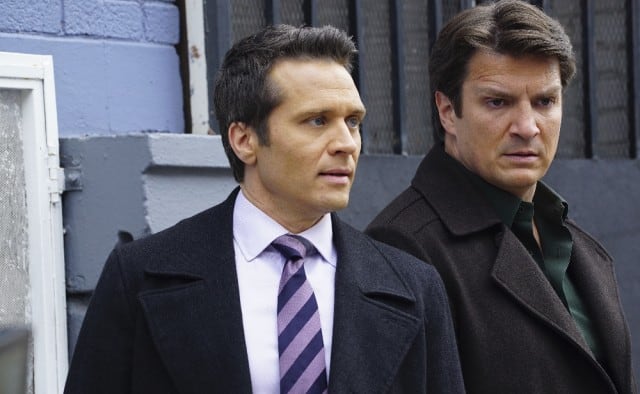 Gosh darn it, I was really hoping for better! Castle, "Heartbreaker" is the episode after "Fidelis Ad Mortem" – where the character of Kate Beckett (Stana Katic) finally gets treated like a police captain and is more like the Kate Beckett viewers have loved for years. That episode also ended the phony separation between Beckett and her husband – writer Richard Castle (Nathan Fillion). Finally, viewers could start to think things were turning around! Even the first sneak peek (which you can read about here, was a reason to be upbeat. The fabulous four – Beckett, Castle, and detectives Kevin Ryan (Seamus Dever) and Javier Esposito (Jon Huertas) – were all back together again at the 12th precinct.
I should have known better. For one, Castle, "Heartbreaker" thus far hasn't had a single promotional photo of Beckett. Plus, as great as "Fidelis Ad Mortem" is about Beckett professionally, it also goes out of its way to have a shot of Beckett crawling away from Castle – with the camera focused on her butt. I mean, it went seriously out of its way. They had to add a second bedroom door to a set that's been in existence for, if not the very beginning, for many seasons.
Castle season 8 is one where the showrunners have had – under the guise of comedy – all kinds of sexist and degrading commentary about the character of Beckett. From having her bending over in a short skirt while Ryan stares at her butt to having a guest character call her, "Captain Hoochie Mama," this has been the season of, "Make fun of Beckett." The newest sneak peek for tonight's episode continues the trend.
[youtube https://www.youtube.com/watch?v=1S-esswpCS4?rel=0]
The song that "Lucy" plays is "Move B*tch" by the rap artist Ludacris. This is the link to the official video – which has all the bad language blanked out:Ludacris video. The blanked out version is not the copy Lucy plays, so yes, "Lucy" says, "Move, b*tch! Get out the way!"
Meanwhile, Castle is flirting with his computer system. This is all a throwback to the film Her by Spike Jonze. Even as it praises the film, this review in The Guardian notes that some of its subject matter is, "depicting modern men's inability to relate to real women due to technology." Her won an Oscar for best screenplay – which doesn't mean it's not a sexist in its context. (Some would say that's practically a prerequisite, but that's an article for another day.)
The following quote is from an In These Times article by Sady Dole. In it she explains how the film is about a man's fantasy woman:
Feminists have spent decades trying to explain concepts like "objectification"–the reduction of a person to a tool for another person's gratification or use, typically sexual–and now, as a reward for all our hard work, we're faced with a "Movie of the Year" in which the ideal woman is, literally, an object. An object that, it is promised, will "listen to you and understand you" and have a personality designed explicitly around your needs. (…)

And she's just dying to do some chores for him. Samantha cleans up Theodore's inbox, copyedits his writing, books his reservations at restaurants, gets him out of bed in the morning, helps him win video games, provides him with what is essentially phone sex, listens to his problems and even secures him a book deal. Yet we're too busy praising all the wounded male vulnerability to notice the male control.
This is the model of what Castle has with "Lucy." (Just in case a viewer doubts the Her reference, it's reinforced by Castle's computer thing being called Lucy. In Her, the computer is voiced by Scarlett Johansson. "Lucy" also happens to be the name of another Johansson character, she's the title role in the film is called Lucy.) With any luck by the end of the episode "Lucy" will be disconnected, but it won't be before we get to see Beckett disrespected and made fun of for being "jealous" of a machine. It seems as though Castle, "Heartbreaker" will in fact have something in common with Castle, "Fidelis Ad Mortem." The case looks to be much better than the Caskett.