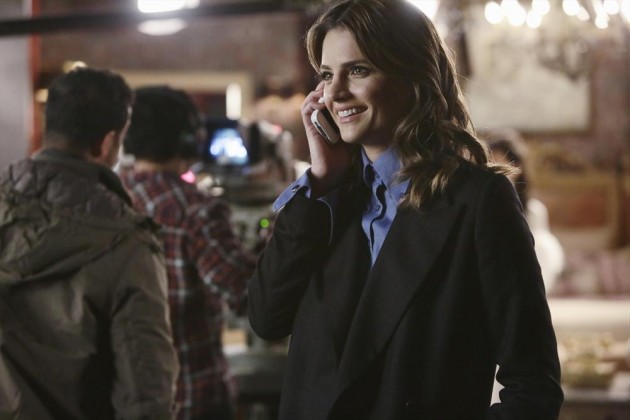 This week's Castle takes a telenovela twist (just minutes after I watched Jane the Virgin, no less!). A telenovela star is murdered and it's up to Kate to find the killer and Castle to find… the purse?
Castle is determined to continue his private eye business, despite it not getting him any closer to working with Kate like he wants and all his calls being crazy fans with theories on his two month absence (when are we gonna talk about that again, by the way?). Castle and Beckett walk to her crime scene together, Rick remembering last minute he can't cross the police tape before heading to his own office.
The facts are these: Anahita Menendez, a telenovela star — not that Esposito watches those — is found murdered with a plumber's pipe. Baby Castle, Ryan, posits a "psychotic plumber" but his Castle-esque theories don't impress Kate or Javier. Esposito and Beckett head to the telenovela studio to speak to her coworkers, Espo is enthralled with the scene being filmed when they arrive. "Are you sure it's your tia who watches these?" They speak to Francisco Herrera, who oversees the show for the network and Sophia del Cordova, a huge telenovela star who seems more upset about the purse she let Anahita borrow than her death.
Over at Castle Investigations, nothing's shaking until Sophia del Cordova pops in, referred by Beckett herself. Castle's mission? Retrieve the $500,000 purse Anahita was carrying that has mysteriously vanished. He considers it his maltese falcon. Back at the precinct, their hottest lead enters with Esposito. Marcus, an assistant on the show, fought publicly with Anahita and was fired immediately. He claims that she asked him to do so, in order to have some time off. She'd been acting secretive and taking private meetings — "whatever it was, it's what got her killed."
Our favorite gumshoe is on the trail of the purse. He arrives at an Opera House not minutes after Beckett has also traced Anahita's last location. It's interesting how their differing methods get them to the same place — but that's just Castle and Beckett's relationship in a nutshell. Ana went to the opera to meet up with a mysterious Middle Eastern woman who passed her a flash drive before they both went their separate ways. Ana stashed the flash in her purse. Too bad Castle keeps wanting to solve the murder rather than find said purse. He refocuses and learns that Ana left the opera house in a white limo, which he intends to track down. In the meantime, Beckett and Ryan learn that the woman who gave Ana the USB drive was Layla Nazif, daughter of a high ranking Saudi official. Layla stonewalls Beckett when she asks about the flash drive, the words "diplomatic immunity" flying off her tongue as she exits.
At nightfall, Beckett visits Castle at his office, engaging in some sultry P.I. role play, before they are caseblocked once again! This time by Ms. del Cordova, who is anxious for an update on the purse. Castle has none to offer and so Sophia fires him! But he manages to prove to her that he is determined to work the case, so she gives him a second chance, just as he receives a new clue. The next day, the detectives head after Harlan Mathis, an ex-marine who kills for money, but Castle meets him first. Mathis finds Castle snooping around the lost limo (no purse found) and takes him to a sketchy location. Castle has no idea that Mathis is a trained killer and is saved from finding out first hand when Ryan and the cops burst in.
Turns out Mathis worked for Layla Nazif's father, but he says that killing her wasn't his assignment. Ana knew she was going to be abducted, so she stashed the purse somewhere before she got in the vehicle. Castle heads to the opera house — telling Beckett as he runs out the door — and finds the purse stashed in some potted outdoor greenery. He takes the purse back this office and discovers both the USB and the fact that it's a fake! But Sophia del Cordova has a nasty habit of dropping in unexpectedly, this time with a gun. She demands the "UBS" from Castle, they struggle, and Castle overpowers her. At the precinct, Espo tells Castle the news:
"You do realize it was a prop gun, right?" "Since I didn't know that at the time, my act of valor still stands."
The USB drive contained access to a Swiss bank account, with a $100 million dollar balance. Sophia was so anxious to get it back because she and Ana were working together to create the first female drive Latin American television network. They were afraid of what would happen if the network and the show found out, so they kept it all a secret. Sophia needs the money by 5pm that day or else the deal is off. She thinks no one knew about the deal — they met in secret in her trailer when they talked about it — but the trailers were bugged. The producer of the show, Francisco, got wind of the TV deal and started bugging the trailer to find out the details. He killed Ana in a crime of passion. Sophia got the money in time for the network and signs a photo for Tia Javier…
PI Castle is still fun, though writing about Castle and Beckett's back and forth adventures review-style is hard. Just so it's not "And then Castle did this. And then Beckett did that," since they are so far, running parallel to each other ending in the same place. Perhaps as Castle gets more independent, the flow won't be so back and forth. But I like seeing how Beckett supports Castle, but also misses him. I enjoyed the fun of this case. Sometimes, stuff goes down when there's $100 million dollars about to get in a limo…
Little Things
– Another nice moment between Kate and Martha, but once again no Alexis in sight…
– Castle's pencil dropping from the ceiling at just the right time.
– "I thought you were a writer. What happened?" "Nothing happened. I'm just expanding my brand if that's alright with you."
– Castle learns that the number one skill a private investigator has is dropping $20s for information.
– Esposito's frustration and Beckett's amusement with Ryan's "Castling" makes me laugh every time. Oh Baby Castle.
– I loved the detail of Castle being unable to get Beckett's top button undone.
– I figured I'd be the only review to not mention the "private dick" line, since it was all over the commercials anyway, but here's an obligatory mention.
– I loved Castle using Ryan's badge number to get info from the DMV. Ryan's the least likely to kick Castle's butt if he finds out.
– I was glad for Kate's concern when they find Castle with Mathis: "We would have had no way of finding you." Obviously, it's because they're married, but also his disappearance is still weighing on her mind, and it shows here right beneath the surface. I hope that storyline is returning soon.
– "So you're saying I solved my case, and your case, and I apprehended the killer… Hm." "Yeah. You disarmed a 110lb woman. Must've been a tense moment."
– Javier speaking Spanish. ::heart eyes emoji::
[Photo via ABC]