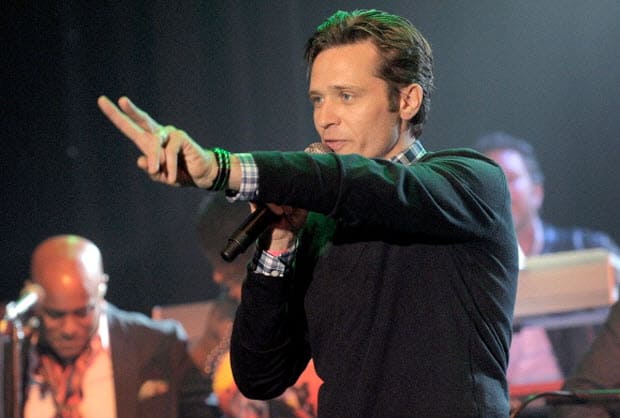 Castle's Seamus Dever gives us the dish on the groovy 70s themed episode coming up this Monday. It's a hilarious, laugh out loud fun-fest with great twists and turns. A body shows up at a construction site and it becomes clear that this was a mob hit finally coming to the light. But the lead witness is stuck in the 1970s. Castle, king of wacky theories and plans, devises they should go with it to get the information they need. Dever teases us with the 70s scoop:
"We had so much fun on this episode. Of course it's all dressing up. We had it a few times on the show, when we were in Elvis costumes [season 4's Heartbreak Hotel] and the "Blue Butterfly" [also from season 4], when we were in 40s stuff. The crew gets a kick out of it. It gets infectious."
Jon Polito, known for his work with the Coen brothers, guest stars on this episode as the former mobster who thinks it's still the 70s. "He was just so much fun to work with, such a great character actor. Jon and I got to spend all this time with him. Which was a real gift."
The quartet gets to get dressed up a bit, but Ryan and Esposito really take the cake. In a very amusing play on Starsky and Hutch, Jon Huertas and Seamus don amazing wigs for a majority of the episode. "It started as Starsky and Hutch and then it kinda became it's own thing. Then it ended up looking more like Matthew McConaughey in True Detective! The hair and make up department did a great job."
On whether wife (both on and off screen) Juliana Dever got to see him in his outrageous costume, Seamus said he sent her pictures from the set to cheer her up, as one of their dogs passed away during the episode. "She was our little sweetheart. It's tough. You gotta keep going on, so you put on the wig and the mustache and put try to put smile on your face."
A 70s episode of any show would be remiss to not have some dancing, and our crew gets to boogie. "A lot of people don't know that I have a musical theater background and some show choir, so I pulled out a few old moves. And Jon's got that in him too so we did a little coordinated move. I busted out one of my favorite show choir things towards the end." And it is amazing!
What would Seamus say his favorite 70s slang was? "We kept adding little phrases, peppering the dialogue. "Can you dig it?" is probably my favorite. There's an Isaac Hayes song called "Do Your Thing", which I love, so "Do your thing, baby." That's one of my favorites, too."
If there was one thing Seamus could bring back from the 70s, it would be the music. "Soul music, without a doubt. Bill Withers, Isaac Hayes… It's some of my favorite music. I'd take all that music back and that's all you'd hear on the radio."
And Seamus' three words to describe this episode? "My tight pants."
What a hilarious zinger to set us up for the next episode! Castle "That '70s Show" airs Monday at 10/9c on ABC. For more Castle, head to the show's site here.
[Photo via Charley Gallay / Stringer]