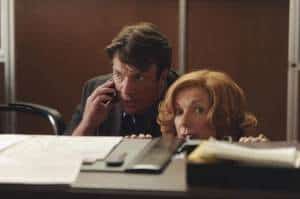 Before we start, can we please take a moment to soak in how mind blowingly awesome 'Cops & Robbers'was? It is no secret that I was extremely excited to watch this episode — as I am sure most of you were, especially after those promotional photos were released — but I do admit I was a tad afraid that it wouldn't live up to my expectations, just like others have failed to do in the past.
Well, after finally watching it last night, I have to say that my concern was completely unfounded. Because 'Cops & Robbers'has not only lived up to my expectations, but it surpassed it by miles. I think it is safe to say — especially after the very strong and enthusiastic reaction on Twitter — that last night's episode is definitely in the top 5 of the series. For me, it has reached the top 2, only losing to the spectacular season 3 finale 'Knockout'and by a tiny thread.
So we knew what the episode was going to be about and that Castle and Martha would be held hostages during a bank heist. Even with that information, the episode turned out completely different than what I was expecting. For one, I didn't expect Beckett to be the one solely handling the negotiation; and second, I thought the hostage situation would go through the entire episode, so I was really surprised when they were released with still 10 minutes until the end of the episode. That said, I confess I was on the edge of my seat, holding my breath for the entire hour.
I really loved that we jumped right into the action, as opposed to the usual the usual formula of having a scene at the loft in the beginning and so on. The fact that Beckett felt completely helpless in this situation, knowing that the guy she loved — and there is no need to even discuss that, right? Did you see the look on her face during the entire episode? — could die at any moment was so telling and so reminiscent of 'Rise'. The tension, pace, acting, writing, directing, everything in 'Cops & Robbers'was fantastic. It had been quite a while since the last time I was so into an episode like I was last night.
So let's talk about all the good stuff, shall we?
First, I absolutely loved seeing more of Martha and Susan Sullivan was stellar. She is such a talented actress and so criminally underused in this show that I was really glad that she finally got her chance to shine. Second, I was expecting to see more of Alexis, but I think it worked that she wasn't as involved as I thought she would be. And the breakup? Saw it coming at least four episodes back and I am really glad it finally happened.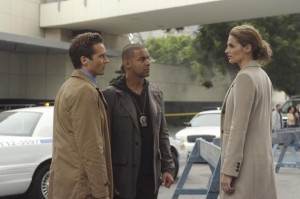 Third, I was hoping to see more of Ryan and Esposito, but the little bit we got was great all the same. Particularly loved Esposito teasing Ryan about his outlandish theories and calling him Castle Jr. Also really enjoyed the twist in the end and definitely didn't see it coming, although I am curious as to what happened to the bank robbers. Did they really die in that explosion? Is it strange that I really hope they didn't?
Tell us what's wrong with this post? How could we improve it? :)
Let us improve this post!