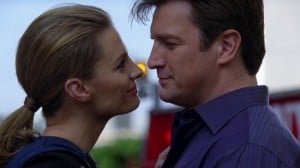 "Still" started out as an eagerly awaited episode for me. When the first bits of information started to come in that Beckett was going to step on a bomb detonator, I admit I was crazy excited about this plot. Just the million possibilities that I could already think of made it the one episode I was really looking forward to. Then there were rumors that it would be basically a clip show and my excitement went down the drain.
Seriously, TPTB? A clip show? I really, really dislike flashback episodes that are nothing but a montage of old scenes. So I started watching this episode with one foot out the door. Even if the plot had its possibilities of some major ramifications, the fact that it wasn't going to be a normal episode was really weighing it down for me.
As most of you know, after the attack in Boston, "Still" was rescheduled to air one week later in the US and Canada, but apparently not everyone got that memo because France and Germany released the episode last week on Itunes, making it possible for it to hit the web in a heartbeat. I watched it last week (with German subtitles – thoroughly distracting. Do not recommend it) and, well, let's say that I was pleasantly surprised.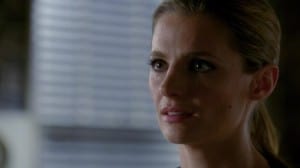 I am still not crazy about the flashback extravaganza, but they kind of made it work. And the present day scenes with Beckett fighting to stay very still so not to cause the bomb to go off were just really awesome. Starting with the very first scene when Castle brings her breakfast in bed until the last one when Gates reveals she's known about them all along (I particularly enjoyed her "What, do you think I'm an idiot?" line), "Still" was full of great moments between Castle and Beckett. Not to mention the fact that Kate finally managed to cough up those three little words. I was afraid of how they were going to play this, but the scene was just so bittersweet and poignant that I couldn't have asked for anything more.
So all in all, it was a good episode with some really amazing moments, but it was far from being the very best. What I am curious about is the season storyline and what their game plan was. See, because "Still" was supposed to air before "The Squab and the Quail", but having seen both episodes I don't get how they are supposed to go from confessing their undying love for each other to Kate feeling like he's taking her for granted and then falling for Mr. Fantastic's charms. In the end, it makes a little more sense that "The Squab and the Quail" aired first because I can understand Kate feeling like she's being taken for granted to Castle trying to make it up to her, to confessing their undying love for each other.
Either way, I'm confused. Guess things will start to make sense next week in "The Human Factor". Or not.
Anyway, what did you think?
Tell us what's wrong with this post? How could we improve it? :)
Let us improve this post!